Sample Pages Preview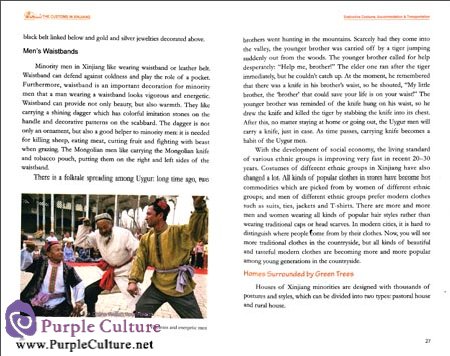 Traditional costumes of minorities in Xinjiang possess different styles and bright colors, implicating rich local features. Men prefer nuttiness, benefit, comfort and convenience and the effect of white and black, while women are enamored of beauty so they prefer beautiful and gorgeous costumes and also love those with contrasting colors, making red more bright and green more fresh. The dresses and costumes of women are like flowers blooming in spring with amazing colors. Men and women wear colorful flower hats, head scarves, multicolored dresses, glittery brooches, necklaces and earrings. Seen from a distance, a group of these people is just like a garden, and each one is like a flower.
Colorful Embroidery Hats
Embroidery hat "Doppa" is the most distinctive headwear of the Uygur ethnic group. All Uygur people like such four-edge small flower hat with fine embroidery. Embroidery hat is not only a costume, but also an exquisite handicraft article. The Uygur flower hat has more than ten patterns, of which, Badam, Chimen, Mardzan and Gilem flower hats are their favorites. Flower hats are always embroidered with various patterns with black and white silk thread or multicolored silk thread. People's preference to these hats varies with different ages and different regions, therefore, the patterns are designed with thousands of styles. These flower hats with different patterns are studded with pearls with dazzling brilliance; some are solemn and elegant, harmonious and natural; some are angular and with tight-knit patterns; some have flat and round shapes, and soft colors; some look like fertile farmland in harvest and some look like a garden with flowers blooming in a riot of color. Wearing such hats, young men appear handsome, young women appear more beautiful, children appear lively and lovely, and the middle-aged and the old appear solemn and dignified.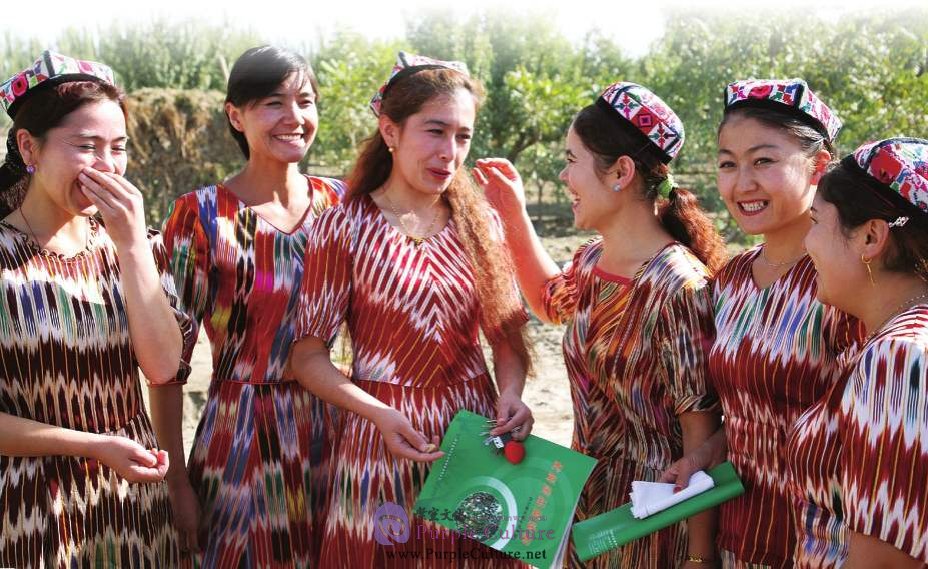 Colorful dresses