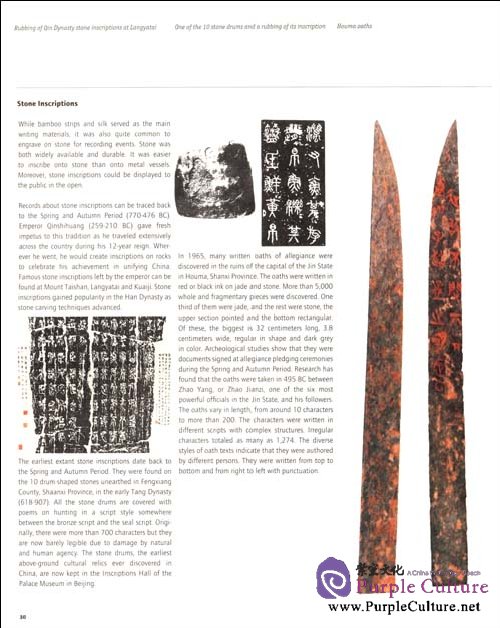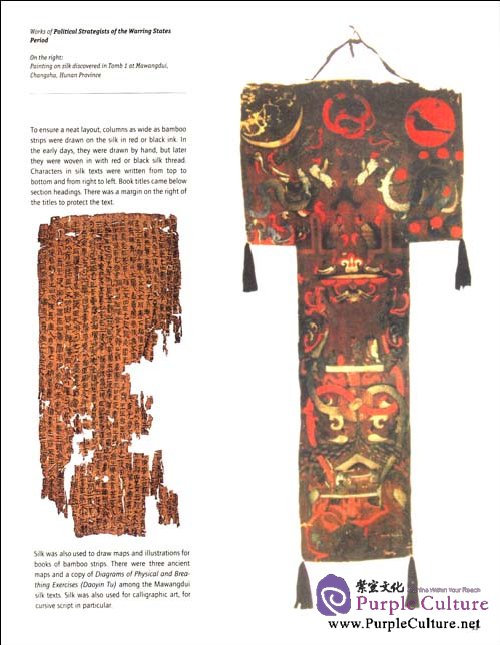 While bamboo strips and silk served as the main writing materials, it was also quite common to engrave on stone for recording events. Stone was both widely available and durable. It was easier to inscribe onto stone than onto metal vessels. Moreover, stone inscriptions could be displayed to the public in the open.
Records about stone inscriptions can be traced back to the Spring and Autumn Period (770-476 BC). Emperor Qinshihuang (259-210 BC) gave fresh impetus to this tradition as he traveled extensively across the country during his 12-year reign. Wherever he went, he would create inscriptions on rocks to celebrate his achievement in unifying China. Famous stone inscriptions left by the emperor can be found at Mount Taishan, Langyatai and Kuaiji. Stone inscriptions gained popularity in the Han Dynasty as stone carving techniques advanced.
The earliest extant stone inscriptions date back tc the Spring and Autumn Period. They were found on the 10 drum-shaped stones unearthed in Fengxiang County, Shaanxi Province, in the early Tang Dynasty (618-907). All the stone drums are covered with poems on hunting in a script style somewhere between the bronze script and the seal script. Originally, there were more than 700 characters but they are now barely legible due to damage by natural and human agency. The stone drums, the earliest above-ground cultural relics ever discovered in China, are now kept in the Inscriptions Hall of the Palace Museum in Beijinq.
In 1965, many written oaths of allegiance were discovered in the ruins of the capital of the Jin State in Houma, Shanxi Province. The oaths were written in red or black ink on jade and stone. More than 5,000 whole and fragmentary pieces were discovered. One third of them were jade, and the rest were stone, the upper section pointed and the bottom rectangular. Of these, the biggest is 32 centimeters long, 3.8 centimeters wide, regular in shape and dark grey in color. Archeological studies show that they were documents signed at allegiance pledging ceremonies during the Spring and Autumn Period. Research has found that the oaths were taken in 495 BC between Zhao Yang, or Zhao Jianzi, one of the six most powerful officials in the Jin State, and his followers. The oaths vary in length, from around 10 characters to more than 200. The characters were written in different scripts with complex structures. Irregular characters totaled as many as 1,274. The diverse styles of oath texts indicate that they were authored by different persons. They were written from top to bottom and from right to left with punctuation.
Preface
Publishing has many definitions but, from a macro-perspective, it is a human activity of accumulating knowledge and spreading civilization. The many kinds of publications produced by man are not only instruments whereby civilization is spread but also the direct product of knowledge accumulation. By its very nature, publishing is closely associated with the development of culture and civilization. In China, a country blessed with age-old civilization and profound culture, publishing has a time-honored history. Over the past millennia, the Chinese have created a huge variety of publications and nurtured a brilliant book culture.
If we look at China's publishing activity in the context of its thousands of years of civilization, we can draw the following conclusion: Publishing has developed in China in an uninterrupted manner since 3,000 years ago when the Chinese script was invented and documents first appeared.
China's 3,000 years of continuous publishing have left an invaluable cultural legacy both for China itself and the world at large. From a historical perspective, China, as one of the cradles of world civilization, was among the first countries to engage in publishing. In the history of world civilization China's classic works perhaps deserve a book of their own, given their large numbers, long history, wide circulation and continued and detailed documentation. Creative Chinese people have shown great wisdom in their long-term publishing activity. Papermaking and printing, two of the four most important inventions in ancient China, not only helped publishing in China to flourish but also helped accelerate the transition from barbarism to civilization in the Eastern Hemisphere. Moreover, a large number of eminent editors, publishers, distributors and sales people have emerged since publishing started in China 3,000 years ago.
China has nurtured a brilliant book culture in its 3,000-year publishing history. Publishing has flourished in China over the past thousands of years because of its enduring spirit, and a wellspring of constant renewal. To understand this spirit, we need to look at how publishing started. We must probe into its development and changes in order to gain insights into its history.