Erya
Chinese
is a series of study materials for foreign undergraduates majoring in Chinese. Written by teachers in the College of Chinese Studies of BLCU, this series has been included in the "list of key national publication programs during the 12th five-year". The Intermediate Chinese: Comprehensive Course is the book for the comprehensive course during the second year of college for Chinese majors. This is the first of its two volumes.
1. Structure and layout: There are 12 lessons in this volume, each composed of pre-class tips, classroom study, classroom exercises and post-class exercises, among which the pre-class tips are warm-up exercises, the classroom study includes the new words, text and language points, the classroom exercises consist of various exercises, activities and an extensive reading material, and the post-class exercises are provided in loose-leaf sheets for convenience purposes. An MP3 CD is included in the book, providing recordings of the texts and the new words.
2. Features of compilation: The book is practical and student-centered; it follows the elementary comprehensive course, observing the principles of increasing difficulty and step-by-step progress; the various kinds of exercises pay attention to the communicativeness in classroom education.
3. Target users: It is suitable for students who have learned Chinese for one year (800 class hours) and have mastered about 2,500 Chinese words.
4. Suggestions: Intermediate Chinese: Comprehensive Course (I) can be used in the first semester of the second year in college. It is suggested that each of its 12 lessons take 6-7 class hours. The loose-leaf worksheets can be used in class as supplementary exercises or after class as homework.
About the Author
Liu Suqiao is a teacher in the College of Chinese Studies of BLCU. Ms. Liu has been engaged in the teaching and research of Chinese as a foreign language for many years and has rich experience in teaching comprehensive Chinese courses to foreigners.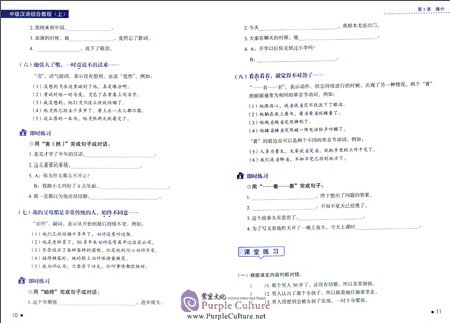 (六)他张大了嘴,一时竞说不出话来……
"竞",语气副词,表示没有想到。也说"竟然"。例如:
(1)没想到竞在这里碰到了他,真是缘分啊。
(2)考试时他一时马虎,竞忘了在考卷上写名字。
(3)我没想到,他们竟然这么快就结婚了。
(4)他竟然已经五十多岁了,看上去一点儿都不像。
(5)这么厚的一本书,他竟然两天就看完了。
即时练习
用"竟(然)"完成句子或对话:
1.麦克才学了半年的汉语,
2.这么重要的事情,
3.A:你为什么那么不开心?
B:我跟小王约好了6点见面,
4.我一直都以为他还没结婚,
(七)我的父母都是非常传统的人,始终不同意……
"始终",副词,表示从开始到最后持续不变。例如:
(1)他们已经结婚十多年了,始终没有吵过架。
(2)他是老职员了,30多年来始终没有离开过这家公司。
(3)尽管经历了各种各样的困难,但是他的信心始终不变。
(4)接待顾客时,她的脸上始终保持着微笑。