Chinese folk opera is one of the three drama forms that have the longest history in the world. It still frequents the theater, delivering the unique and charming characters of the Chinese culture to the rest of the world. Chinese folk opera is a form of musical theater that features in an integrative way the four skills of singing, dialogue, acting and martial arts. Meantime, it makes use of several forms of art like literature, music, painting, dancing, handicraft, martial arts and acrobatics. This book is intended to be an introduction to ist history and performance tradition. In particular, several branches are elaborated on for the readers to have a vivid and special appreciation of the art of Chinese folk opera.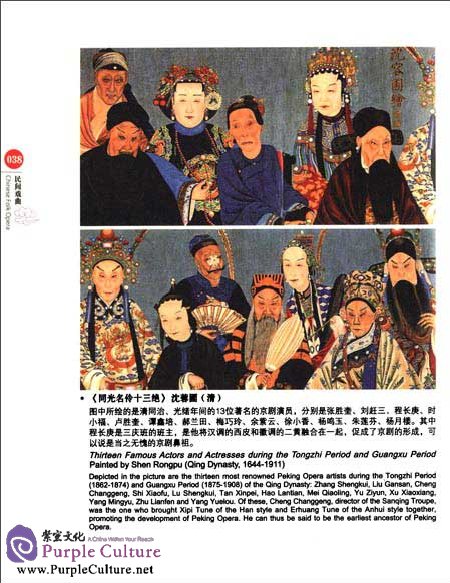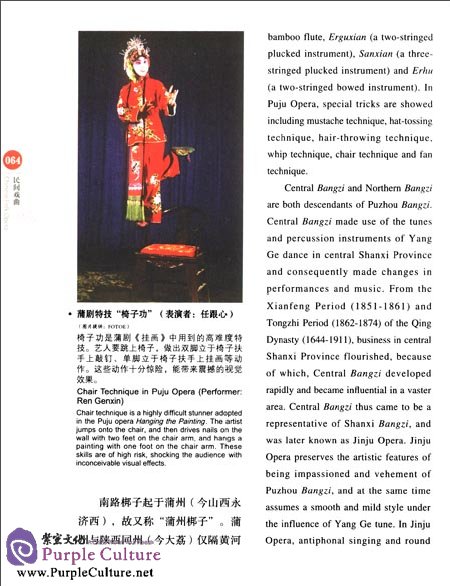 <同光名伶十三绝>沈蓉圃(清)
图中所绘的是清同治、光绪年间的13位著名的京剧演员,分别是张胜奎、刘赶三、程长庚、时小福、卢胜奎、谭鑫培、郝兰田、梅巧玲、余紫云、徐小香、杨鸣玉、朱莲芬、杨月楼。其中程长庚是三庆班的班主,是他将汉调的西皮和微调的二黄融合在一起,促成了京剧的形成,可以说是当之无愧的京剧鼻祖。
Thirteen Famous Actors and Actresses during the Tongzhi Period and Guangxu Period Painted by Shen Rongpu(Qing Dynasty,1644~1911)
Depicted in the picture are the thirteen most renowned Peking Opera artists during the Tongzhi Period(1862—1874)and Guangxu Period(1875—1908)of the Qing Dynasty: Zhang Shengkui,Liu Gansan,Cheng Changgeng,Shi Xiaofu,Lu Shengkui,Tan Xinpei,Hao Lantian,Mei Qiaoling,Yu Ziyun,Xu Xiaoxiang,Yang Mingyu,Zhu Lianfen and Yang Yuelou.Of these,Cheng Changgeng,director of the Sanqing Troupe,was the one who brought Xipi Tune of the Han style and Erhuang Tune of the Anhui style together,promoting the development of Peking Opera.He can thus be said to be the earliest ancestor of Peking Opera.