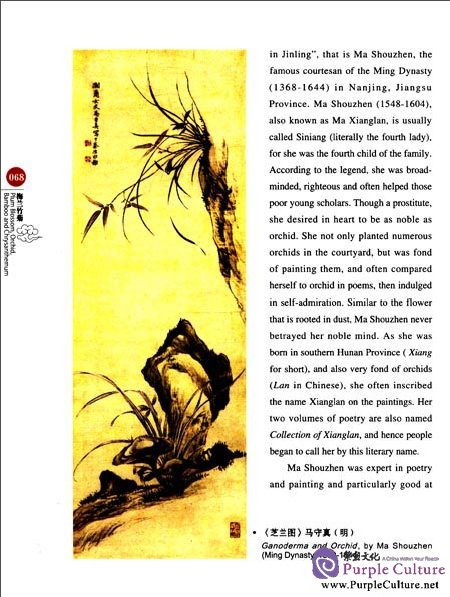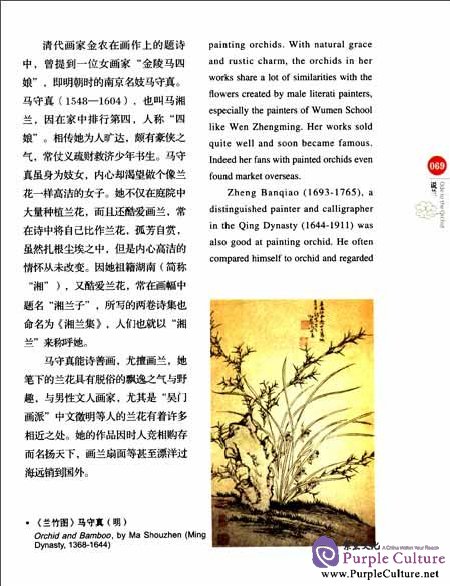 兰之品格 
人们欣赏兰花的芳香,兰叶的优美,兰开花时,幽香清远;无花时,优雅常青的叶片参差交错,随风摇曳,婀娜多姿,古人对兰花曾有"观叶胜观花"的赞叹。而兰花最让人倾心之处就在于它的"幽洁",虽生长在深山野谷、悬崖绝壁,却能彰显出本性之美。古人认为兰花具有"人不知而不愠"的风度,不求闻达、自乐其志的坦荡胸襟,最符合中国人谦冲自持的人格观。历代高人隐士总习惯在兰花的幽洁中寄寓自身坚贞高洁的精神品性。 
兰花的香气清雅幽远,古来有"王者香"的美誉。 
Noble Character of Orchid 
People appreciate the fragrance of orchidand its delicate leaves. When it blooms, thearoma flows far away; when it is flowerless,the evergreen leaves alone shine forth.They interlace with one another, swayingin the wind so gracefully that it is nowonder that the ancients would marvelat the leaves rather than the flowers. Themost enchanting part of an orchid lies inits serenity. Though growing in the deepmountain valley by sheer cliff, it manifestsno less beauty of nature. The ancientsbelieved that orchid has a lofty demeanorand a magnanimous mind which doesnot seek fame but follow its own pursuit.Such a character mostly agrees with themodest and self-restrained personalityadvocated by Chinese.