Details
It is easy to have a quick look at China's past and present, but it takes time to gain a panoramic knowledge of China. The "Panoramic China" series is meant to assist readers, especially those overseas, in this respect. Each volume in the series focuses on a province, municipality or autonomous region, describing, with illustrations, the outstanding characteristics of each area from different perspectives.
Shanxi: Merchants and Their Residences
Shanxi Province, called "Jin" for short, lies on the loess plateau, a land of varied topography, crisscrossed by gullies, and dubbeda "world created by a crazy god." But, tucked away in this land of yellow earth stand many magnificent ancient courtyards, their ownersmostly Shanxi merchants-a unique group of business tycoons in China.
Through its lively text and illustrations, this book takes the reader through the various courtyards throughout Shanxi, focusing on architectural arts, culture and customs and revealing many old family stories. It brings home to the reader the hardships endured by the courtyard owners when they started up in business, the rise and fall of Shanxi merchants over the centuries and the political, economic and historical reasons for this.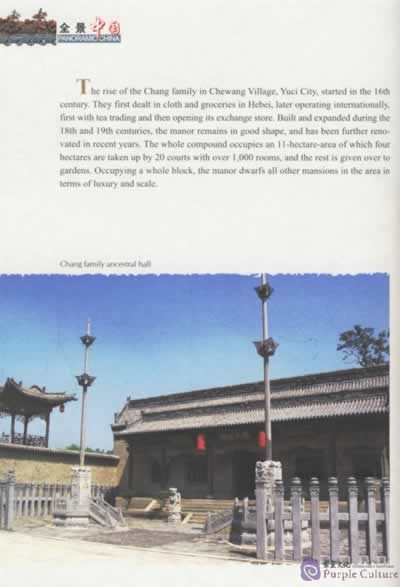 Table of Contents
Foreword
Chapter Ⅰ Shanxi Merchant Courtyards
Southern Shanxi, Cradle of
Shanxi Merchants
Mansinons by Rivers and Mountatins
The Grand Merchant Coutryards of Central Shanxi
Chapter Ⅱ Business-savvy Shanxi
Bussiness Breeding-gruound
The Kaizhong Law
From Frontier Business to Inland Bussiness
From "The Banks of the Yangtze" to "Both Sides of the Great Wall"
Supplying the Military and Opening up the Frontier
Opening an International Tea Trade Route
The Rural Ancestors of Chinese Commerce
Chapter Ⅲ Merchant Courtyard Myths
Chapter Ⅳ Courtyards that Breathe Traditional Culture
Appendices