Details
in 1932 the Japanese secretly sent him to northeast china to be the puppet emperor of the Manchukuo set up by Japanese imperialists with the final surrender of the Japanese imperialists in august 1945 Pu Yi then fell captive to the Russian red army being escorted first to chits then to Khabarovsk.
About the Authors
Wang Qingxiang was born in Shenyang in 1943 and graduated from the historical department of Jilin university in 1978.he is now a researcher for the historcla research institute of Jilin provincial academy of social science.
Ni Na, a senior translator, was born in 1953 in Xi'an and graduated in English literature at the Peking second foreign language institute now ,she is a council member and deputy-director of the literary translators committee within Shaanxi translators association.
Table of Contents
Preface
Chapter One
My Childhood
Chapter Two
Seeing Puyi for the First Time
Chapter Three
My Courtship with the Last Emperor of China
Chapter Four
The Setting of Our Love
Chapter Five
The Last Emperor's Grand Nuptials
Chapter Six
The First Week of Our Honeymoon
Chapter Seven
Hopes of Having Children Vanish into Thin Air
Chapter Eight
Teaching Puyi Domestic Chores and How to Live a Normal Life
Chapter Nine
Hangovers from the Previous Lifestyle of the Royal Family
ChapterTen
Mortals and Secularity
Chapter Eleven
Puyi A Great Fan of Peking Opera
Chapter Twelve
Accompanying My Husband Back to the Place Where He Ascended the Throne as Emperor
Chapter Thirteen
Visiting Historical and Cultural Sites Together with Puyi
Chapter Fourteen
Our Sincere Love
Chapter Fifteen
The Refusing of the Feudal Protocols
Chapter Sixteen
Reunion with the Former Servants
Chapter Seventeen
Puyi's Contacts with People from All Circles of Society
Chapter Eighteen
Receiving Foreign Guests with Puyi
Chapter Nineteen
The Publishing of the "Earth Shattering" Book
Chapter Twenty
The Tour to Southeast China
Chapter Twenty One
Tour to Northwest China
Chapter Twenty Two
Being Attacked by Cancer
Chapter Twenty Three
"Tricky" Situation that Happened in Puyi's Ward
Chapter Twenty Four
Friendship with Our Neighbour
Chapter Twenty Five
Performing the Rights of a Citizen
Chapter Twenty Six "
"Hurricane" Blew Suddenly
Chapter Twenty Seven ;
The Puyi Who Dared to Speak Out the Truth
Chapter Twenty Eight
Our Venture in "Red August"
Chapter Twenty Nine
Bitter Taste of Revenge
Chapter Thirty
Being in Bondage to an Incurable Disease
Chapter Thirty One
Puyi's Last Summer
Chapter Thirty Two
I Watched Puyi Passing Away
Chapter Thirty Three
Puyi's Memorial Ceremony Was Held Thirteen Years Later
Chapter Thirty Four
Publishing of My Memoir and the "Puyi Craze"
Chapter Thirty Five
The Publishing of The Second Half of Puyi's Life
Chapter Thirty Six
Apologies from Edward Behr
Chapter Thirty Seven
Drawing a Satisfactory Conclusion to the History
Epilogue

Sample Pages Preview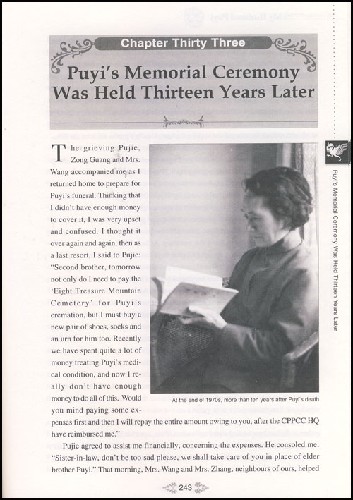 1 Customer Review(s):
by Val Waughtal on 2012-11-21 08:20:07
Written in the careful Chinese style of its time Li Shuxian's book The Last Emperor of China: Puyi My Husband is well worth reading. Li Shuxian shares her insights about the times they were living in, their marriage and Pu Yi's life after he became a regular citizen. This book is a good follow up to Puyi's book From Emperor to Citizen.
Write Review
My Husband Puyi: The Last Emperor of China
$14.00