Recorded in this book are the personal Storios of l3 ordinary Chinese Who come from all walks of life,including a dedicated teacher,a retired Photographer, who unwilling to stay idle,makes continued contributions to society,a public interest lawyer,a service person,a casual laborer,a stock trader,an intellectual and two journalists.Despite their different backgrounds and job,they a11 devote themselves to realizing their life values,achieving their ideals and pursuing their dreams.
About Author
An Dun (the pen name of Zhang Jieying) is a reporter for the Beijing Youth Daily She began working on her case studies on the "emotional state of modern Chinese people" in 1995. Her book series Absolute Privacy-P. ersonally Told Stories About the Emotions of Modern Chinese People include Absolute Privacy, Going Home, Love Letter, The Meeting of Strangers, Without Taboo, and Written on the Moon Her essay collections Verb An Dun, Rain from Heaven, and her novels Fragments of Des-ire, Burning Love, Love You and Harm You were all bestsellers. The film Life and Death Plunder based on her novel of the same title was awarded the top prises at the 2005 Tribeca Film Festival, 2005 Kerala State International Film Festival, the 5th Tiburun International Film Festi val, and the 16th Asian and Latin Ameri can Film Festival. The film We, with An Dun as its scenarist, won the prize for Best Television Film" atthe 2005 China Film Golden Rooster Awards. She began her interviews for the book series of The Chinese Dreams in 2007. So far the first and the second books of the series based on these interviews have been published under the titles of Real-Life Stories of the Young in Con'temporary China and Real-Life Stories of the Common People in Contemporary China.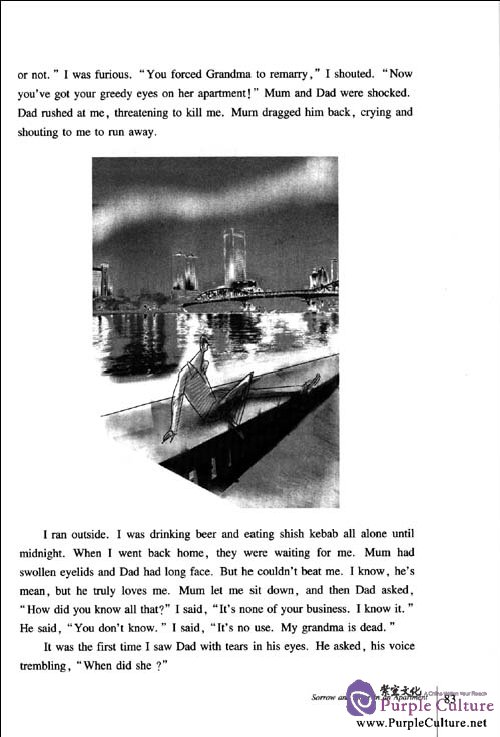 That is why Grandma never saw my parents after that. She said that whenshe remarried she told my dad that his wedding would be the last time theywould meet.
Can you imagine how I felt in that luxurious car, listening to the meanthings my dad had done to my grandma? I was so uneasy. To be fair, mygrandma was lucky to marry their father. If she hadn't been able to find a goodhusband when she was driven out by her own son I might have lost her manyyears ago.Grandma's ashes will he with me wherever I go.
From that time on, I hated to go home, especially to see my dad. Hedidn't know Grandma had died, since I didn't tell him. I wondered when he,her son, could have a moment to think about his own mother. Finally hethought of her, because of her apartment.
My girlfriend came to my home sometimes after I got a job. My parentsapproved of our relationship. Once we were having dinner together, and Mumsaid a neighbor had had a baby. "When can I become a grandma?" she asked.I hated to listen to her talking like that. I was sensitive about this matter, sinceI was thinking of my grandma. I had been born in that apartment, and had aroom of my own. It seemed we were a perfect family. But what was the cost?My grandma had to remarry at such an advanced age. Even though she was welltreated, she had to attend upon another family. It made me sad whenever Ithought of it. My girlfriend went away after dinner once, and Dad was cleaningthe table. Mum said, "She has to come and go like that. How tiring! Whydon't you two get married? You can live in the big room, and your dad and Ican sleep in the small room. When you have enough money to buy a bigapartment you can move out, and we can stay here and look after your child. "Mum liked gabbing, so I kept silent. Suddenly Dad said, "Your grandma hasan apartment. Her husband is dead.