---
Language: Chinese
Format: 28.2 x 20.6 x 1.6 cm
Page: 170
Publication Date: 12/2014
ISBN: 9787561939796
Details
Level: Intermediate ,Advanced ; College ,Adults

This book is designed for foreigners to learn classical Chinese, suitable for students with intermediate or advanced Chinese proficiency. It is divided into two volumes. Each lesson is composed of several well-arranged parts, including texts, notes, new words, grammar notes, classical Chinese knowledge, exercises, and extracurricular reading. All the texts are extracts from famous classical writings, being short in length, informative and interesting; with the learners' specific backgrounds and language proficiency taken into consideration, the grammar notes are written in explicit and concise language, supported by example sentences from the texts; apart from linguistic knowledge, the part of classical Chinese knowledge also introduces relevant information about traditional culture in ancient China, such as mountains, rivers, and calendar in ancient times, annotations of ancient books, names of ancient people, etc. This is volume 2 of the book, including altogether 15 lessons, each with 1-2 texts to be taught in 2-4 class hours. Having finished this volume, students will become more interested in classical Chinese and, more importantly, be able to understand classical Chinese and ancient Chinese culture from a deeper perspective.

About the Author
Dr. Wang Jianxi, born in Xinzheng of Henan Province, is the Associate Professor in the College of Chinese Language & Culture, Beijing Normal University. Majoring in Chinese philology (especially the history of Chinese language), he is engaged in the teaching and research of Chinese philology and TCFL.
Table of Contents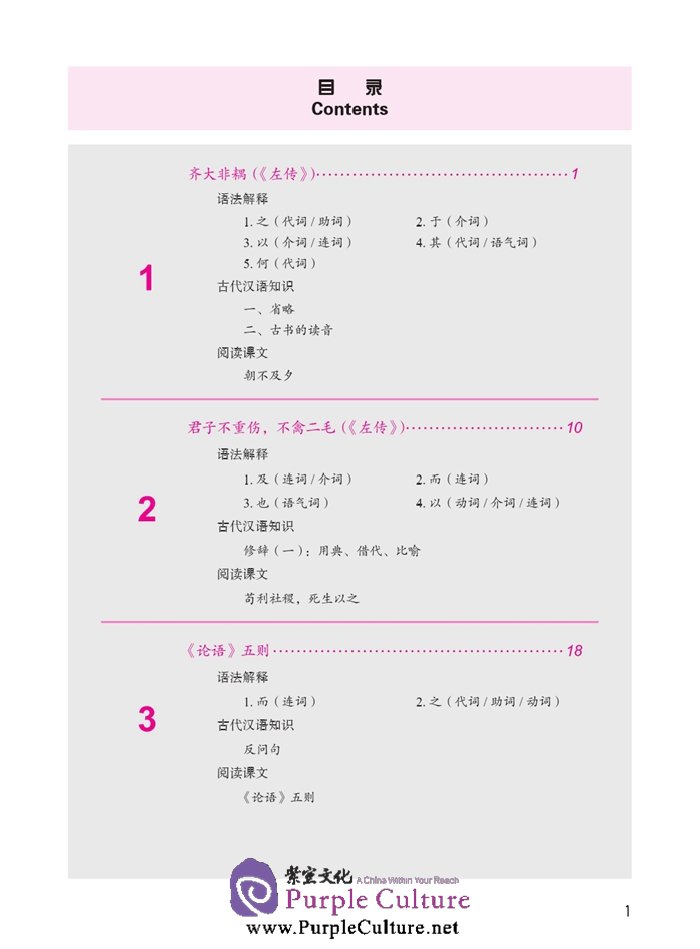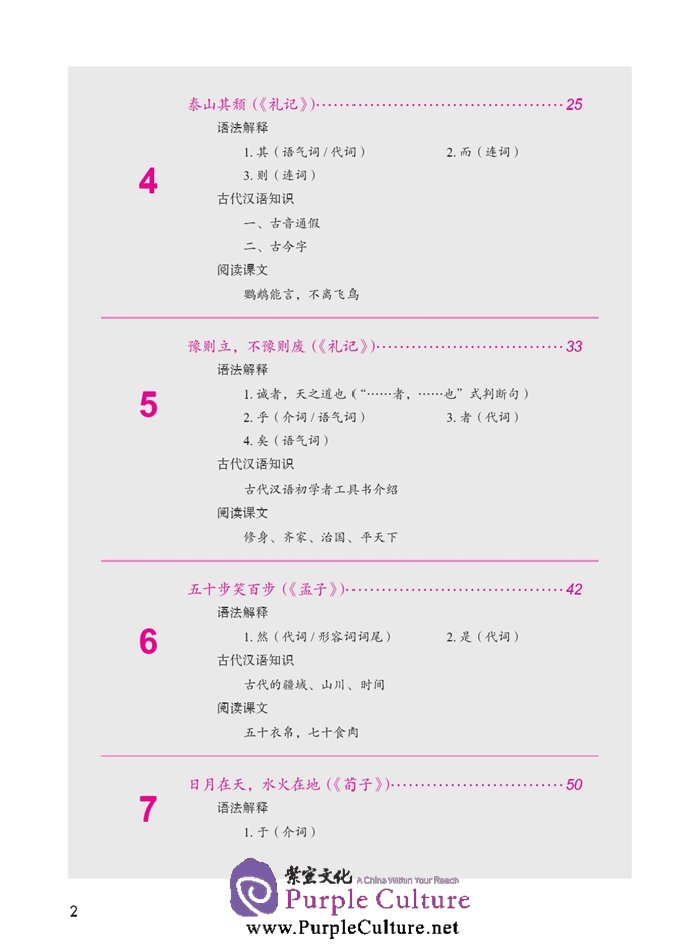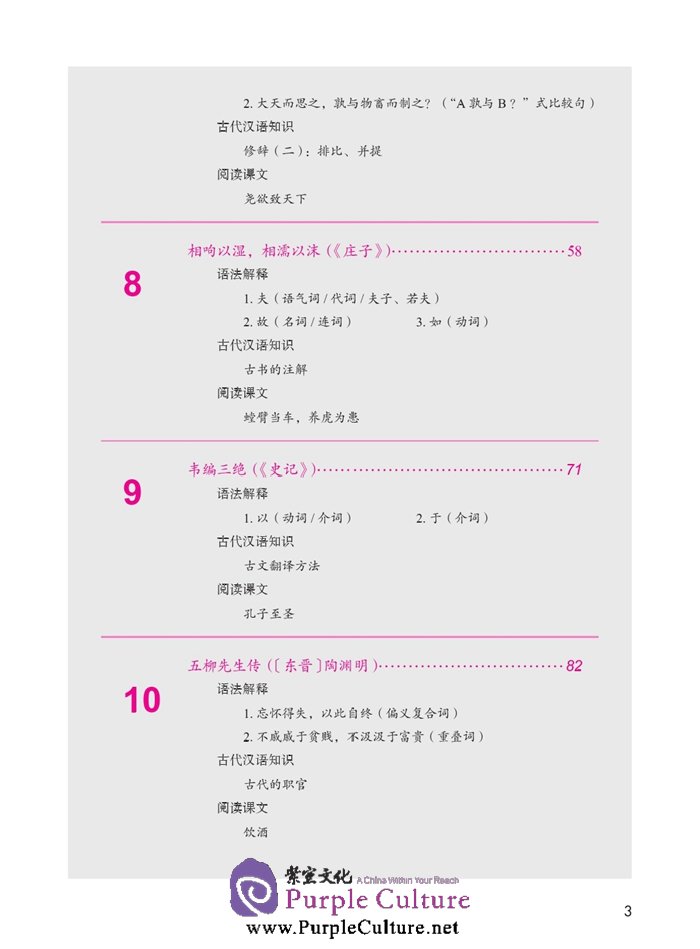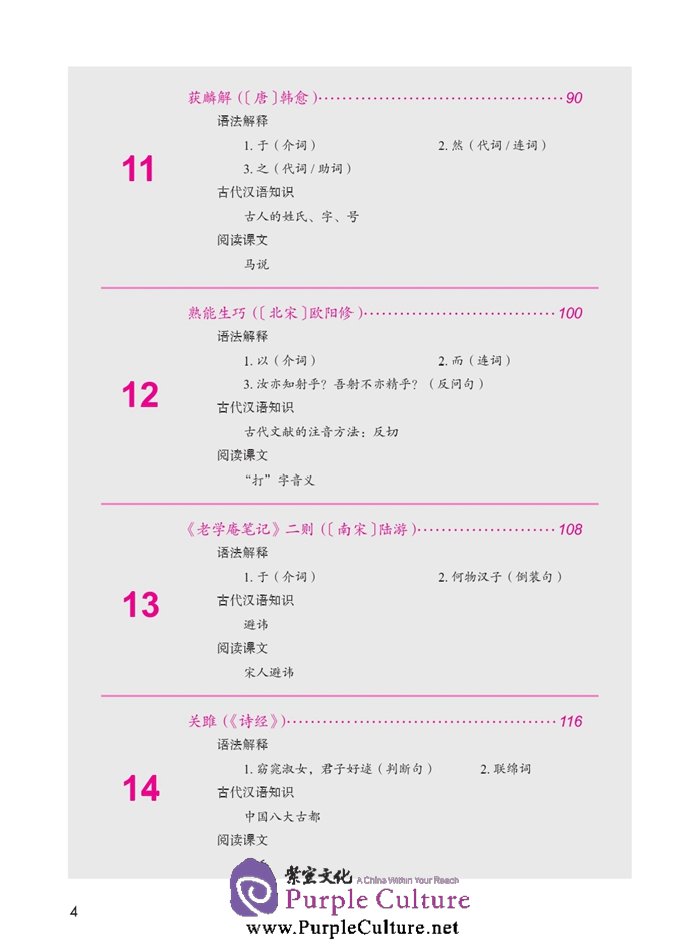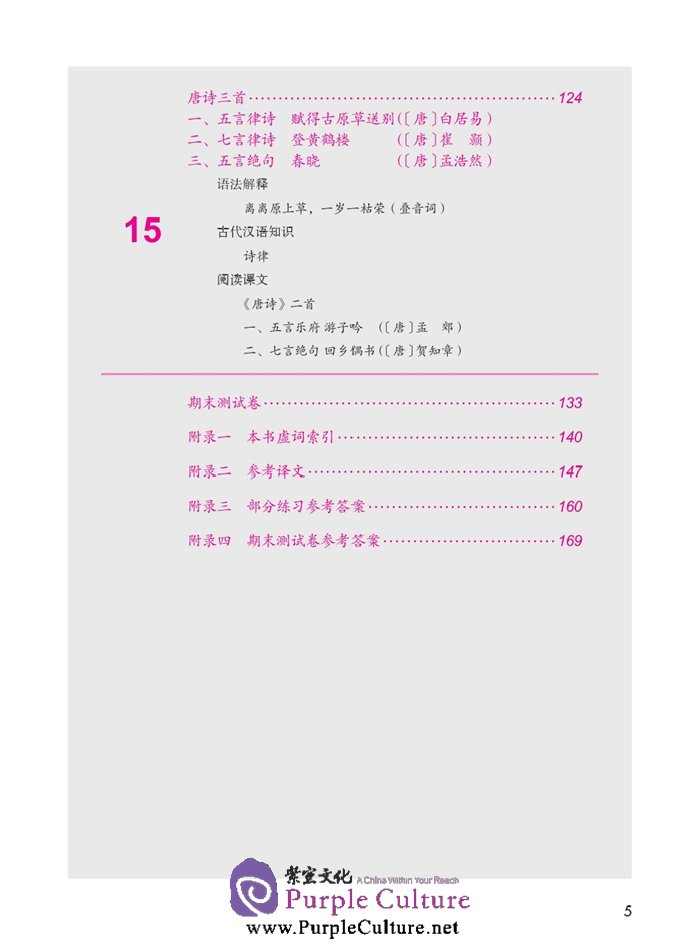 齐大非耦(《左传》)
君子不重伤,不禽二毛(《左传》)
《论语》五则
泰山其颓(《礼记》)
豫则立,不豫则废(《礼记》
五十步笑百步(《孟子》)
日月在天,水火在地(《荀子》)
相啕以湿,相濡以沫(《庄子》)
韦编三绝(《史记》)
五柳先生传([东晋]陶渊明)
……
期末测试卷
附录一本书虚词索引
附录二参考译文
附录三部分练习参考答案
附录四期束测试卷参考答案齐大非耦(《左传》)
君子不重伤,不禽二毛(《左传》)
《论语》五则
泰山其颓(《礼记》)
豫则立,不豫则废(《礼记》
五十步笑百步(《孟子》)
日月在天,水火在地(《荀子》)
相啕以湿,相濡以沫(《庄子》)
韦编三绝(《史记》)
五柳先生传([东晋]陶渊明)
……
期末测试卷
附录一本书虚词索引
附录二参考译文
附录三部分练习参考答案
附录四期束测试卷参考答案
Sample Pages Preview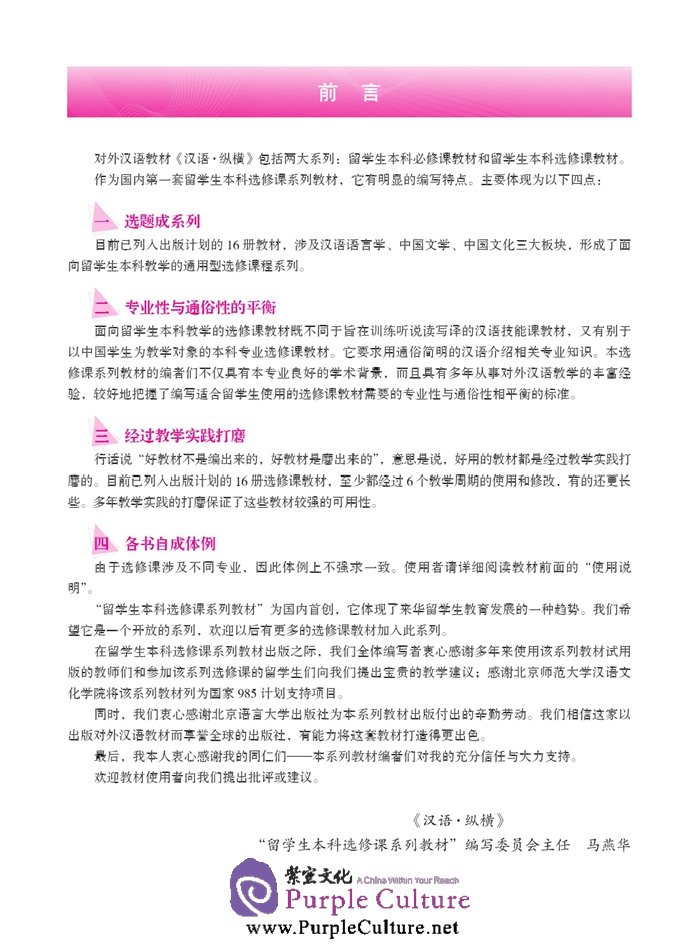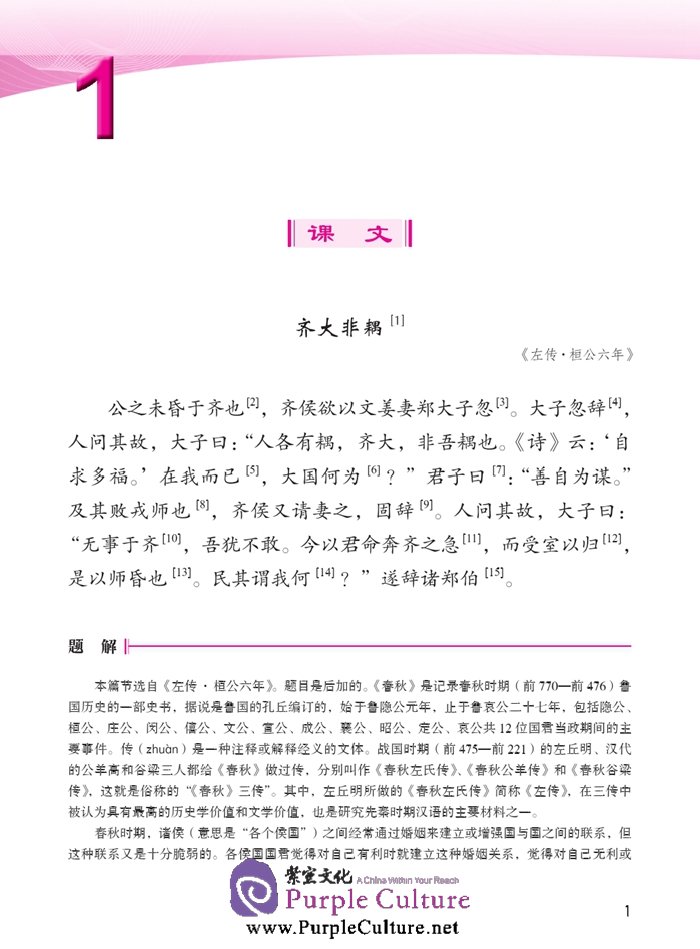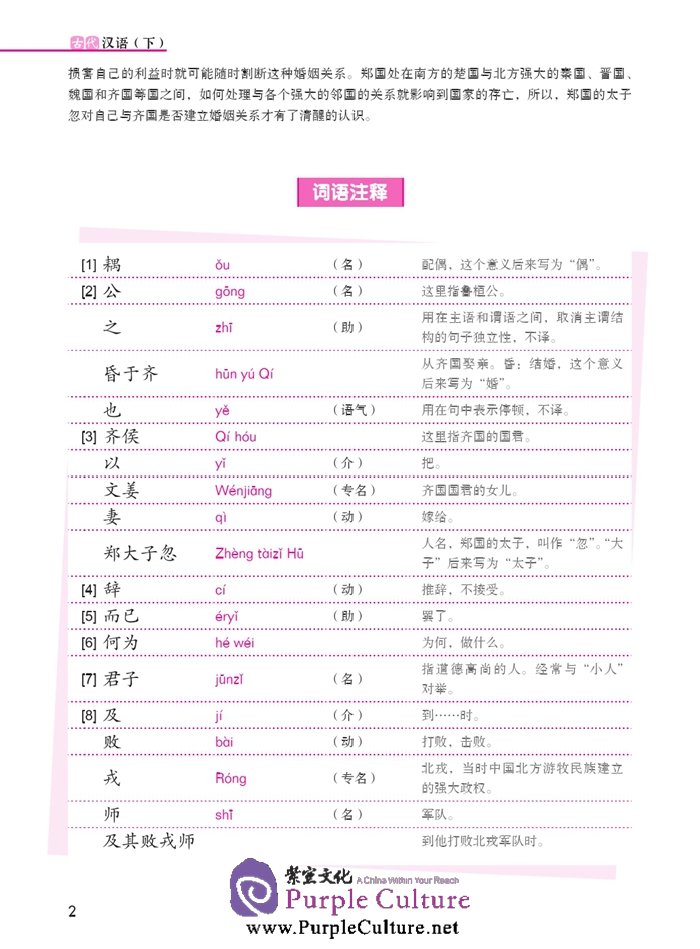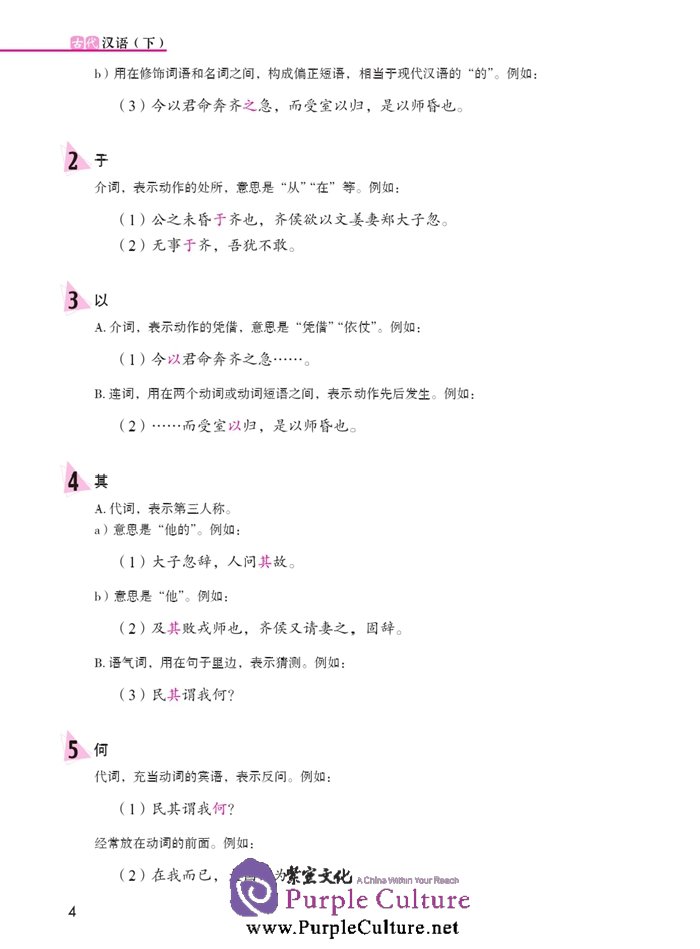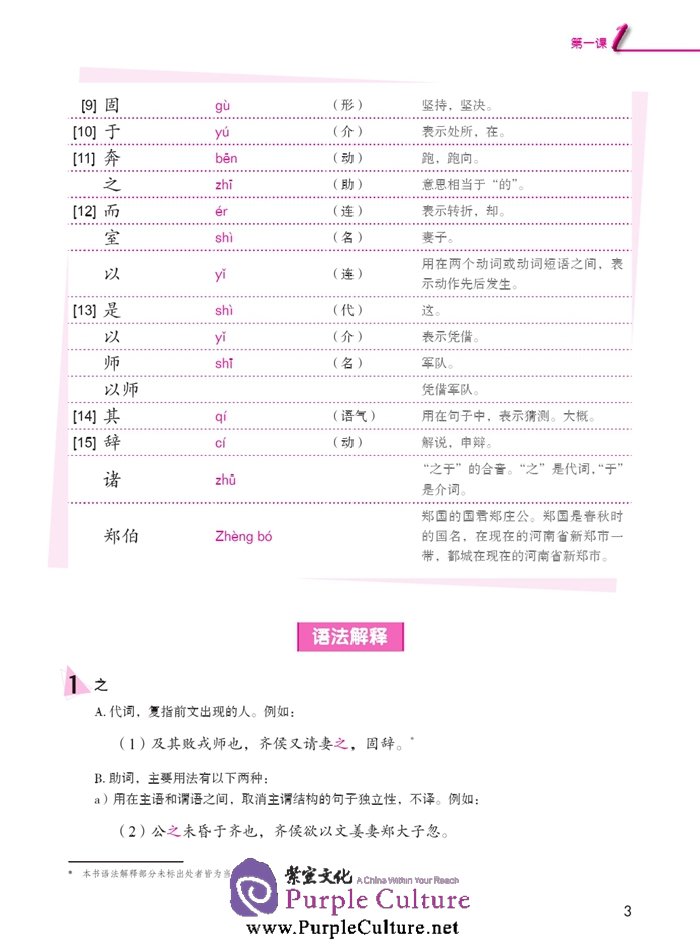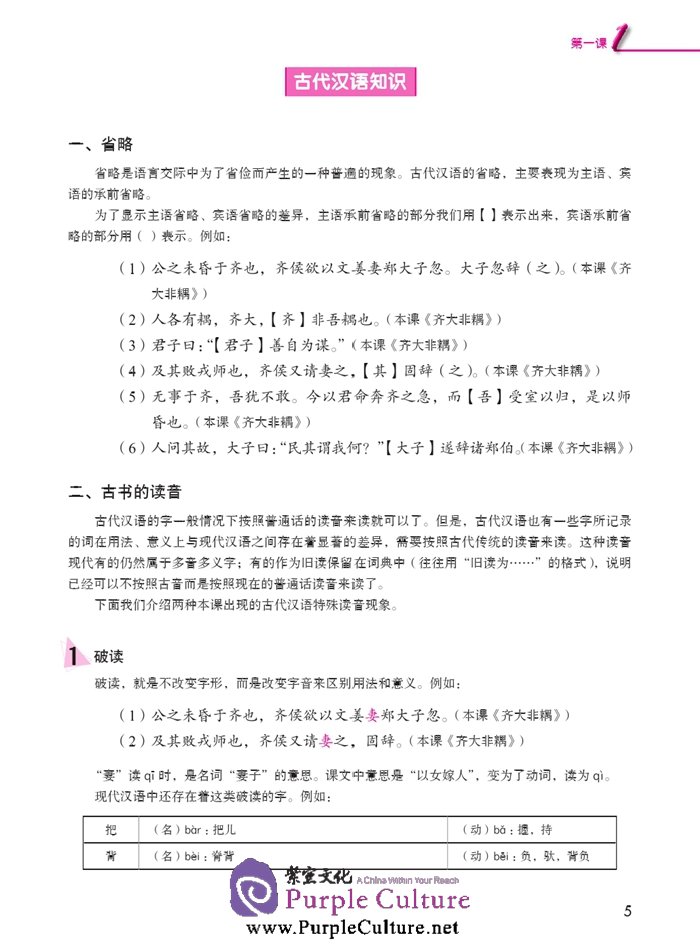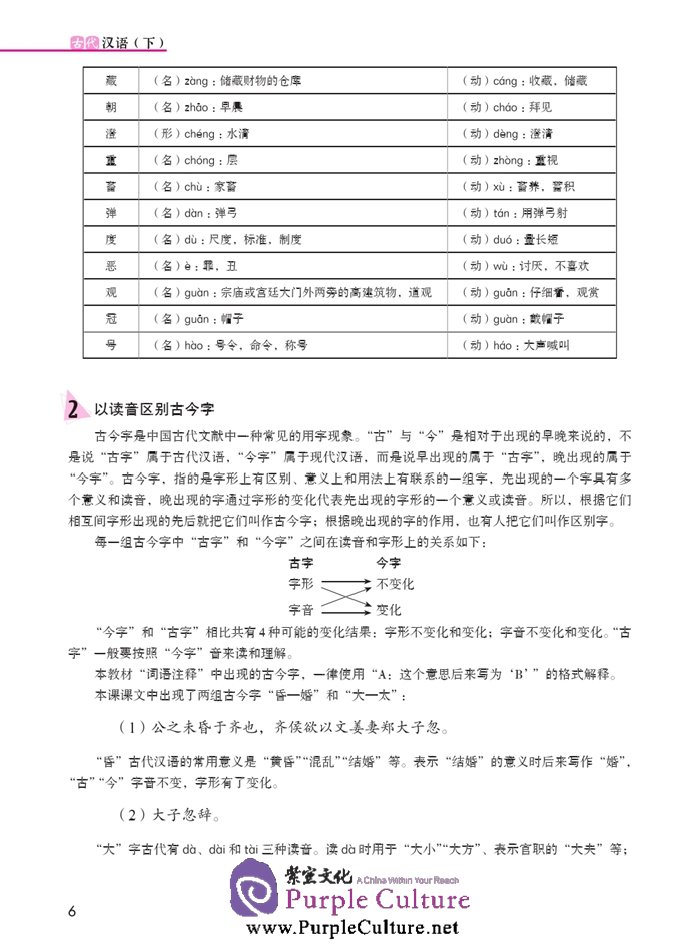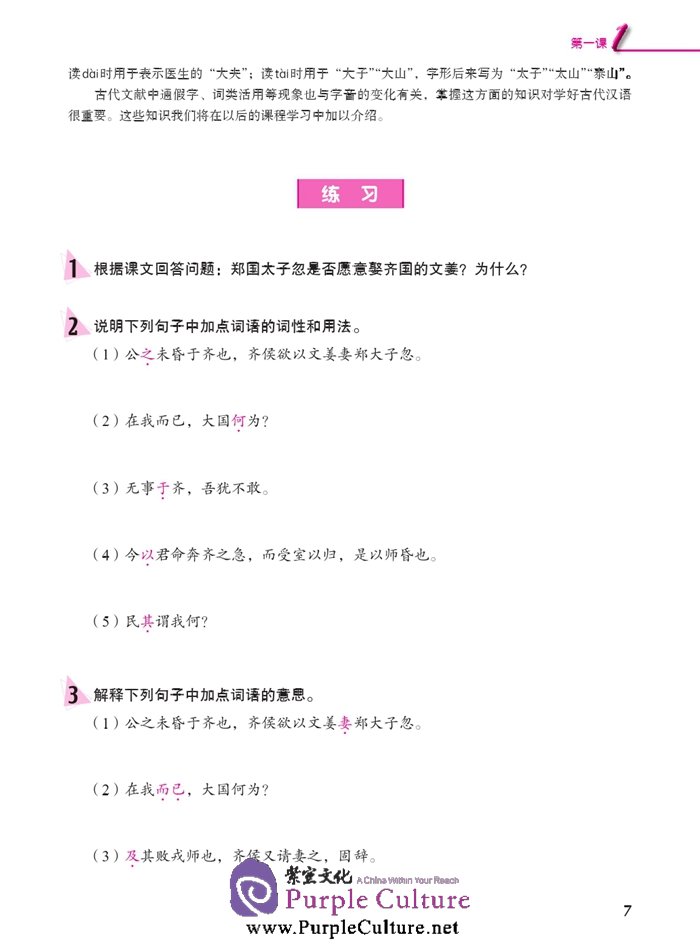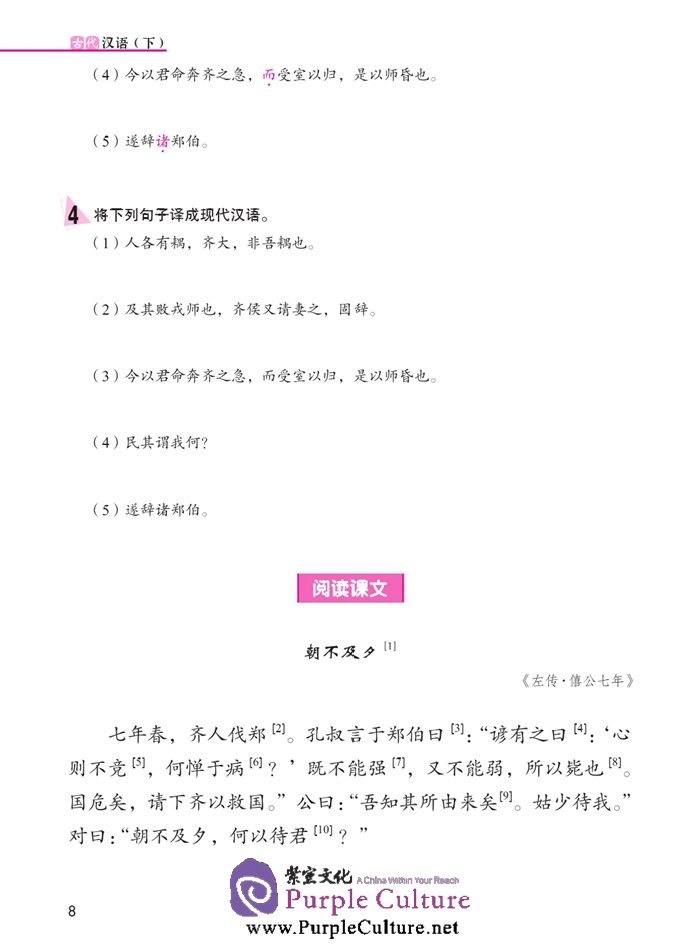 一、疆域
1.中国:古代一般指中原地区,现在是"中华人民共和国"的简称。
2.九州:两河间曰冀州,河南日豫州,河西曰雍(YSng)州,汉南日荆(Jfng)州,江南日扬州,济(Ji)、河间El兖(Y6n)州,济东日徐州,燕曰幽州,齐El营州。(《尔雅·释地》)。
河:黄河。汉:汉水或叫作汉江。江:长江。济:济河。古代称河流名的时候一般用一个字,"河""江"早期都是分别专指"黄河""长江"的词,后来才泛指所有的河流。
3.十薮(s6u:大泽,湖泊):鲁有大野,晋有大陆,秦有杨胯(y0),宋有孟诸,楚有云梦,吴越之间有具区,齐有海隅(yu),燕有昭余祁,郑有圃田,周有焦护。(《尔雅·释地》)
4.四极:东至于泰远,西至于邰(Bfn)国,南至于濮铅,北至于祝栗,谓之四极。(《尔雅·释地》)
5.四海:九夷、八狄(df)、七戎(r6ng)、六蛮(m6n),谓之四海。(《尔雅·释地》)
中国古人认为中国的四周是被四个海包围着的,所以,"海"也就有了"边境"的意思,例如"海内"(意思是"四海之内"、国内)、"海外"、"海归"、"海外游子"等。
6.五方:邑(y、)外谓之郊,郊外谓之牧,牧外谓之野,野外谓之林,林外谓之垌(ji6ng)。(《尔雅·释地》)。
Jump High - A Systematic Chinese Course: Ancient Chinese (volume 2)
$9.00