Preface
Acronyms and Abbreviations
Introduction
Chapter 1 Peacekeeping Operations in Cambodia
Rapid Respond: Bound for Peacekeeping Frontline
Tackling Tough Difficulties: Restoring the Traffic Artery for Peace
Stung Treng Effect: The Iron Will of Chinese Servicemen
Sacrifice in Foreign Countries for Safeguarding Peace
Peacekeeping Medal: The Loftiest Glory of Chinese Servicemen
Chapter 2 Peacekeeping Operations in Democratic Republic of Congo
Scenery of Chinese Barrack
Charm of Consummate Engineering Capability
An Exercise in Forest of Guns and Rain of Bullets
An Everlasting Fighting Song
Stories of Chinese Mothers
Chapter 3 Peacekeeping Operations in Liberia
Rush Repair of Roads: A Miracle of Chinese Speed
Disarmament Mission: Fearless of Dangers in the Depth of Jungles
A Compelling Obligation: Saving Life at a Critical Moment
Transportation Mission: Safety Given the First Priority
Fighting against Epidemic Disease
Chapter 4 Peacekeeping Mission in Lebanon
Bravery and Wisdom: Chinese Servicemen in War
Boundless Love: Chinese Servicemen in Humanitarian Relief
Army Warriors: Explosive Ordnance Disposal (EOD) Soldiers in Action
Crossing the Deadly Minefield for Peace
Fighting against Time to Save Lives
Chapter 5 Maintaining Peace and Security in Sudan
Engineering Tasks on the Red Earth
Medical Missions: Compassion, Courage and Faith
Chinese Nightingales": Humanity, Love and Dedication
Transport Unit on the Red Earth
Chapter 6 Peacekeeping Actions in Darfur, Sudan
Overcoming All Difficulties for Water
Transporting Supplies against the Odds
Completing the Mission: Facing Adversity with Courage and Calm
Mission Accomplished: Saluting the Chinese Peacekeeping Warriors
Chapter 7 Peacekeeping Mission in Mali
The First Security Forces Sent by China: The Guard Detachment
Specially Skilled Guards
An Unpeaceful Christmas Eve
The Chinese Guards: A Theater Trump Card
Chapter 8 Military Observers of the Chinese Peacekeepers
Advance for Peace
Songs of the Jungle
Peace—Keeping in the Desert
Follow Me to Dash Ahead
Stand Fast in the War
Chapter 9 Records of Chinese Peacekeeping Heroes
Du Zhaoyu: Keeping Promise at the Cost of His Own Life
Xie Baojun: An Outstanding Chinese Soldier in Blue Helmet
Jiang Hangang: A Tough Man with Blue Helmet
Zhang Yong: A Chinese Soldier Who Moves Africa
Annex
Chronicle of China's Armed Forces Participating in the UN Peacekeeping Operations
Postscript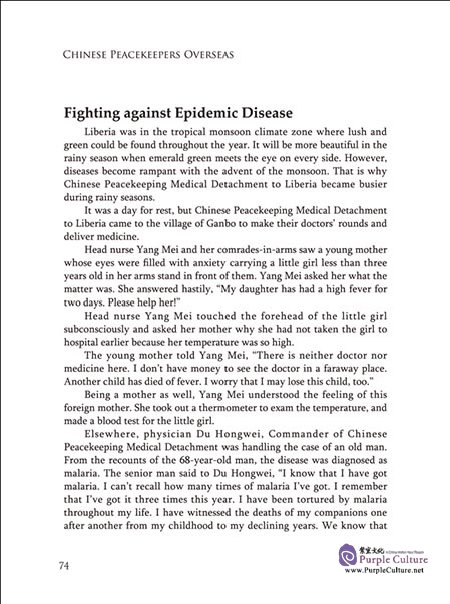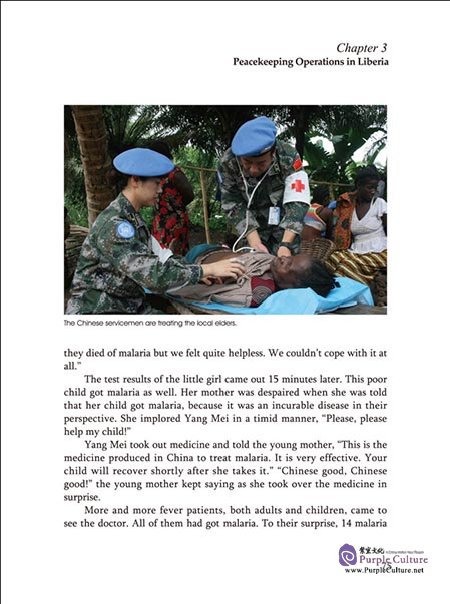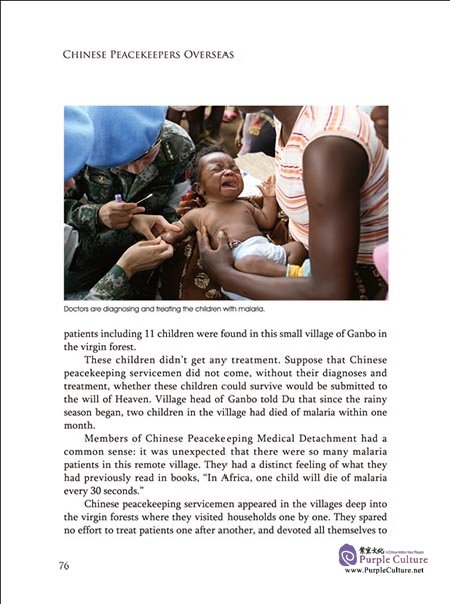 Chapter 3 Peacekeeping Operations in Liberia
In December 2003, Chinese government dispatched three established detachments with a total of 558 officers and men of transportation, engineering and medical to UN Liberia peacekeeping mission area upon the invitation of the United Nations. It was the largest peacekeeping forces with the greatest number of people in the history of Chinese forces' participation in UN peacekeeping operations.
Rush Repair of Roads: A Miracle of Chinese Speed
After more than one month's transportation over 20,000 kilometers by air and over land, Chinese Peacekeeping Engineering Detachment to Liberia, with the greatest number of people, the best equipment and the largest size in the Chinese UN peacekeeping mission history, arrived at Monrovia International Airport in the capital of Liberia.
The scourge of war completely crippled the railway of Liberia. Highway transportation undoubtedly became the lifeline concerning peace and people's livelihood. In UN Liberia peacekeeping mission area, Chinese Peacekeeping Transportation Detachment was the only transportation support unit taking up the transportation support task for the entire United Nations Mission in Liberia (UNMIL). Scarcely had Chinese forces arrived in Liberia when Lt. Gen. Opeinde, the Commander of UNMIL Peacekeeping Forces, urgently summoned Col. Chu Qinghua, the Commander of Chinese Engineering Peacekeeping Detachment.
In order to push forward the peace process in Liberia, UNMIL decided to accelerate the DDRR Operation Plan. DDRR referred to Disarmament, Demobilization, Rehabilitation and Reintegration. DDRR Operation Plan was to reach the purpose of reconstruction and reintegration by disarmament and demobilization.
Lt. Gen. Opeinde required Chinese engineers to conduct a rapid maneuvering and operational deployment to the fourth theater. At the same time, one detachment was dispatched to carry out a rush repair of 32 kilometers of road and nine damaged bridges (culverts) in River Cess so as to ensure the smooth DDRR Operation there. Then, they would rush to Greenville to repair roads and bridges along the road towards the deployment area.
It was late at night. Soldiers were sound asleep, but officers of the engineering detachment were still having a meeting.
Although they had diverse experience in their respective posts at home, it was a new challenge for them to carry out emergency maneuver over thousands of kilometers. They had to move more than a hundred pieces of heavy equipment to two directions by air and over land simultaneously in a strange country, needless to say language barricade.
They had a heated and serious discussion in the tent. They aired their views freely on the one thousand li (1 li = 0.5 km) maneuver. When midnight came, Commander Chu Qinghua stood up, walked to the map and decided on three long-range multi-echelon trans-theater maneuvering options. These options demanded coordination with foreign troops, and joint operations between air and land.
On April 28th, 2004, Chinese engineers branched out in two columns towards the south and the north and began to move forward in drizzle.
The rush repair team repaired roads and built bridges during maneuvering. The rest of the detachment members and their equipment advanced towards Zwedru area in the fourth theater of UNMIL in five echelons and six sorties. Since the southern part of the road from Monrovia to Zwedru had already been blocked out, the main maneuvering force had no choice but to move towards the north to the Ganta area in the northeast boarder area first, and then turn to the Zwedru barrack directly in the southeast. The distance was over 500 kilometers, which almost traversed the whole Liberia.
A journey of 500 kilometers on flat roads in a peaceful country would be pleasant. However, what the Chinese engineering detachment faced was heavily damaged roads left by 14 years of civil wars. All kinds of unexpected risks might happen at any moment. In that case, there were only challenges.
It was not an easy job to complete thousands of kilometers of maneuvering of engineering equipment including excavators, loaders, lorries and platform trailers within two days. From the moment of departure, Yu Yang, Deputy Commander of Chinese Peacekeeping Engineering Detachment, who was in charge of this long-distance maneuvering, had to cope with challenges one after another.
The detachment moved ahead in wind and drizzle. The roads became wetter and more slippery in rain. The mighty convoy was moving forward on muddy puddles, dangerous bridges and rough mountain roads. What the officers and men were alerted for was not these geographical conditions but small gangs of unknown armed combatants with submachine guns or rocket shells. They emerged from tropical jungles from time to time.
It was said that African jungles was beset with arcane risks. From Rwanda genocide that made people bristle with anger, to notorious "chopping arms" action by Sierra Leone Revolutionary United Front (RUF) rebel forces, African jungles produced too many tragedies in this human world. So did 14 years of civil war in Liberia. In the jungles, morality and justice, principles and self-evident truth were luxury words. For those people saturated in racial, tribal and factional hatred, to behead other people or to shoot others to death was taken for granted and even some kind of pleasure.
With the convoy moved gradually to the depth of the virgin forests, more and more unknown armed combatants roved in the jungles. A sense of danger from the jungle suddenly came to Deputy Detachment Commander Yu Yang. He instinctively picked up the walkie-talkie and issued an order: "Attention please! Attention Please! All guards keep a high alert. Report instantly if problems were found. Extend the separation between vehicles, increase the speed, and not to fall behind. Report straight away if you had any problem."
Hearing the order, NCO Chen Zhenhua had hardly started accelerating when he found a huge puddle right ahead. He had to slow down and pass the puddle steadily. Just at that moment, a sharp whistling broke through the darkness, and the left windshield broke into pieces. The truck was attacked! It was his first instinct. He stepped on the paddle firmly and the truck dashed out abruptly.
Deputy Detachment Commander Yu Yang heard the gunshot. He called all the vehicles promptly. Chen Zhenhua recovered from dizziness, moved and stretched and found himself unhurt. He picked up the walkie-talkie and reported to Commander Yu what happened just now. Commander Yu ordered according to the contingency plan: "All aboard in combat position and all vehicles speed up."
The convoy arrived at Ganta at 20:20 after 280 km driving. Deputy Commander Yu commanded the detachment members to stop going forward, lay pots to do some cooking, and have a good rest till the following day...
Preface
Preface
Since the start of the 21st century, along with the rise of China's overall national and military strength, China's defense policies, military strategy and military development have increasingly become a hot spot of the world's attention, and many books have been published overseas about the Chinese armed forces. Unfortunately, as some of the authors lack accurate first-hand information, some of their publications have been somewhat debatable.
What kind of a military is the People's Liberation Army (PLA)? In what developmental stage are the various branches of the Chinese armed forces? To what level have China's military armaments been developed? All these questions have aroused high attention from the international community and heated discussion among some overseas and domestic media. For this reason, we believe that writing a series of books to give a vivid and accurate introduction to the Chinese military, for both domestic and foreign readers, would be of tremendous significance.
There are three books in the first series on PLA China, namely The Chinese People's Liberation Army, The PLA Navy, and The PLA Air Force; the three in the second series include The PLA Army Aviation Corps, The PLA Marines and The PLAAF Airborne Troops and the third series contains four volumes: The Chinese Navy's Maritime Escort Operations, Chinese Peacekeepers Overseas, The Chinese Army in International Exchanges, as well as The Chinese Army in Humanitarian Relief. The length of each book ranges from 50,000 to 100,000 Chinese characters, with hundreds of valuable pictures. The series attempts to focus on the Chinese armed forces' history, current situation and future development in the context of its growth through the use of many interesting examples and details, to show the overall face of the People's Liberation Army from multiple angles.
Throughout the process of planning and writing the series, we invited the participation of experts from relevant PLA functional departments, military academies, and research institutions for the purpose to ensure its authority and accuracy. This series has also had strong support and guidance from the Information Office of the Ministry of National Defense. We believe that the active participation of the military personnel has made the series much more profound.
Last but not least, any kind comment, criticism or advice from you on this Series is welcome. Once received, they will be deeply appreciated and highly valued, and will be taken into grave consideration in the subsequent perfection of this Series of publications.