人类无法避免灾害和苦难,但救援行动则彰显出人性的光辉和国家的力量。《中国救援行动》讲述发生在中国国内外的六次重大救援行动--抗击非典、抗击雨雪冰冻灾害、汶川地震救灾、玉树地震救灾、印尼海啸救灾、利比亚撤侨。生动鲜活的场景,可歌可泣的救援人物和事件,展现了中国政府和军队永远心系人民、对外无私援助的大爱精神,展现了灾难面前人们的坚强和友爱。通过这一次次救援行动,中华民族传统精神在升华,以人为本的当代核心价值观在闪耀,中国梦"得以具体呈现。"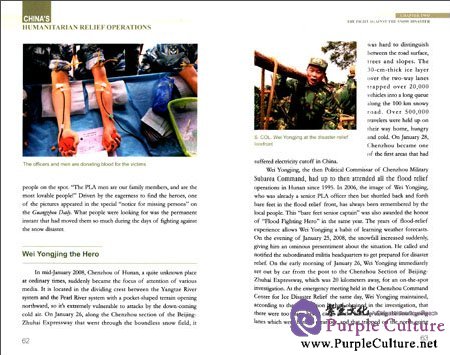 Wei Yongjing the Hero 
In mid-January 2008, Chenzhou of Hunan, a quite unknown placeat ordinary times, suddenly became the focus of attention of variousmedia. It is located in the dividing crest between the Yangtze Riversystem and the Pearl River system with a pocket-shaped terrain openingnorthward, so it's extremely vulnerable to attacks by the down-comingcold air. On January 26, along the Chenzhou section of the Beijing-Zhuhai Expressway that went through the boundless snow field, itwas hard to distinguishbetween the road surface,trees and slopes. The30-cm-thick ice layerover the two-way lanestrapped over 20,000vehicles into a long queuealong the 100-km snowyroad. Over 500,000travelers were held up ontheir way home, hungryand cold. On January 28,Chenzhou became oneof the first areas that hadsuffered electricity cutoff in China. 
Wei Yongjing, the then Political Commissar of Chenzhou MilitarySubarea Command, had up to then attended all the flood reliefoperations in Hunan since 1995. In 2006, the image of Wei Yongjing,who was already a senior PLA officer then but shuttled back and forthbare feet in the flood relief front, has always been remembered by thelocal people. This bare feet senior captain" was also awarded the honorof "Flood Fighting Hero" in the same year. The years of flood-reliefexperience allows Wei Yongjing a habit of learning weather forecasts.On the evening of January 25, 2008, the snowfall increased suddenly,giving him an ominous presentiment about the situation. He called andnotified the subordinated militia headquarters to get prepared for disasterrelief. On the early morning of January 26, Wei Yongjing immediatelyset out by car from the post to the Chenzhou Section of Beijing-Zhuhai Expressway, which was 20 kilometers away, for an on-the-spotinvestigation