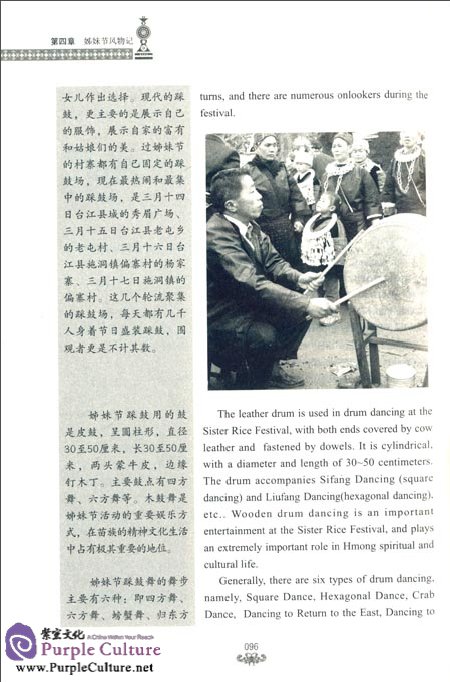 with a Dou bucket (an object shaped like a cup), andsticky rice with a sickle. The elders took out theirplanted grain to see whose grain had the longestawn. The newly harvested grain was gold. It said, "I lived in the heaven. Now on the earth. Thanks toyour diligent care, we have thousands of offsprings,and our coming life will be better and sweeter." 
There is another fairy story, whose plot isdifferent from those two mentioned above. 
A great flood flooded the earth in ancient times.The Thunder God took grain back to the heaven andplaced it in nine granaries. People on the earth hadno rice seed after the flood receded. Jiangyang andhis sister asked a mouse to go to heaven to steal theseed. The mouse climbed a tree called Laibaomuji toreach the heaven, and found a dog and a cat that theThunder God fed were guarding the granaries andfailed to steal the seed. Then an idea came to himthat he asked Jiangyang to coax the dog and cat withbacon and fish, then he might have a chance to stealthe seed. The mouse saw the golden grain, and couldnot help eating, and forgot Jiangyang. He threwthe empty shell to the earth. Jiangyang was veryworried when he saw the empty shell. Fortunately,Jiangyang' s sister Niangni picked up the shell andfilled it with her breast milk. The shell became fullgrain, so the people on the earth had rice again andlived a hannv life.