Usage Advice:
To be used together with Writing Workbook Ⅱ of
Jump High
. It takes one academic year with two class hours per week or one academic term with four class hours per week
Level:
Intermediate
This book is suitable for the second semester of the second year in college, including altogether 15 lessons, each composed of five parts, namely warm-up exercises, writing method, model essays, students' essays and grammar points.
Each lesson introduces the writing method of one genre, including common genres like exposition, argumentation and narration, and specific genres which are close the life and study of international students, such as cross-cultural essay, speech, report and dissertation. Each lesson provides several model essays, some by famous writers and others by students learning Chinese.
The model essays and knowledge about writing is not to be explained rigidly. Teachers can choose some of them to discuss with the students, analyze the stylistic knowledge and features of writing, and finally make their own requirements.
This book is supported by Writing Workbook II, which helps consolidate the knowledge learned in the textbook and assess students' achievement.
About the Author
Qi Hua is an associate professor of Chinese as a foreign language in the College of Chinese Language & Culture, Beijing Normal University. Ms. Qi's research focuses on linguistics and applied linguistics. The courses she teaches include conversation, speaking, listening, reading and writing, etc.
Xu Tang is a teacher in the College of Chinese Language & Culture, Beijing Normal University.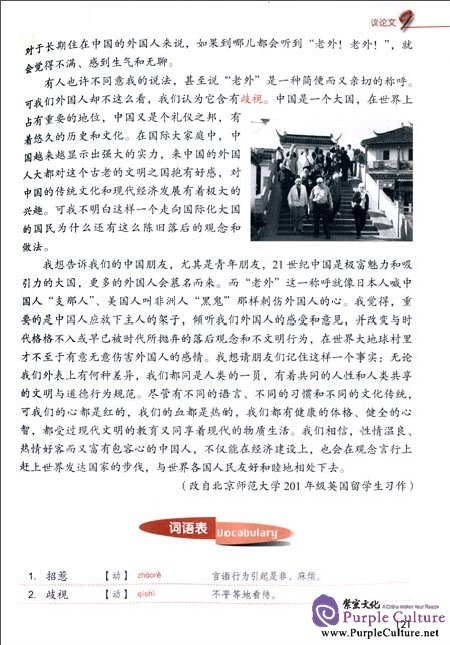 一篇文章的中心论点可以在文章的开头、中间或结尾明确地表达出来,也可以渗透在全篇论述之中,由读者概括、提炼出来。如范文l《谈骨气》,中心论点很明确,一开头就开门见山提出论点"我们中国人是有骨气的"。
一篇文章的论点,可以是一个,也可以不止一个。如果论点不止一个,那就需要明确中心论点。这几个论点可以是并列的,也可以是递进的,但它们都应该服从全文的中心论点。
2.论据
论据就是要用来确立论点并证明论点的真实理由和根据。论据要求真实、确凿、充分、典型,还要与论点有内在的联系。论据可以分为两种:一是事实论据。包括历史、事实、经验和统计的数字等等;如范文1《谈骨气》引用了三个事实:文天祥英勇就义、穷人宁饿死而不食嗟来之食、闻一多英勇对敌。二是理论论据,包括各门学科的科学原理、格言、谚语等等。
3.论证
论证就是运用明确的概念、进行恰当的判断以及合乎逻辑的推理,使论点和论据统一起来的过程,也就是用论据来论证论点的过程。论证必须安排得逻辑严格,讲究顺序,使论据和论点紧密相连,构成一个完整的论证过程。如范文1《谈骨气》一文,先提出中心论点"我们中国人是有骨气的",然后用三个实例从正面论证中心论点,最后得出结论,点出中心论点,文章论证严谨,说服力很强。
2议论文的结构
一般来说,议论文的结构就是提出问题、分析问题、解决问题的过程,表现在文章中就是序论、本论和结论三个部分。序论,也叫引论,它要把议论的论题或要论证的中心论点介绍给读者,一般要求要开门见山,要有新鲜感,不落俗套。如范文1《谈骨气》,文章一开始就提出自己的论点"中国人是有骨气的"。本论是议论的主体部分,要求运用多种论证方法深入分析中心论点,组织论据证明论点的正确性,或反驳谬论揭示其错误的实质。