Details
Erya
Chinese
is a BLCU series of textbooks for college students majoring in the Chinese language. Communication is a subseries of Erya Chinese, focusing on listening and speaking. Targeted at the speaking course for sophomores, it breaks through the traditional mode of textbook compilation, with the task-based teaching concept observed throughout the books and the design of the books complying with the steps of teaching. It is characterized by practical content, abundant activities, excellent texts and pictures and a combination of watching, listening and speaking.
This is Book 2 of Communication, dealing with 9 topics in 9 units, namely "Health Care and Bodybuilding", "Love and Marriage", "Harmonious Family", "Computer and Internet", "Outstanding Figures", "Choice of Career", "Job Interview", "Meeting Challenges" and "The Movie 'Flowers in the Cloud'". The main body of each unit is made up of two smaller topics and a visual-audio-oral section.
All the new words in the book are provided with English translation, every task is supported by full-color pictures, and the design of the book caters to individual needs. An MP3 CD and the listening script and answers to exercises are included in the book for free.
About the Author
Ms. Zhao Lei is an associate professor in the College of Chinese Studies, Beijing Language and Culture University. Ms. Zhao research interests lie in the field of teaching Chinese as a foreign language and focus on speaking and listening. She has published textbooks such as Intermediate Chinese Listening & Speaking, International Business Chinese and Course of Chinese Characters and many academic papers on task-based teaching.
Sample Pages Preview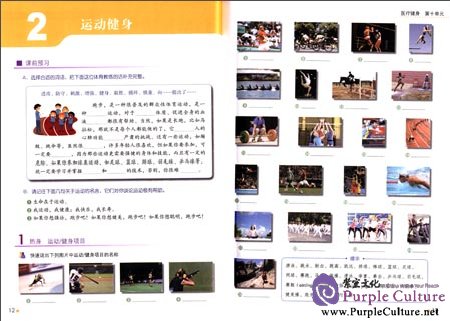 3.选用"亲情""友情""爱情"填空。
每个人的一生,都离不开亲情、友情、爱情。我们一降生,就被浓浓的________包围着,爷爷、奶奶、姥姥、姥爷、爸爸、妈妈……,无私的亲情使我们慢慢长大。在幼儿园、学校和工作单位,我们又有了伙伴情、师生情、同学情、同事情。我们也总会有几位知己,给予我们纯真的________。也许在友情中,我们还可能从异性那里收获到一份属于自己的忠贞的________。
我们在享受着________的同时,追求并拥有着友情与________。但同时爱情可能又出自于________,因为和他(她)的相识、相知、相爱的过程,其实也是友情升华的过程(除非真的是一见钟情)。但当我们的________变成了现实,走进了婚姻的生活,当我们为人父、为人母后,我们将在自己的子女身上倾注我们的________,让他们生活在我们给予他们的________之中。其实人就是这样,在这三个情中不停地轮回。
朋友,如果你的生命中伴随着亲情、友情、爱情,那么,你就是幸福的人!