Usage Advice
6-8 class hours for each of the 15 lessons
Description
This is a series of Chinese speaking textbooks designed under a "task-based" concept. With communication as its target and tasks as its thread, the series integrates topics, functions and culture together and realizes an organic unity of form and meaning. It is suitable for learners from entry-level to intermediate-level and can be used in both short-term training classes and long-term programs.
The book is composed of 15 topical units altogether, including apartment renting, diet, education, family, modern life, entertainment and job hunting, etc. Each unit has several instructional objectives for learners to fulfill during the process of completing tasks.
The whole book is provided with English translation and full-color illustrations and pictures, and is accompanied by an MP3 CD.
About the Author(s)
Mao Yue is the Vice Director of the College of Intensive Chinese Training, Beijing Language and Culture University. She was one of the writers of a number of Chinese textbooks, including An Intensive Chinese Course, Short-Term Listening Chinese, Very Good— Spoken Chinese for Beginners, and Say It Now—A Complete Handbook of Spoken Chinese.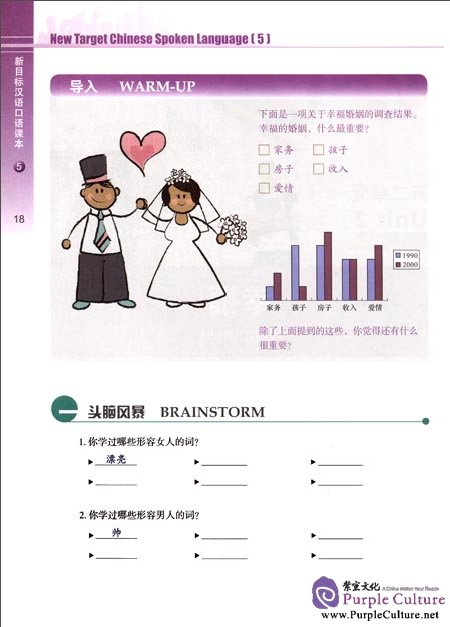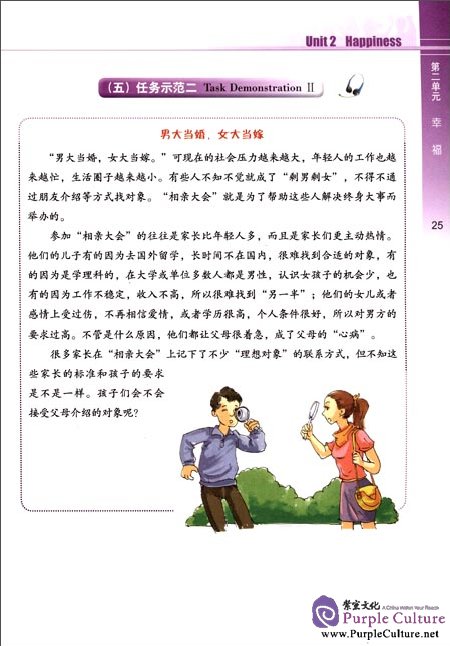 夏红:若兰,我们有好几个月没见面了吧?
若兰:可不是吗?我知道你们每天上班都很忙,周末还得打扫房间、洗衣服什么的。
夏红:是啊。真羡慕你,一结婚就做了全职太太,不用像我们这么辛苦。
若兰:唉,别提了。我早就后悔当初辞职了。我发现,女人一旦在经济上依赖老公,她的婚姻就变味儿了。
夏红:怎么会呢?你们不是很恩爱吗?
若兰:那是谈恋爱的时候,现在他越来越不在乎我了。他认为我在家做家务都是应该的。更可气的是,我天天守在家里,可他下班以后经常很晚才回家,老说是应酬,我看都是借口。
夏红:你可能冤枉他了。你不知道,现在在公司工作,压力很大,为了开展业务,晚上请客户吃饭是常有的事。
若兰:可是周末我让他陪我去逛街,他却偏偏要去打高尔夫球。
夏红:运动是好事呀!你应该支持你丈夫,至于逛街嘛,找朋友陪你去不就行了吗?你听说过这样一句话吗:"结婚前要睁大眼睛,结婚后要闭上一只眼睛。"
若兰:道理我明白,可有时候我真的很生气,控制不住自己,难免会向他发脾气。
夏红:你这脾气应该改改了。女人可以不聪明、不漂亮,但一定要温柔,不能要求男人对自己言听计从。
若兰:我看你老公事事都听你的。
夏红:那是在你们面前,在他朋友面前都是我听他的。夫妻嘛,就应该互相理解和尊重。
若兰:还是你们这样做更聪明。看来,我做得确实不太好,不应该在他工作忙的时候还抱怨他,更不应该怀疑他对我的感情。