Details
Usage Advice
4~6 class hours/lesson, a total of 10 lessons
Description
This is a set of conversation textbooks following the task-based teaching ideas. Being objective-oriented and task-based in communication, it combines the topics, functions and culture, so as to artistically integrate the form and meaning. It is suitable for total beginners of Chinese language and can be used by students of short-term or long-term training programs. Volume 2 includes 10 units, having topics such as weather, health, study, asking for directions, travelling, means of transportation, Chinese food, date, etc. Each unit includes several objectives of the tasks and helps learners to achieve language acquisition when carrying out the tasks. It provides the English translation, full-color illustrations and pictures of the real objects. There is a recording CD in addition.
About the Author(s)
Mao Yue is the Vice Director of the College of Intensive Chinese Training, Beijing Language and Culture University. She was one of the writers of a number of Chinese textbooks, including An Intensive Chinese Course, Short-Term Listening Chinese, Very Good— Spoken Chinese for Beginners, and Say It Now—A Complete Handbook of Spoken Chinese.
Sample Pages Preview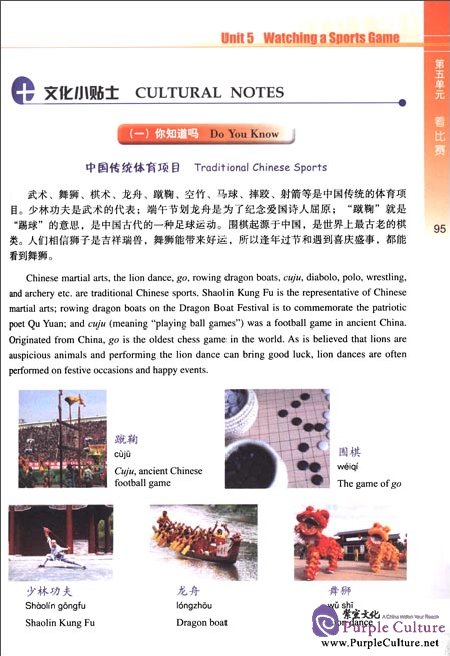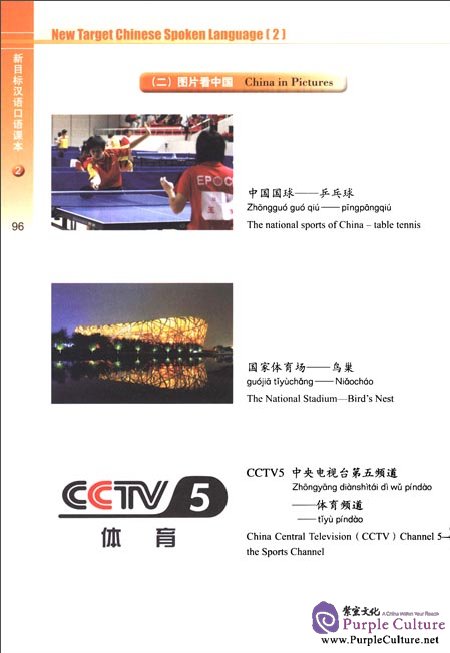 中国传统体育项目Traditional Chinese Sports
武术、舞狮、棋术、龙舟、蹴鞠、空竹、马球、摔跤、射箭等是中国传统的体育项目。少林功夫是武术的代表;端午节划龙舟是为了纪念爱国诗人屈原; "蹴鞠"就是"踢球"的意思,是中国古代的一种足球运动。围棋起源于中国,是世界上最古老的棋类。人们相信狮子是吉祥瑞兽,舞狮能带来好运,所以逢年过节和遇到喜庆盛事,都能看到舞狮。
Chinese martial arts,the lion dance,go,rowing dragon boats,cuju,diabolo,polo,wrestling,and archery etc. are traditional Chinese sports. Shaolin Kung Fu is the representative of Chinese martial arts; rowing dragon boats on the Dragon Boat Festival is to commemorate the patriotic poet Qu Yuan;and cuju (meaning "playing ball games") was a football game in ancient China.Originated from China,go is the oldest chess game in the world. As is believed that lions are auspicious animals and performing the lion dance can bring good luck,lion dances are often performed on festive occasions and happy events.