Details
Usage Advice:
For both classroom teaching and self-teaching
Level:
Elementary
Developing Chinese (2nd Edition)
is a set of nationally planned textbook for higher education during the "Eleventh Five-Year". Based on the well-designed structure of the first edition, this edition adds more elements in tune with the times.
It includes 28 volumes with altogether 34 books. Combining the cultivation of integrated language skills with the training of specific language skills in its compilation, this set of textbooks can be divided into three levels (elementary, intermediate and advanced) and five series (comprehensive, listening, speaking, reading and writing), among which the comprehensive series is the bulk and the others are the accompanying series. The overall purpose is to develop and improve the students' Chinese language skills, Chinese communication skills, integrated Chinese capabilities as well as enhance their interest and ability in learning Chinese.
Elementary Speaking Course II is suitable for learners who have already mastered the most basic sentence patterns in Chinese, grasped 1,000-2,000 most common Chinese words and acquired the most fundamental Chinese communication skills which are closely related to oneself and one's everyday life.
This book highlights practical content, scientific arrangement and workable exercises. Through the learning of this book, students can: (1) make self-introduction in fluent Chinese, express common wishes and introduce the basic information of others; (2) master and make good use of the functional items and oral expressions related to elementary oral communication; (3) acquire preliminary oral Chinese communicative strategies and skills and gradually put what they've learned in class into their daily life; (4) use Chinese to solve the problems in their study and life and talk with others about familiar topics.
There are altogether 23 lessons in this book, each of which is to be finished in four class hours.
About the Author
Teachers in the School of Liberal Arts, Renmin University of China
Sample Pages Preview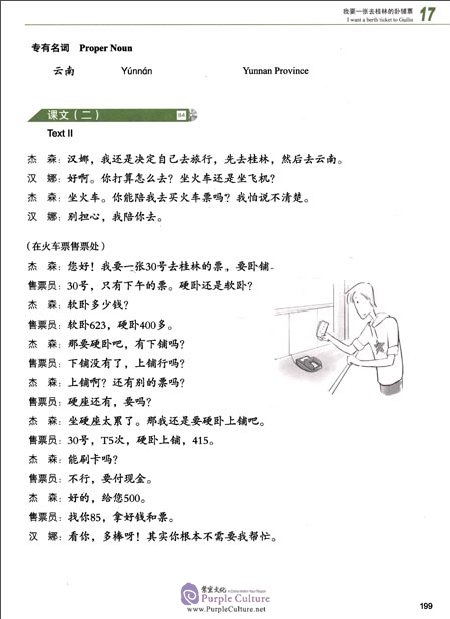 (铃木约友美周末去郊游)
铃木:友美,你周末有没有时间?
友美:这个周末?有空儿,什么事?
铃木:我和几个朋友想去郊外看看,你有兴趣吗?
友美:好啊,你们打算怎么去?
铃木:坐公共汽车或者骑车,都行。
友美:最好骑车,这样方便,想在哪儿停一停、看一看都可以。
铃木:好,听你的。对了,还记得我们培训班的那位关女吗?
友美:噢,照片上的那个,当然记得。
铃木:她也和我们一起去。
友美:真的,太棒了!你现在知道她的名字了吗?
铃木:她叫金智慧,学新闻的。
友美:她是记者?
铃木:不是,她是一家韩国汽车公司派来的,好像在公司广告部或者宣传部工作。
友美:哦。那周末我们出去玩儿,你一定介绍我们认识。
铃木:当然,放心吧。
边学边练
1.周末,铃木他们想去做什么?
2.铃木他们想怎么去?
3.友美觉得怎么去最好?为什么?
4.介绍一下铃木班里的美女。
功能句
介绍
1.中间这个是王云龙,是从新加坡来的。
2.这个是卡尔,是从德国来的。
3.他是英国剑桥大学毕业的。
4.她是今天刚到的,我还不知道她叫什么名字,好像是从韩国来的。
5.她叫金智慧,是学新闻的。
邀请
1.我和几个朋友想去郊外看看,你有兴趣吗?
2.我们想请你一起去郊游,不知道你有没有时间。
引起注意
1.你看,中间这个是王云龙,是从新加坡来的。
2.对了,还记得我们培训班的那位美女吗?
3.对了,我手机上有我们的照片。
4.哎,后边这位美女是谁?
服从
1.A:有机会的话,一定介绍我们认识一下。
B:好,没问题。
2.A:有机会介绍我们认识一下。
B:可以,没问题。
3.A:最好骑车,这样方便,想在哪儿停一停、看一看都可以。
B:好,听你的。