Developing Chinese (2nd Edition)
is a set of nationally planned textbook for higher education during the "Eleventh Five-Year". Based on the well-designed structure of the first edition, this edition adds more elements in tune with the times. It includes 28 volumes with altogether 34 books.
Combining the cultivation of integrated language skills with the training of specific language skills in its compilation, this set of textbooks can be divided into three levels (elementary, intermediate and advanced) and five series (comprehensive, listening, speaking, reading and writing), among which the comprehensive series is the bulk and the others are the accompanying series. The overall purpose is to develop and improve the students' Chinese language skills, Chinese communication skills, integrated Chinese capabilities as well as enhance their interest and ability in learning Chinese.
Elementary Speaking Course I is suitable for beginners without any Chinese learning experience or capable of communicating in the easiest and limited Chinese. There are altogether 23 lessons in this book, each of which takes 4 class hours as suggested. With its practical content, scientific arrangement and workable exercises, this book gradually cultivates students' abilities in using simple Chinese to solve the problems most relevant to their language study and daily life and in making simple conversations about the specific topics.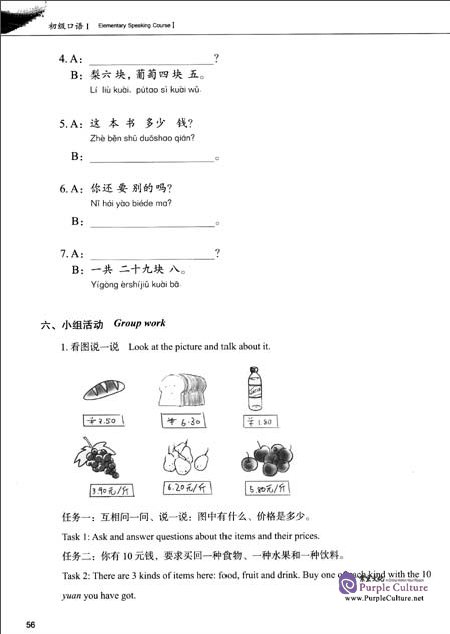 三、替换词语说句子 Substitution drills
1.A:我是中国人,我叫李雪。
B:我是韩国人,我叫朴大中。
A:认识你很高兴。
B:我也很高兴。
2.A:我叫李雪,他是我朋友。
B:认识你很高兴。
A:认识你,我也很高兴。
3.A:我是中国人。
B:我是英国人。
A:很高兴认识你。
B:我也很高兴。
2.学习 xuéxí v. study
3.汉语 Hànyǔ n. Chinese(language)
4.经济 jīngjì n. economy
5.她 tā pron. she,her
课文(三)
TextⅢ
(Hannah is watching Li Xue playing pingpong.Martin comes up to her.)
马丁:你好,我叫马丁,我是英国人。你呢?
汉娜:我叫汉娜,我也是英国人。我学习汉语,你呢?
马丁:我学习经济,也学习汉语。她是谁?
汉娜:她是李雪,是我朋友。
马丁:她是日本人吗?
汉娜:她不是日本人,她是中国人。
Text Ⅱ
(Jimmy and Hannah are talking about their classes.)
吉米:我叫吉米,我是俄罗斯人。这是我们班。我们班有15个人,你们班有多少人?
汉娜:我们班也有15个人。8个女生,7个男生。 你们班有几个女生?
吉米:我们班有6个女生,还有9个男生。
功能句
Functional Sentences
(询问)Inquiry
1.你们班有多少人?
2.你们班有几个女生?