Details
Excel in Chinese: Better Chinese, Better Business, written by teachers in the Teaching and Resources Exploitation Base of International Business Chinese (Shanghai), Shanghai University of Finance and Economics, is mainly for Chinese learners in business training programmes and focuses on the comprehensive study of listening, speaking, reading and writing. Each lesson provides plenty of business settings centering on a relevant topic, which helps students acquire expressions in certain situations. It covers expressions from daily life, social communication and cultural exchanges relevant to business situations, commercial activities and economic subjects. Each volume has a different emphasis. The two texts in each lesson focus on the difference between written and oral Chinese. Moreover, the two texts introduce business knowledge by offering related business cases, which is a popular teaching method of foreign language teaching for specific purposes.
There are five volumes in this series. Each volume contains five units and each unit contains two lessons. Each lesson consists of two texts, which focus on the same business topic, aiming to enrich learners' vocabulary and improve their ability to communicate on certain topics. Generally speaking, the first text requires intensive explanation and exercises in the class, while the second one can be used to integrate classroom teaching and self-study.
Sample Pages Preview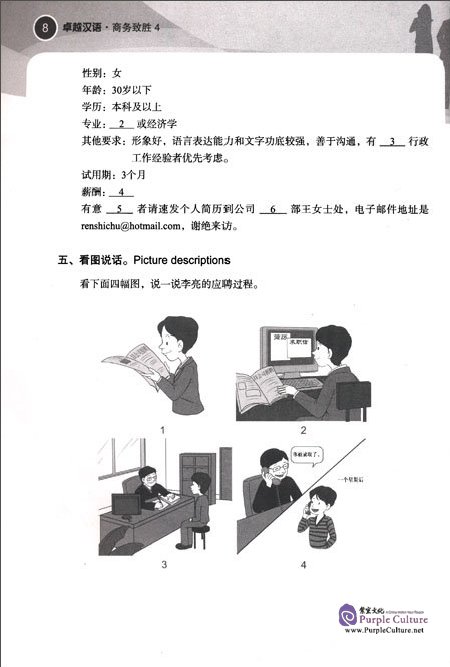 网上开店
(莉莉到好朋友英子家作客,向英子学习如何经营网店。)
莉莉:英子,你不是在一家公司工作吗?
英子:是的。5年前,我在公司做秘书,工作强度大,时间长,薪水又不高,挺辛苦的。有了孩子以后,我就辞职了。本来打算先在家照看两年孩子,再出去找份更好的工作。
莉莉:那你是怎么想到在网上开店的呢?
英子:其实,刚开始听到不少上当受骗的事情,所以只是看看。后来我开始试着上购物网站买些小东西,觉得很方便。有一次,看到一款漂亮的MP3,就动心了。送货上门的MP3与网上介绍的一模一样,我就放心了。那时,我就想这种网上购物的方式一定会成为购物的潮流。
莉莉:所以你就想自己在网上开店?
英子:是的。我的第一家网上商店在前年5月开张,最初我只是把家里闲置的东西卖出去,比如宝宝的衣服和我的化妆品什么的。没想到很快就全卖出去了。
莉莉:你怎么经营店铺?
英子:后来我想了很多办法找货源,我的商品既有特色,又物美价廉。慢慢地,我的网上小店规模越来越大,人气越来越旺,我的信心也就越来越足了。现在每天都要出货,特别是我的工艺品,一放上网就有人询问,一天之内,十多件工艺品就销售完了。
莉莉:每天卖出这么多商品,怎么送货呢?
英子:送货由快递公司负责,公司派人每天在固定的时间来取货,我只要填几张单子就行了,邮费一般都是买家承担。
莉莉:你成功的秘诀是什么?
英子:商品要有特色,经营要讲诚信。没有诚信,网上开店这条路是走不长、走不远的。
课前预习
根据课文内容选择正确答案。Choose the correct answers according to the text.
1.下面哪一项不是英子辞职的原因? ( )
A.工作强度大 B.工作时间长
C.薪水太少 D.有了更好的工作
2.英子为什么在网上开店? ( )
A.她不想上当受骗 B.她认为这将是购物的潮流
C.她在网上买的MP3很漂亮 D.她觉得上网购物很方便
3.英子的第一家网店卖什么? ()
A.家里用不着的东西 B.宝宝的旧衣服
C.她的化妆品 D.工艺品
4.英子的网店怎么送货? ( )
A.英子自己送货 B.通过邮局送货
C.通过快递公司送货 D.买家自己取货
5.英子的网店为什么那么受欢迎?