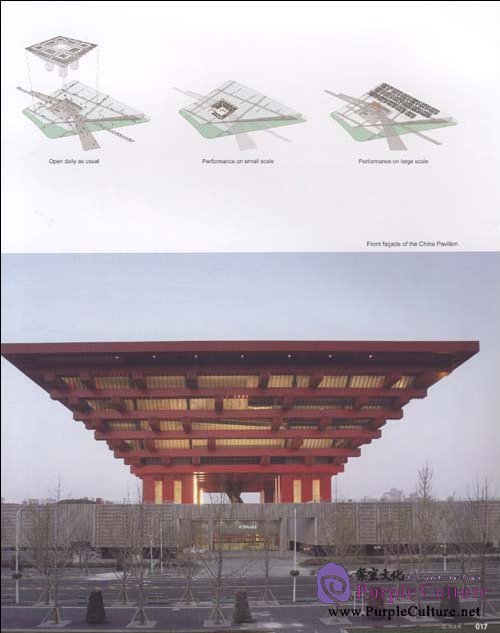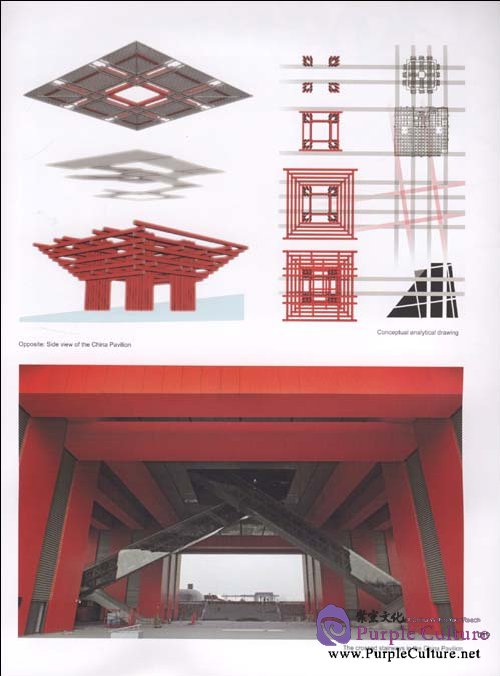 With the theme of "Oriental Crown" to express the spirit and qualities of Chinese culture, the design idea can be described as "crown of the East, a prosperous China, a barn of grains for the whole world, well-off people." It is 63m high, with overhanging floors looking like a city sculpture, being a landmark of the pavilion. The regional pavilion is 14 m high, spreading horizontally, as if to extend the grains of city, which serves as the solid base of the construction and the space for city public activities.
The pavilion absorbed the laws for building traditional Chinese cities, the grains of composition and the framework system of traditional constructions and the features of bracket model to make up its shape. Using the execution of the modern three-dimensional composition of interlocking, a cubic spatial model system with a modular figure of 2.7 m
f closely structured and over-hanging floors is thus composed. This system looks majestic as a whole with a sense of overwhelming power and meets the requirements of exhibition space as well as of the mechanic taste of modem engineering and technology.
Preface
World Exposition has provided golden opportunity to conduct great experiments in human society. It symbolizes the progress of the world, embodies the ideology of society and the human race, and promotes development and dissemination of people's ideals. The 21st century is a century of the city. Based on this premise, the theme of this Expo has been defined as "Better City, Better Life," the core value of which is the sustainable development of harmonious cities. Paying attention to city, and to the relations between it and nature, and to our living condition, we can build and create a much better city, pushing forward the sustain- able development of all the cities in the world, when and if we spare no efforts to explore the idealistic city in the future to pursue a good, quality life by way of describing, displaying, studying and discussing and exchange of ideas on the theme. How to build a city in the balanced development between its natural ecology and social ecology has become one of the key curriculums of the theme deduction of the Expo. It is not only a problem that the developing countries have to put it on the list of priority for consideration, but also one the developed countries have to face and solve.
The world expo has made all the people of the world united to explore this problem and aspire for the future. The Japanese architect Kenzo Tange who was in charge of the planning and pavilion design of
the Expo Osaka 1970, believed that "the chief purpose of the modem expositions should get together those people worldwide who represent the wisdom and cultural crystal of human kind, and exchange ideas and feelings face to face with each other." World expo encourages people to advance forward, promotes the fusion of cultures, and creates the ex- change space and platform.