---
Language: Chinese, English, French
Format: Papercover
Page: 206
Publication Date: 01/2010
ISBN: 9787802007772
Sample Pages:
PDF Download
Details
Tailored for visitors to Expo Shanghai;Covers the most useful and easy-to-learn sentences to help you get around Shanghai and beyond;Includes an audio disc in MP3 format to help make pronunciation convenient and simple.
Table of Contents
Key to Pronunciations
Interesting Characters
Main Characters
Hello!
See you tomorrow!
Thanks!
Sorry.
Welcome to Shanghai.
My name is Tony.
Nice to meet you.
I am American.
I can speak a little Chinese.
Today is Wednesday.
Nous sommes mercredi aujourd'hui.
Today is April 30th.
It is eleven fifteen now.
I have reserved a room.
I want to exchange some money.
Where can I access the Internet?
May I help you?
The phone number of the Chinese restaurant is 6320.
Hello, may I speak to Zhang Hai, please?
I stay at Huasheng Hotel, Room 1016.
Are you free at the weekend?
Let's meet at 1:00 pm at the gate of People's Park.
Excuse me, where is the restroom?
How can I get to the Bank of China?
Hongqiao Airport is near here.
Here is the Oriental Pearl TV Tower.
How can I get to the People's Square by subway?
How much does one cost?
Can I try it on?
Could it be cheaper?
I'd like a cup of coffee.
Do you have an English/French menu?
These dishes are really delicious.
Waiter, bill.
Cheers for Expo!
What are the places of interest in Shanghai?
Where do you want to visit?
The weather is really fine today.
It is very warm in spring and cool in fall.
Where do you feel uncomfortable?
Doctor, how should I take this medicine?
I like swimming and playing tennis.
Table tennis is a Chinese national sport.
Better city, better life.
This is the China Pavilion.
The performances are abundant and wonderful.
The mascot of Expo Shanghai is called Haibao.
Shanghai leaves a very good impression on us.
I want to book an air ticket.
Have a smooth journey!
Sample Pages Preview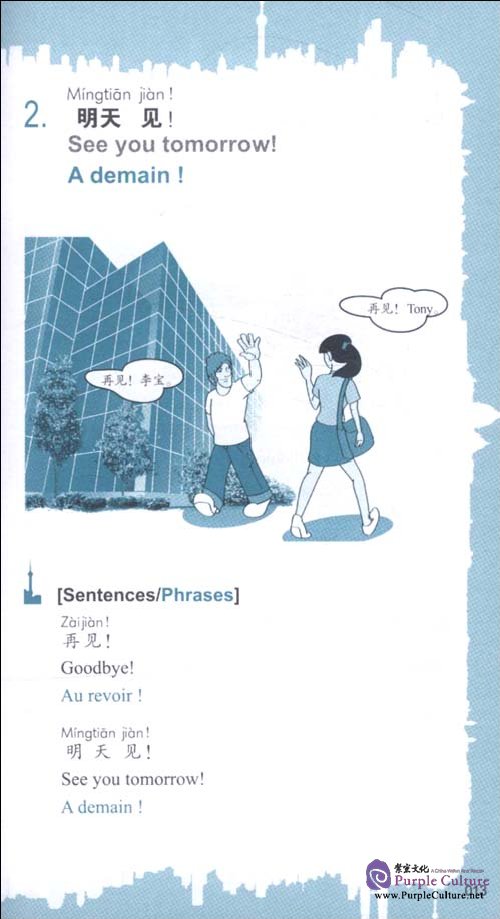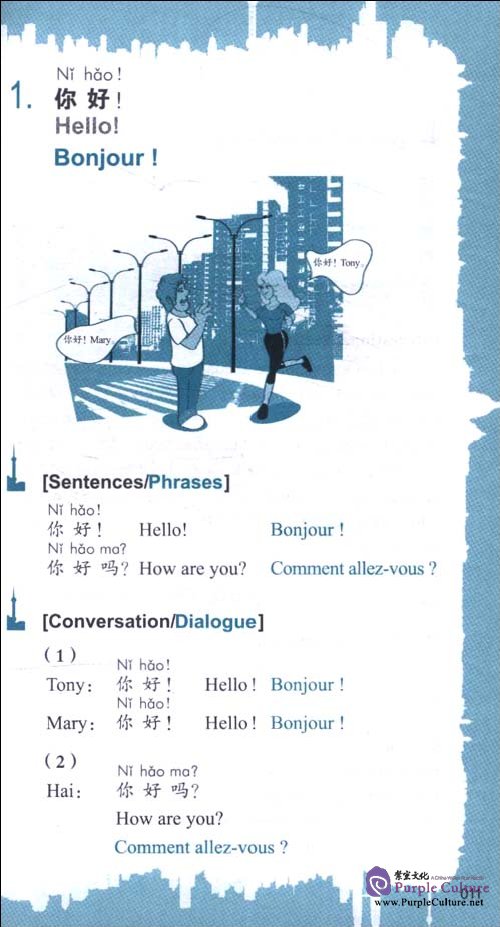 Expo Chinese Phrase Book
$8.00