Details
It is easy to have a quick look at China's past and present, but it takes time to gain a panoramic knowledge of China. The "Panoramic China" series is meant to assist readers, especially those overseas, in this respect. Each volume in the series focuses on a province, municipality or autonomous region, describing, with illustrations, the outstanding characteristics of each area from different perspectives.
Heilongjiang: World of Ice and Snow & Green Home
Heilongjiang Province is situated at the northeastern tip of China. Heilongjiang in winter is a world of ice and snow, enjoying world-renowned prestige for the artistic scale and high quality of its charming ice sculptures. Heilongjiang possesses large areas of fertile land and a dense network of rivers. On its black soil there are enormous wild forests, wide marshes, and far-flung grasslands. Generations of hard-working people in Heilongjiang have endowed the province with mystery and beauty. Walking into this rough, beautiful and mysterious land, you will feel its honesty, friendship, kindness and sincerity.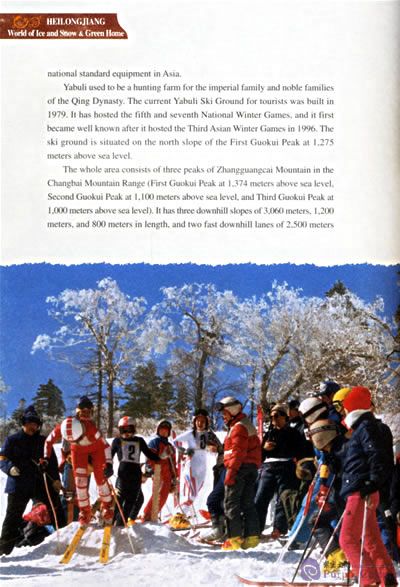 Table of Contents
Introduction
Ancient Homeland
Ancient Footprints Longgu Mountain of JiaYin
Origin of Human Civilization
Origins of Minority Ethnic Groups in Heilongjiang
Green Black Soil
Agriculture on the Vast Plains
Huge Natural Forests
Pearl on the Black Earth
Narrative History of the Black Earth
Ahcheng——City Place of Origin of the Jin
Yakesa Campaign and the "Sino-Russian Treaty of Nerchinsk"
Red Road of Heilongjiang Province
Heroic Soul on the Black Soil——Fighting Against the Japanese Imperialists
Great Contributions of Heilongjiang Province to the War of Liberation
Ethnic Hunting Groups in the North
Elunchun People on Horseback with Fine Marksmanship
Brave and Interpid Dawer People
Hezhe People Inseparable from Fish
Ardent and Valiant Mongolian Husbandry
Kerkezi People Living on Animal Husbandry
Diligent and Intelligent Xibo People
Dancing and Singing Korean People
Great Passage Between Asia and Europe
……
The Industry of Heilongjiang Province
Tourism in the North
Harbin——Pearl on the Neck of a Swan
Annex