Details
It is easy to have a quick look at China's past and present, but it takes time to gain a panoramic knowledge of China. The "Panoramic China" series is meant to assist readers, especially those overseas, in this respect. Each volume in the series focuses on a province, municipality or autonomous region, describing, with illustrations, the outstanding characteristics of each area from different perspectives.
Guangxi: Land of Wonders and Beauty
Guangxi is a land of wonders, where mountains are reflected in embracing waters, creating the fairest of pictures, Guangxi is a land of beauty, a home to 37 different ethnic groups, predominantly the Zhuang people. It is also a land of antiquity and of dynamism. In Guangxi, you will encounter fantastic landscape beauty, precious cultural relics and age-old historical sites, and deeply rooted ethnic customs; everywhere in Guangxi, you can see its diverse peoples vigorously creating a new life and enjoying it to the full.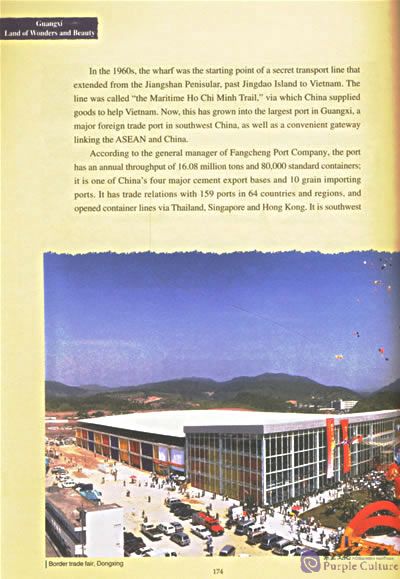 Table of Contents
Guilin -- a Glorious Introduction to Guangxi
 River of Dreams  the Lijiang
 West Street in Old Yangshuo
 Third Sister Liu
 Mountain Terraces in Cloud Seas
 Kingdom of Animals and Plants
Everywhere in Guangxi, Reminders of Guilin
 Land of Longevity
 The Dashiwei Pits
 Deep Tranquility of the Buddhist Mountain
 Nature's Palace of Art
 The Dashing Hongshui River
The Largest Population of Ethnic Minorities
 The Zhuang Singing Festival
 Customs of the Yao
 Miao Village Festivals
 Dong Towers and Bridges
 Maonan Handicrafts
 Mulam Marriage Customs
The Enchanting Beibu Gulf
 Experiencing Beihai
 The Magic of Gold Beach
 Sailing in Sanniang Bay
 Mangrove Forest
 Diving at Weizhou Island
Cross-border Friendship
 Friendship beyond the Pass
 Songs over the Beilun River
 Cross-border Waterfalls
Records of History
 Bronze Drums
 The First Emperor and the Lingqu Canal
 The Zhenwu Pavilion A Structural Masterpiece
 Liujiang Man and Liuzhou Willows
 Guihai Stele Forest
 Prince Jingjiang
 The Leaning Tower of Zuojiang
 The Jintian Uprising
 The Bose Uprising
 The Return of the President
Nanning Home of China-ASEAN Expo
 The Greening of Nanning
 On the Wings of Song
 Delicacies of Guangxi
 Cultural Exchange
 Common Prosperity