Usage Advice:
6 class hours for each of the 15 lessons
Level:
Intermediate, Advanced
Developing Chinese (2nd Edition)
is a set of nationally planned textbook for higher education during the "Eleventh Five-Year". Based on the well-designed structure of the first edition, this edition adds more elements in tune with the times. It includes 28 volumes with altogether 34 books.
Combining the cultivation of integrated language skills with the training of specific language skills in its compilation, this set of textbooks can be divided into three levels (elementary, intermediate and advanced) and five series (comprehensive, listening, speaking, reading and writing), among which the comprehensive series is the bulk and the others are the accompanying series. The overall purpose is to develop and improve the students' Chinese language skills, Chinese communication skills, integrated Chinese capabilities as well as enhance their interest and ability in learning Chinese.
The Advanced Comprehensive Course (I) , following the Intermediate Comprehensive Course (II), is suitable for learners who have finished learning the Intermediate Comprehensive Course (II) or other textbooks at the same level and mastered basic or intermediate Chinese grammar as well as 3,500-4,000 common words and who can exchange ideas with others on common topics and are capable of general narrative, expositive and argumentative expression. In the selection of texts, the diversity of language styles and registers are stressed, the cultural insights and connotations are paid attention to, and the study of written language is emphasized. In addition, the format of the book is designed based on the concepts of facilitating users and serving education so that the listening, speaking, reading and writing skills of learners at the advanced level can be improved simultaneously.
About the Author
Teacher in Renmin University of China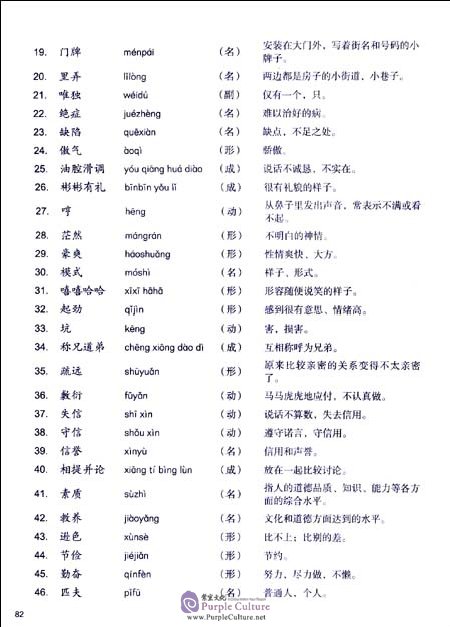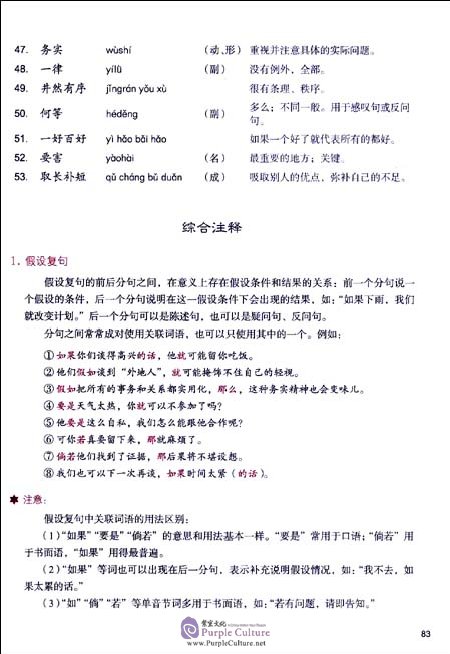 我喜欢谈天说地,也很喜欢写随笔。所谓随笔,就是以笔代嘴,想到哪儿就写到哪儿。这篇随笔就说说我的名字。我的名字很多人都称赞,说这样的名字,作家使用最好不过了,同名的可能性非常小。"兆"和"言"本来都是取名时常用的字,可是把它们合在一起做名字,就有了独特性。
我的名字是爱情的产物。父母给我取名的时候,做了个文字游戏:母亲姓姚,"姚"的一半是"兆";父亲名"至诚",繁体字的"诚"是"言"字旁。父亲和母亲各自把名字中的半个字给我,就有了我的大名"叶兆言"。
父亲为我取的名字曾得到了祖父的赞许。要得到祖父的赞许并不容易,尽管祖父自己替人取名字一向不太认真。祖父取名字的特点是随意。我伯父在他的兄弟姐妹中是老大,叫"至善",姑姑叫"至美",父亲最小,本来应该叫"至真",可是祖父故意闹别扭,把应该叫"至真"的名字改成了"至诚"。祖父在晚年的闲聊中,曾笑谈给父亲取名的想法,他觉得,起"至真"这个名字虽然顺理成章,却是谁都会想到的,于是偏偏改成"至诚",让大家的想法都落空。+祖父给孙子起名字也很随意,伯父的几个孩子的名字都是祖父取的:大堂哥叫"三午",因为祖父属马,大伯属马,老大也属马的缘故①;老二小时候没有学名,因为长得胖,小名就叫"大块头",这是南方人对胖小孩儿的一种叫法,叫顺口了,干脆找了个音近的字:大奎;堂姐是老三,小名叫"小妹",叫惯了,找了个形状相近的字:小沫。最小的堂哥生于国际争取持久和平年,这一次更省事,就叫"永和"。