Chapter 1 Introduction of Natural Resource Management and Sustainable Development
1.1 Background
1.2 Conceptual Framework: Ecology of Landscape
1.3 Research Area and Subject: Xishuangbanna and Akha
1.4 Research Objectives, Hypotheses and Methodology
1.5 Significance of the Study

Chapter 2 Dynamic Politics of Akha Identities:A Brief History of the Akha
2.1 Introduction
2.2 Genealogies of the Hani-Akha
2.3 People of the Sky in North Country Nya-rnir
2.4 People of the Bamboo Kingdom in the Middle Country Ghanr-mir
2.5 Jadae polities and formation of Akha identity in the South Country Gee-mir
2.6 Diasporic Period of Akha History
2.7 Discussion

Chapter 3 Ecology of Sacred Landscape : Natural Resource Management of Akha People in China Prior to 1950
3.1 Introduction
3.2 Akha Belief System
3.3 Akha Worldview and Sacred Landscapes
3.4 Six Zones of Land Uses in Mengsong Akha Community
3.5 Management of Forbidden Ecotopes
3.6 Management of Restricted Ecotopes——putsanq (village fence forest) andgbaqtsanq (protected forests)
3.7 Management of Modified Ecotopes——miqkhaevq lavqghaw
aqganq ( firewood forest ) and nyoqjawr kmrteev aqganq
(fenced buffalo forest)
3.8 Management of transformed ecotopes——yarmr jawqxmq aqdae ( swidden fields)
3.9 Management of Domesticated Ecotopes——daema (paddy fields) andyark mr (fenced gardens)
3.10 Management of Mobile Ecotopes——bawrtsanq jeiqzaq (wild animals)
3.11 Management of Created Ecotope——pu (village)
3.12 Conclusion and Discussion:Ecology of Sacred Landscapes of the Akha

Chapter 4 From Swidden Agriculture to Cash Crop Monocuiture: A Case Study of Mengsong Community
4.1 Introduction
4.2 Period Ⅰ (1949——1977)
4.3 Period Ⅱ (1978——1998)
4.4 Period Ⅲ (1998——up to date)
4.5 Other Activities in Mengsong
4.6 Conclusion

Chapter 5 Rubber Plantations and Transformations of Akha Society in
Xishuangbanna, Southwest China: A Case Study of Baka Village
5.1 Introduction
5.2 Rubber Plantations in Xishuangbanna : State vs.People
5.3 State Efforts to Eliminate Shifting Cultivation in Xishuangbanna
5.4 Rubber Plantations in Baka Village ,
5.5 Cultural Adaptations to Rubber Plantation in Baka
5.6 Conclusion

Chapter 6 Conclusions
6.1 Revisiting Contested Landscapes in China
6.2 Cultural (Mal)adaptations to Frontiers by the Akha
6.3 Discussions and Suggestions on Sustainable Development and
Bio-diversity Conservation in Xishuangbanna and Beyond

REFERENCES
Appendix Ⅰ Preferred Timber Trees in Mengsong
Appendix Ⅱ A List of Plants and Crops in Mengsong Swidden Fields
Appendix Ⅲ A List of Plants in Mengsong Home garden
Appendix Ⅳ The Twelve Annual Ancestor Offerings of the Akha
Appendix Ⅴ Akha Lunar Calendar (khovqtovq latovq)
Appendix Ⅵ Dynamics of Mengsong Land Uses
Acknowledgement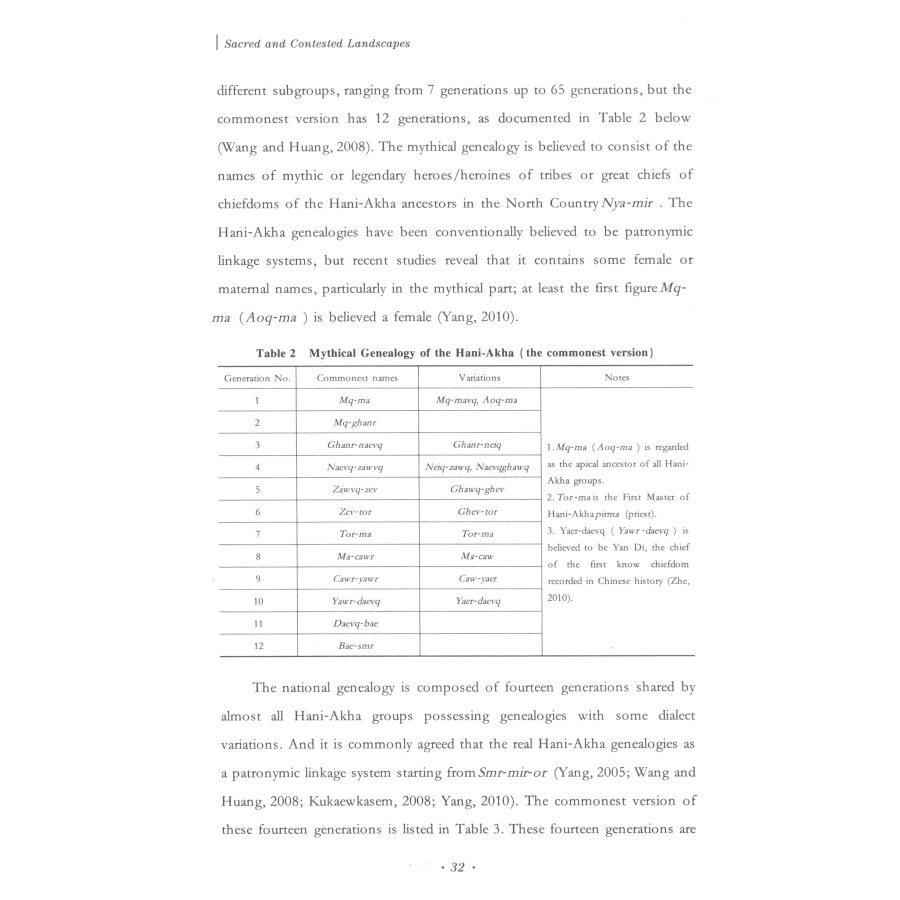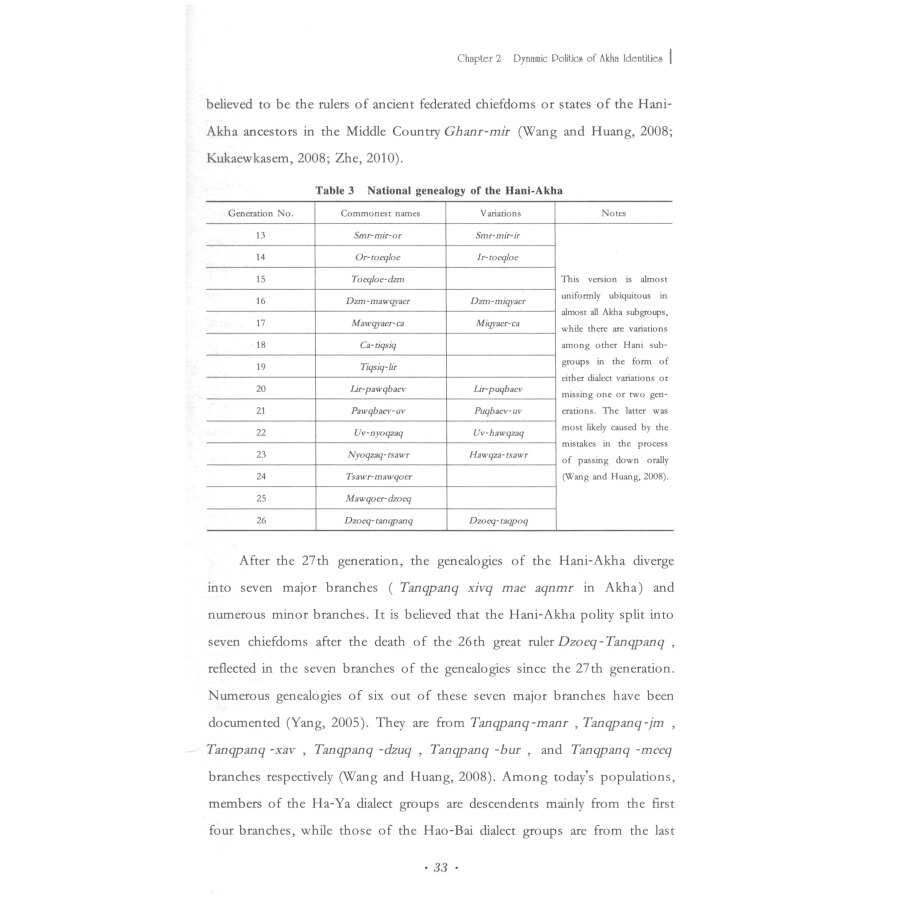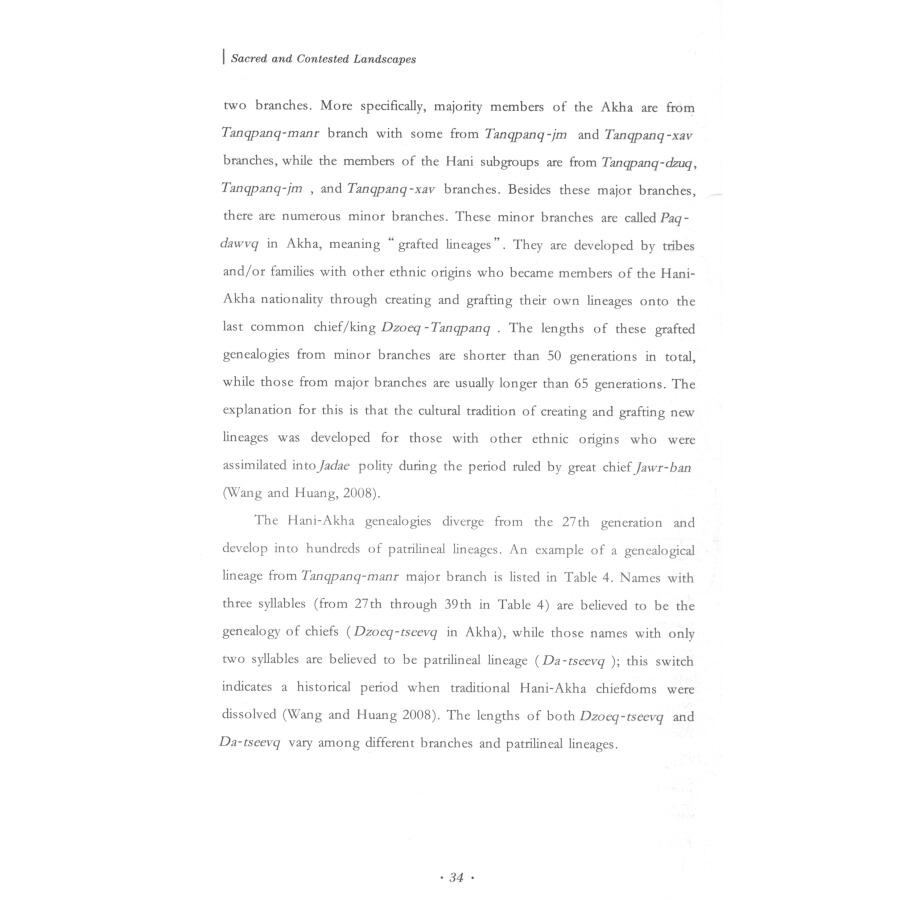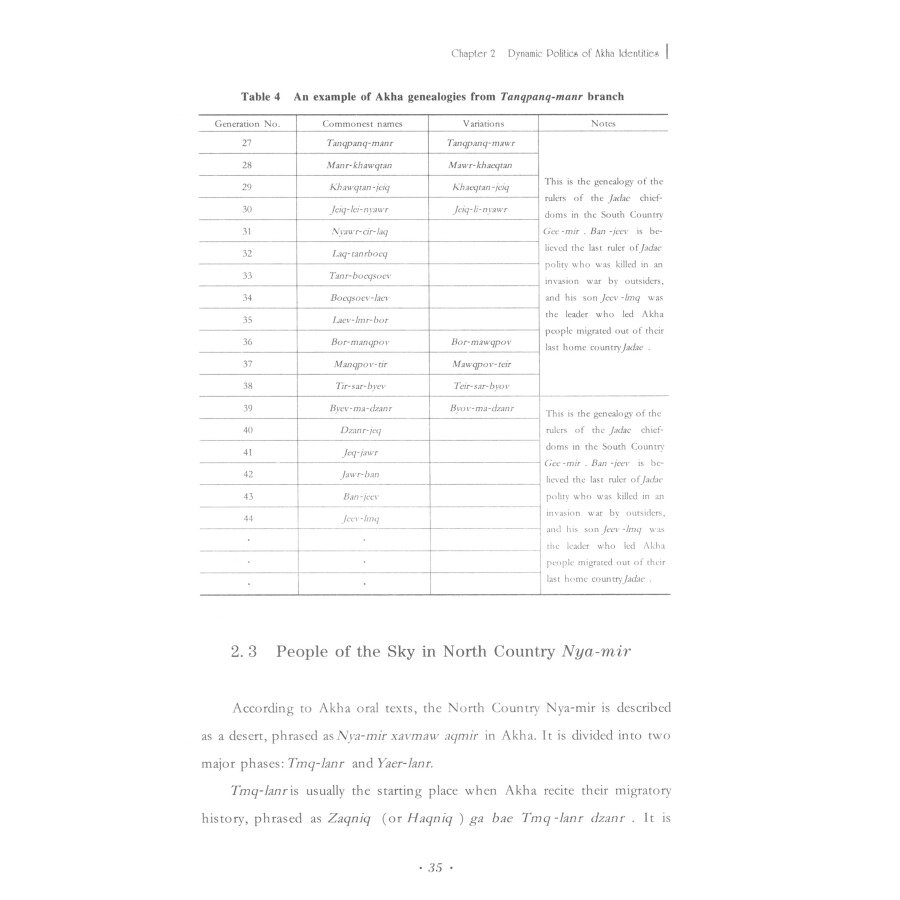 Preface
Jianhua "Ayoe" Wang has documented here some of the best environmental care in the world. The peoples of the mountainous regions of northern Southeast Asia, a region known as "Zomia"to many, have for millennia faced a problem of high population density and lack of central government in a fragile environment. They have developed many sustainable ecological adjustments to the region. Among the most successful is the system developed by Ayoe's own ethnic group, the Akha, speakers of a Tibeto-Burman language, living in the area where Yunnan, Burma, Thailand,and Laos meet.
Dr. Wang explains in this book the basis of the system in mutual respect. Humans respect other lives, both animal and plant. The Akha concept of taqheeqe is actually wider than respect: it includes a caring, protective attitude as well as the respect owed to elders and family members. Spirits, especially forest spirits, have a mutual respect relationship with humans. In mythic time,humans and spirits divided the world; humans got the fields and farms, spirits got the forests and woods. Forests must be protected and conserved, because the spirits need their share. They will help rather than harm, if this is maintained. Ceremonies maintain the connection. There are not only ceremonies for the spiritual lords of the game, there is even a ceremony to placate the souls of earthworms killed in plowing.
These beliefs give the Akha a different view of "nature"and " culture"from the usual Western one. The Akha WOfld is divided into the realm of forest spirits-still human-affected and to some extent human-managed-and the realm of humans, the villages and cultivated fields. These two have their tame and wild plants and animals, their own spirits, and their own rules.Instead of sharply separated " natural"and " cultural"worlds, the Akha see one world with interpenetrating realms-each one distinct but affecting, and,indeed, dependent on the other. This view is strikingly similar to that of the Yucatec Maya of Mexico, for whom the world is divided into kaah" village"with its kool" fields", and thek'aax" forest", a realm with its own spirit guardians but heavily managed by humans (Anderson 2005). Traditional Chinese had yet another view, one of concentric rings: town, hamlets, close-by Fields, remote fields, managed forests, and the actual" wild"(ye). And some Native Americans simply contrast their own world-animals, plants,mountains, rivers, humans, all one soaety-with the words of their different-language neighbors. No naturelculture opposition exists, or if it does it is dwarfed in importance by us/them dichotomy. Often, mountains, waters and winds are seen as people, with their own minds and agency (Anderson 2014; Ojalehto 2016).
Similar accounts of excellent environmental management based on beliefs in forest spirits that guard the game and protect the trees come from other areas in southeast Asia (Pinkaew, 2001; Yos, 2003).