It is easy to have a quick look at China's past and present, but it takes time to gain a panoramic knowledge of China. The "Panoramic China" series is meant to assist readers, especially those overseas, in this respect. Each volume in the series focuses on a province, municipality or autonomous region, describing, with illustrations, the outstanding characteristics of each area from different perspectives.
Sichuan: Land of Natural Abundance
Sichuan Province has been known as a "Celestial Treasure House" since ancient times. It is blessed with a beautiful landscape of topographic diversity, and it is home to a splendid human civilization. Its history goes back thousands of years and is refined by brilliant historic and cultural legacies, colorful and enchanting ethnicity and folklore, and a rich pool of literacy giants and luminaries from other fields. In Sichuan, nature, human civilization, and rich social customs are mutually interwoven, creating a "Celestial Treasure House" that abounds in natural resources.
We can describe Sichuan as a "wonderful world of nature", a "mystic world of culture", and a "sublime world of soul". With all these gifts, Sichuan emits an eternal magic, one of profundity and mystery.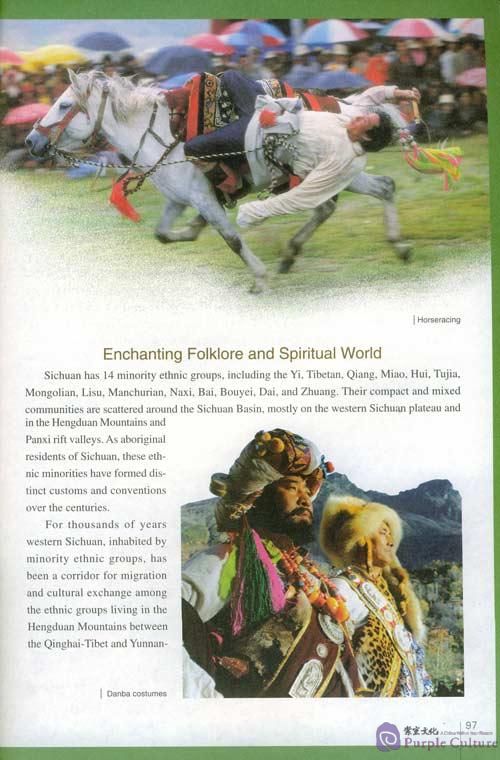 Foreword
The Origin of the Appellation"Celestial Treasure House"
Bashu Landscape
Bashu Cultrue
Bashu Folkore and Spinritual World
Unique Landscape Nrutures a Unique Culture
Ancient Bashu Cultural Zone
Landscape Wonders
Rivers and Bashu Civilization
Mystic Ancient Bashu Civilization
The Origin and Development of the Ancient Shu Culture
The Maturity Period of the Bashu Culture and Related Origins
Art in the Green Basin
Wonderful Sichuan Opera
Popular Art
Ethnic Minority Singing and Dancing
mbroidery and Painting
Sichuan Cuisine
Time-honored Cuisine
Sichuan Flavors
Scholar Cooks and Popular Snacks
Modern Sichuan Cuisine
Sichuan Tea
Long History
Varieties of Sichuan Tea
Tea Customs
Tea Obsession in Chengdu
Sichuan Liquor
Home to Famous Liquors
Six Top Liquor Brands
Drinking Customs of Ethnic Minoritis
Obsession with Liquor
Appendix