Contemporary China's Economy concisely and comprehensively introduces the development history and achievements of the PRC's economy, as well as the latest trends. Rare photos and detailed charts make it more vivid and accessible.


About the Series
The Contemporary China Series includes eight books, based on distinct Chinese values, reveals how China promotes coordinated economic, political, cultural, social and ecological advancement. The series comprehensively introduces the basic situation of contemporary China and the development path of socialism with Chinese characteristics.
China has made remarkable achievements in economic development. This book gives a brief review of China's economic achievements over the past 70 years, expounds on the connotation of the new normal in addition to the new development concepts that play a leading role in China's economic development with Chinese characteristics. It also introduces China's shift from high-speed growth to high-quality growth, and the formation of a new pattern of further opening-up. China's success and experience in economic development also play an integral part in the development of human civilization.

About the Author
Rong Wenli, Doctor of History, Lecturer at Beijing University of Chinese Medicine, mainly studies the history of the PRC's economy. She has published more than 10 articles in journals, and co-authored Contemporary China's Economy (2014).
Chapter I The road to socialist economic development with Chinese characteristics
I. The Party leadership is the essential political underpinning for sound economic development
II. Socialist market system with Chinese characteristics
III. Mixed ownership system with public ownership playing a dominant role
IV. People-centered philosophy of development
V. Fundamental principle of common prosperity
VI. Reform and opening-up policy is a crucial choice that determines the destiny of contemporary China
Chapter II New normal of China's economic development
I. Change of China's economic development speed
II. Change of China's economic structure
III. Transformation of China's economic driving forces
IV. Economic and social development imbalances
Chapter III Leading the new normal of economic development with new development concepts
I. From high-speed growth to high-quality development
II. Adhering to five development concepts
III. Promoting supply-side structural reform
Chapter IV Fight against poverty
I. Path of poverty alleviation with Chinese characteristics
II. Building a moderately prosperous society in all aspects and winning the fight against poverty
Chapter V Making new ground in pursuing opening-up on all fronts
I. Firmly implementing fundamental national policy of opening-up
II. Deepening opening-up
III. Building an innovative, dynamic, interconnected and inclusive global economy
Conclusion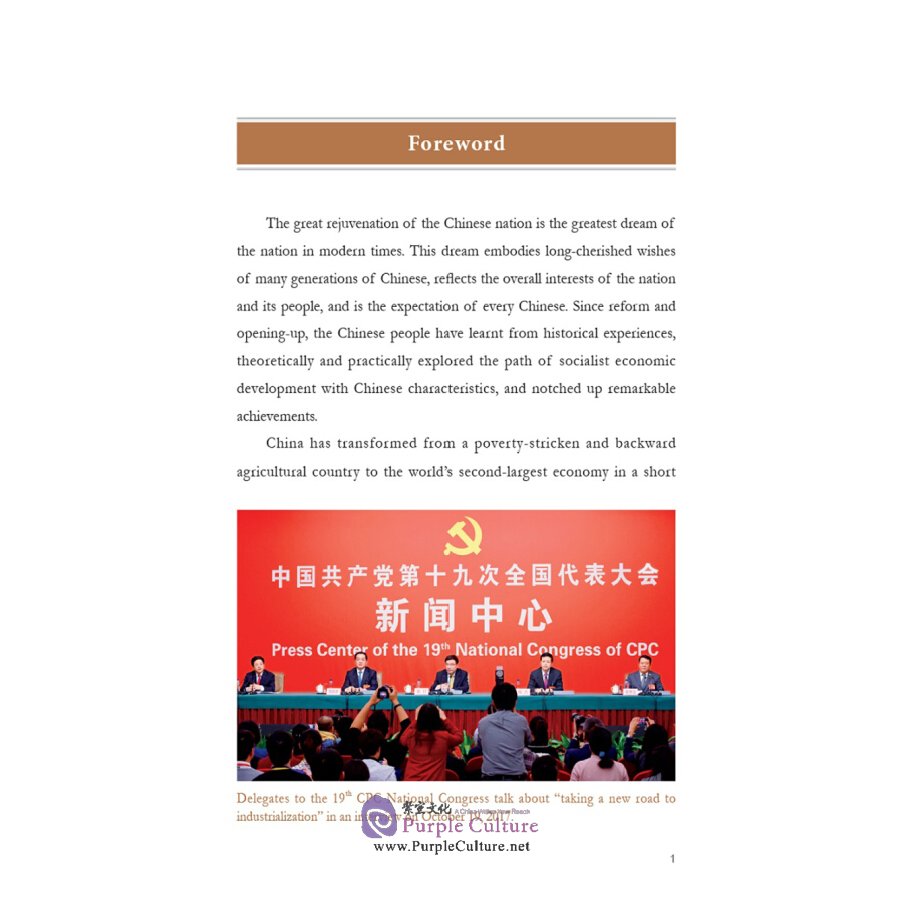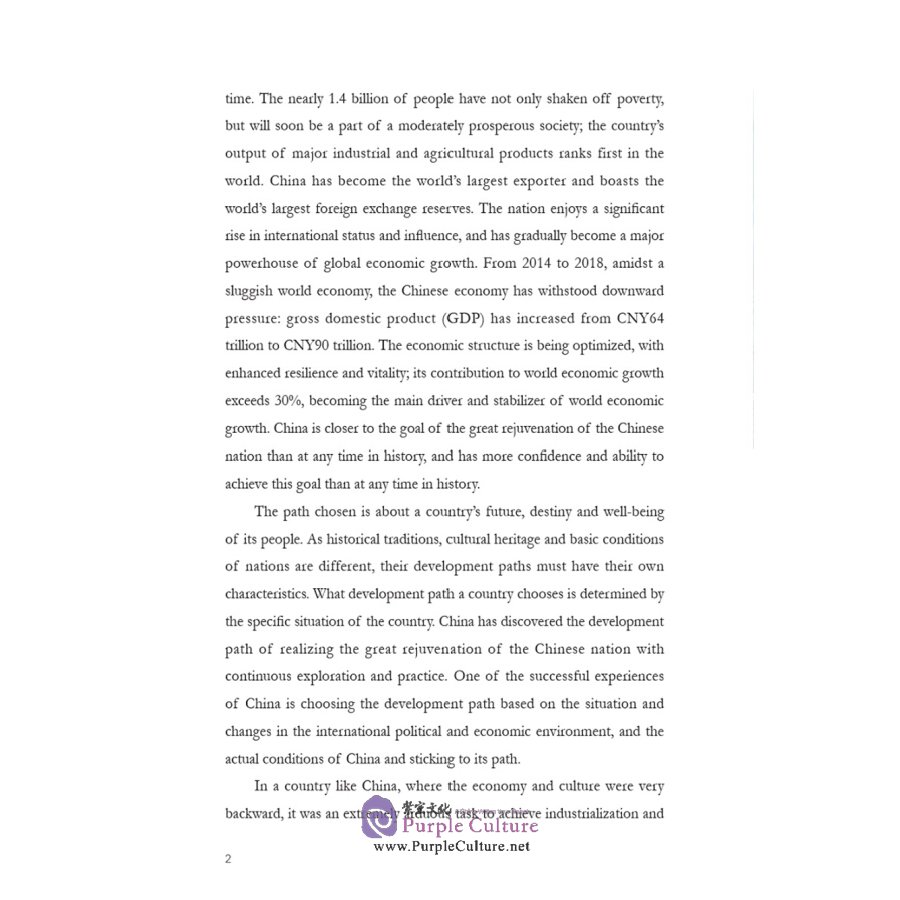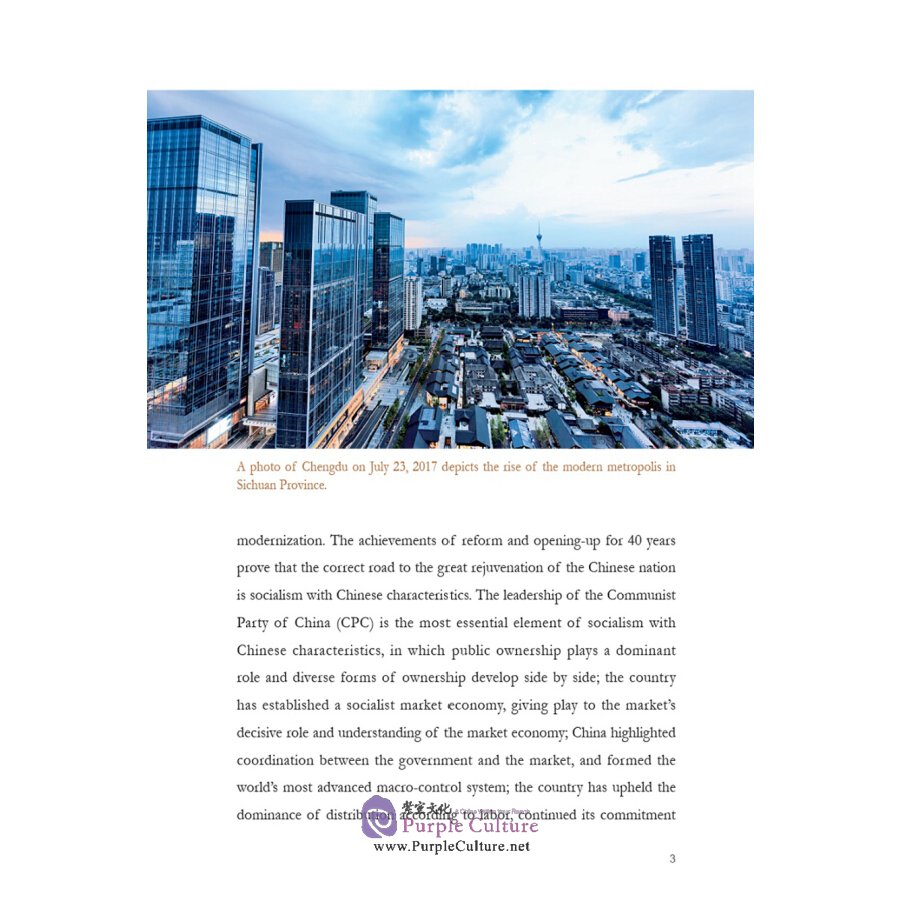 The great rejuvenation of the Chinese nation is the greatest dream of the nation in modern times. This dream embodies long-cherished wishes of many generations of Chinese, reflects the overall interests of the nation and its people, and is the expectation of every Chinese. Since reform and opening-up, the Chinese people have learnt from historical experiences, theoretically and practically explored the path of socialist economic development with Chinese characteristics, and notched up remarkable achievements.
China has transformed from a poverty-stricken and backward agricultural country to the world's second-largest economy in a short time. The nearly 1.4 billion of people have not only shaken off poverty, but will soon be a part of a moderately prosperous society; the country's output of major industrial and agricultural products ranks first in the world. China has become the world's largest exporter and boasts the world's largest foreign exchange reserves. The nation enjoys a significant rise in international status and influence, and has gradually become a major powerhouse of global economic growth. From 2014 to 2018, amidst a sluggish world economy, the Chinese economy has withstood downward pressure: gross domestic product (GDP) has increased from CNY64 trillion to CNY90 trillion. The economic structure is being optimized, with enhanced resilience and vitality; its contribution to world economic growth exceeds 30%, becoming the main driver and stabilizer of world economic growth. China is closer to the goal of the great rejuvenation of the Chinese nation than at any time in history, and has more confidence and ability to achieve this goal than at any time in history.
The path chosen is about a country's future, destiny and well-being of its people. As historical traditions, cultural heritage and basic conditions of nations are different, their development paths must have their own characteristics. What development path a country chooses is determined by the specific situation of the country. China has discovered the development path of realizing the great rejuvenation of the Chinese nation with continuous exploration and practice. One of the successful experiences of China is choosing the development path based on the situation and changes in the international political and economic environment, and the actual conditions of China and sticking to its path.