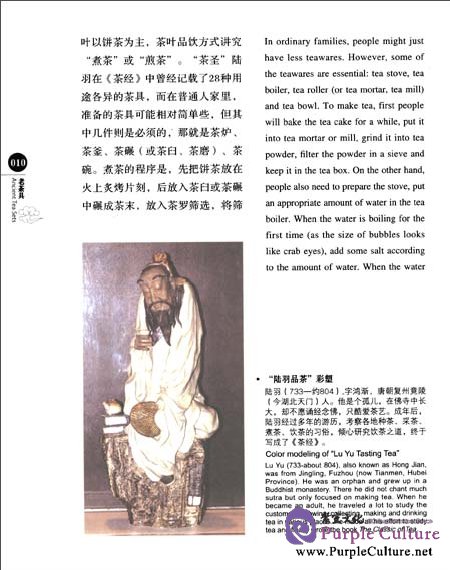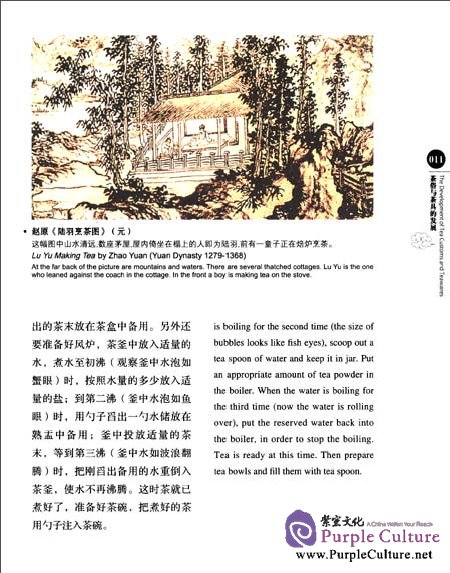 众所周知,中国是茶的故乡。茶树原本是一种野生的植物,最初人类并不知道它的功能与用途。新石器时代晚期,中国人最早发现了茶叶并开始了饮茶的历史。
China is well-known as the hometown of tea. The tea tree was originally a wild plant and people did not know its
functions and uses at the beginning. In the late stage of the Neolithic Period, Chinese people were the first to discover tea and thus began the history of tea drinking.
There is a legend about the origin of the tea custom. It is said that in the primitive society about 5000 years ago,
there was Shen Nong, a leader of a Central Plains tribe. He invented ploughs and plowshares for farming and taught people to grow food. He was the first to discover herbal medicine and help people to heal wounds. Naturally, Shen Nong was also the first person to discover tea. He found out that this plant was not only delicately scented, but also had the function of thirsty quenching, mind refreshing, urine inducing and detoxicating...This is just a legend, but it reflects the fact that Chinese people discovered and used tea thousands of years ago.
People began to settle down and make potteries in the era of Shen Nong. At that time, they only realized the
medicinal value of tea, so they often simply chewed them. Therefore, there was no teaware for special use then.