Details
Usage Advice
8 class hours / lesson, altogether 6 lessons
Level
Advanced
Lower Advanced provides advanced comprehensive Chinese texts. The students step into the advanced stage in their Chinese study after learning this book.
This book mainly focuses on the advanced Chinese study and integrates Chinese culture with language study. It emphasizes the overall development of the listening, speaking, reading and writing skills. It consists of two volumes, each of which has 6 lessons. Every lesson includes seven parts: "Background Reading and Practice", "Text", "Word Explanation and Practice", "Grammar Explanation and Practice", "Rhetoric Guide and Practice", "Expression and Writing" and "Extended Space". The "Extended Space" part includes three components, "Master's Collections, "Media Resource" and "Follow-up of the Words" to help students further extend the topic.
This is the first volume of Lower Advanced. Its contents include "Appearance and Ethos of Beijing", "Generation Relationship", "Beautiful Peony", "Scholars' Remarks about Tea", "Go beyond Ordinary", "Qin Dynasty Terra Cotta Warriors and Horses" etc. The students can learn over 400 new words, 24 key words, 24 sets of synonym discriminations, 6 compound sentence structures and 6 rhetoric methods after learning this book.
An accompanying CD has all the recording of the texts.
About the Author
Yu Kun is a teacher of the College of Advanced Chinese Training, Beijing Language and Culture University.
Table of Contents
致学习者
1 京城风貌
背景阅读与练习
课文:北平的四季
词语讲解与练习
词语例释:总归、非、愈、而已
词语辨析:辽阔、广阔,言语、语言,骤然、猛然,永久、永远
语法讲解与练习:条件复句
修辞提示与练习:比喻
表达与写作
扩展空间

2 代际关系
背景阅读与练习
课文:父父子子
词语讲解与练习
词语例释:不时、唯独、未曾、起码
词语辨析:呈现、显现,涵养、修养,粗暴、粗鲁,临近、领近
语法讲解与练习:递进复句
修辞提示与练习:对比
表达与写作
扩展空间

3 国色天香
背景阅读与练习
课文:牡丹的拒绝
词语讲解与练习
词语例释:尚、皆、任凭、一度
词语辨析:期待、等待,积蓄、积累,延续、持续,忽略、忽视
语法讲解与练习:假设复句
修辞提示与练习:拟人
表达与写作
扩展空间

4 文人茶话
背景阅读与练习
课文:文夫与茶
词语讲解与练习
词语例释:未免、不堪、一概、索性
词语辨析:滋味、味道,热衷、热心,败兴、扫兴,关注、关心
语法讲解与练习:选择复句
修辞提示与练习:仿词
表达与写作
扩展空间

5 超越平凡
背景阅读与练习
课文:不仅仅是左手
词语讲解与练习
词语例释:高低、略微、一手、何等
词语辨析:指望、盼望,认可、许可,见识、见闻,气魄、气概
语法讲解与练习:因果复句
修辞提示与练习:拈连
表达与写作
扩展空间

6 秦俑古韵
背景阅读与练习
课文:秦时明月
词语讲解与练习
词语例释:相继、何尝、或许、得以
词语辨析:情感、感情,难为、为难,精心、细心,进程、过程
语法讲解与练习:解说复句
修辞提示与练习:引用
表达与写作
扩展空间
词语索引
致教师
Sample Pages Preview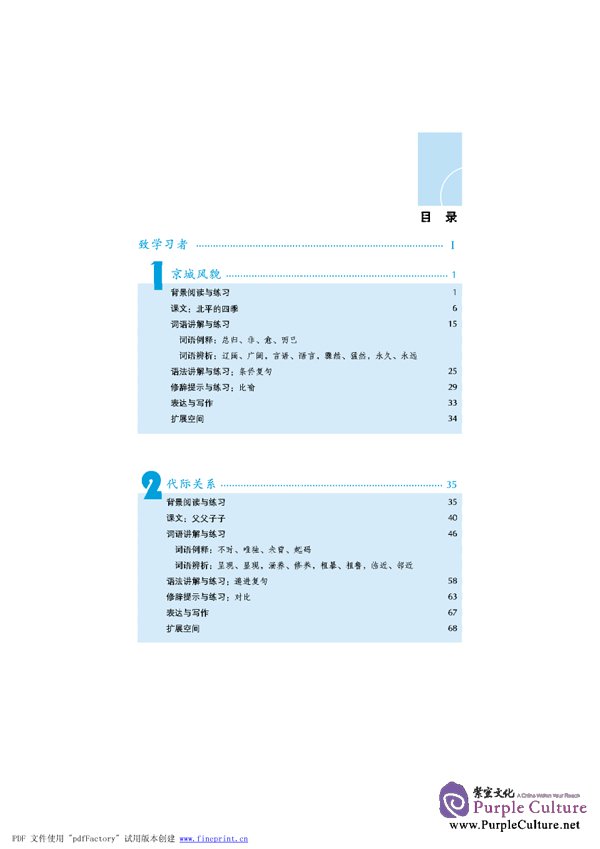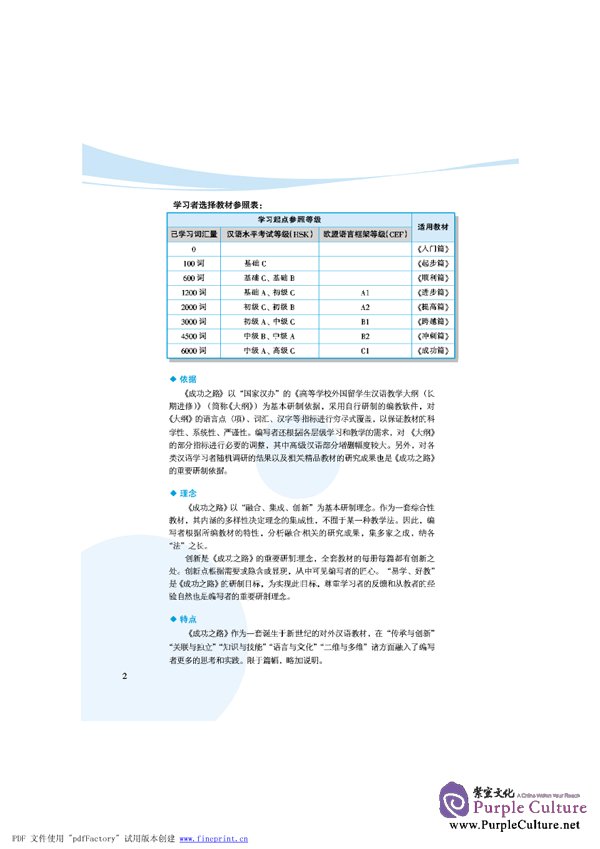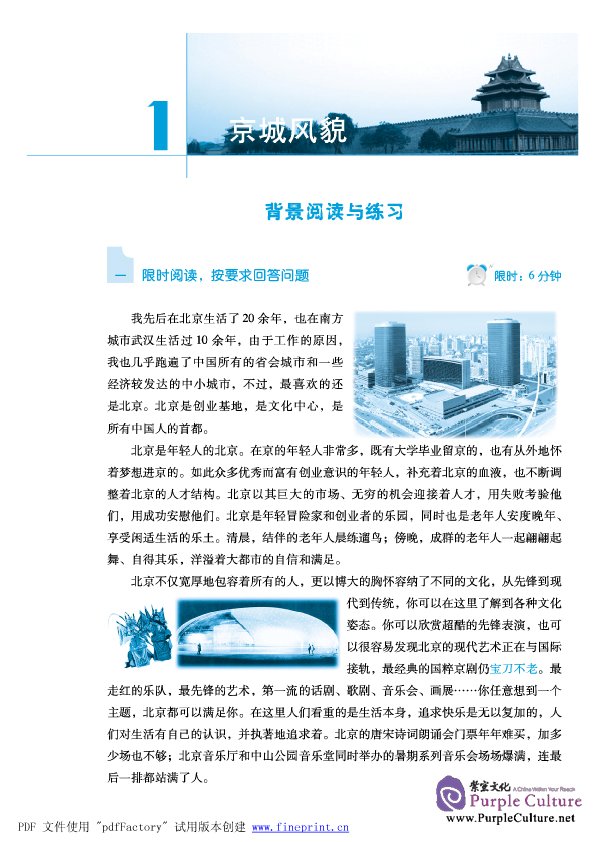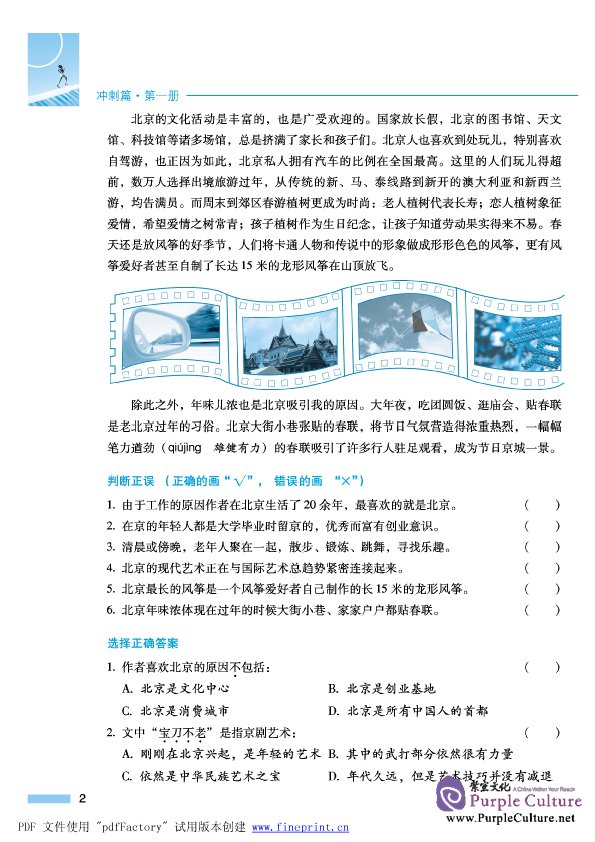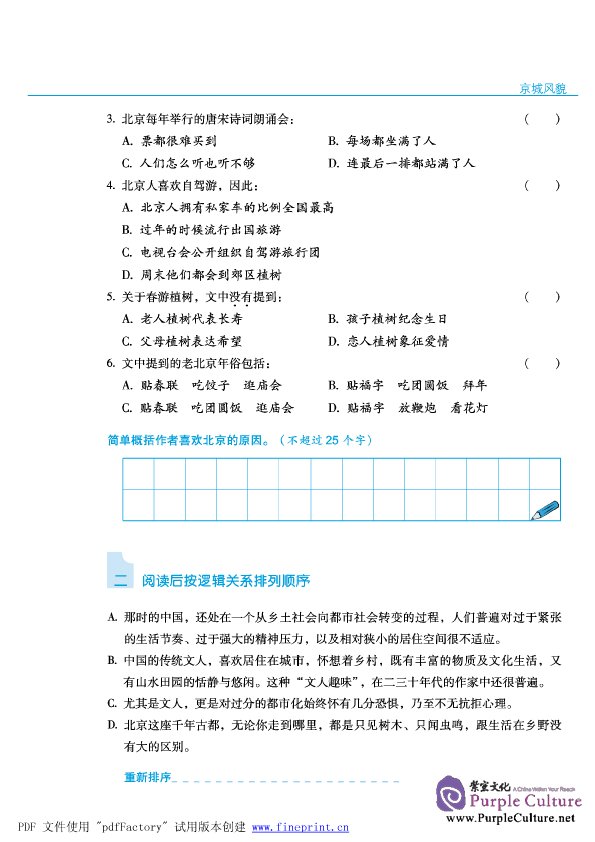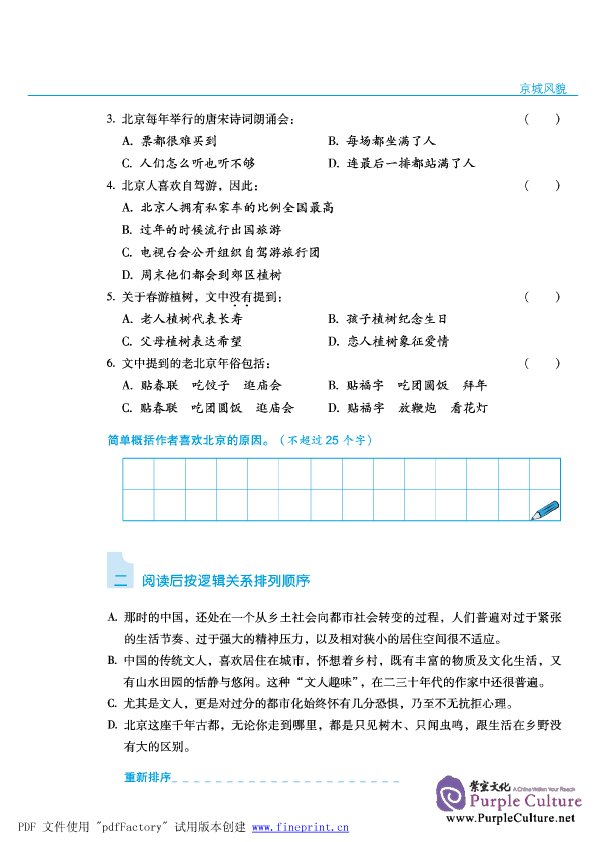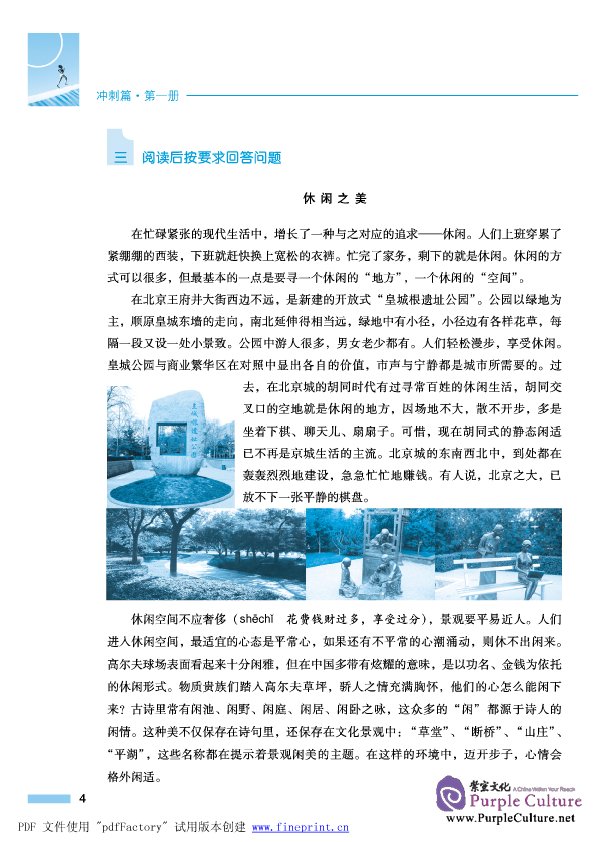 1 Customer Review(s):
by Melanie on 2015-12-26 19:22:46
Good
Write Review
Road to Success: Lower Advanced vol.1 (with CD)
$14.00