It is easy to have a quick look at China's past and present, but it takes time to gain a panoramic knowledge of China. The "Panoramic China" series is meant to assist readers, especially those overseas, in this respect. Each volume in the series focuses on a province, municipality or autonomous region, describing, with illustrations, the outstanding characteristics of each area from different perspectives.
Guizhou: A Province of Immigrants
Guizhou is one of the multiethnic provinces in China. The past several thousand years have seen various ethnic groups migrate there from different parts of the country, leaving deep influences on the local customs and culture.
This book, fully illustrated, vividly displays the course of migration and the harmonious coexistence of the various ethnic groups in Guizhou. It also touches upon the topic of how to protect the traditional ethnic cultures as well as the eco-environment in the process of modernization.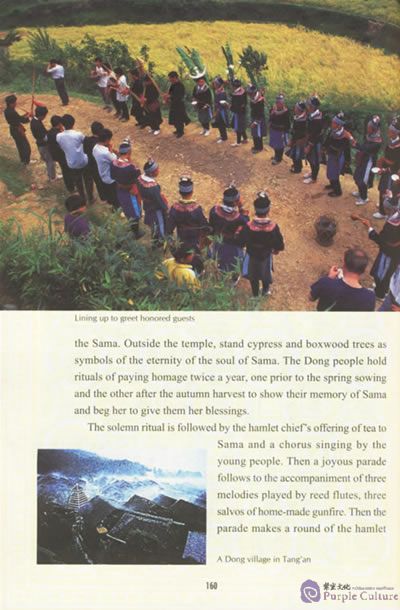 Preface
Chapter 1 Songs of Trekking
Four Major Ethnic Groups Converge in Yelang
Endless Songs of Migration
The Oldest Long March in Human History
Mixed Communities in Central Guizhou
Chpapter Ⅱ Memory in Symbols
Memories Preserved in Costumes
The Story of the Ancient Nuo Dance
The Mystical Shui Script
The Three Treasures of the Dong People
Chapter Ⅲ The Ecosystem
Soga-The Rediscovery of a Miao Ethnic Group
Zhenshan-Slate-Paved Hamlets of the Bouyi
Tang'an-A Miniaure Dong Community
Longli-An Ancient Town in Remote Country
Chpater Ⅳ A Thousand Islands of Cultures in an Ocean of Mountains
Holding Nature in Awe,Cherishing Life with Love Harmonius Coexistence and Mutual Cultural Influence
Five Rivers Converge into one while Retaining Unique Features
Cone-shaped Hairdo and Phoenix Head Shoes-the Last Stronghold
Chpater Ⅴ All Are People of Guizhou
Heart-warming Hospitoality
Profound Feelings
Beautiful Landscape and People
On a New Long March
Appendices