Details
Mandarin Hip Hop is a graded series of Chinese textbooks for English speakers. It consists of four levels with a total of 80 pieces of Action Songs, Bilingual Chants and Rhymes - an ideal learning companion for children of all ages. Features:
From Action Songs, Bilingual Chants and Rhymes to oral skills.
Chinese, English and Pinyin are all cross presented for easy reference.
The static cartoons go together with the dynamic hip hop, adding great fun in learning.
Abundant fun memorization techniques greatly facilitate the learning of Chinese characters. Structure This series is divided into four levels, each of which includes Textbook, Activity Workbook and Chinese Character Builders. Book 1-3 are for primary school study. Book 4 is for the fifth or sixth year in primary school or secondary school study.
About the Author(s)
Sarah Lu teaches Chinese at the English Schools Foundation in Hong Kong. Her publications include Childen's Songs, Teach Yourself Living Mandarin, Chinese Character Evolution Cards, and Hanyu Pinyin. In Mandarin Hip Hop she combines her unique teaching skills and extensive knowledge gained in the United States, Australia, Hong Kong and Taiwan with commitment, and a wanderfully rich and creative imagination.
《嘻哈说唱学汉语》共四册,以80课韵文为主体,专为海外或国际学校学习汉语的青少年编写。主要特色包括:
专为语言学习创作、并经音乐专家审定的曲调,主旋律和谐悦耳,音域恰当,配上琅琅上口的韵文,非常符合青少年欣赏需求。
韵文包括中文、英文、拼音三种方式,可对照学习。
静态漫画配合动态说唱,相得益彰,提升学习兴趣。
300多个常用汉字以及700多个常用词语以不同颜色标明使用率等级,词汇适量递增,重现率高,加上循序渐进的复习作业,帮助学生更好地掌握和运用。
大量富有趣味的记忆方法,极大地帮助了汉字学习。
文化常识有机地融合于语言教学中。 本书结构本书共分四级,包括:课本(配有录音CD)(1-4)练习本A:活动练习本(1-4)练习本B:加强汉字练习本(1-4) 1-3级供小学使用,第4级供小学五、六年级或中学生使用。
该教材也体现了一种新的教学法:先以静态的卡通漫画来引发学生的学习兴趣,再以动态的嘻嘻哈哈、说说唱唱让学生反复练习,与此同时采用"说唱一拼读一听读识字一集中阅读、识字"的进阶学习法,从而引导学生进行全方位的听、说、读、写训练。该教材针对目前国际学校(香港)的实际情况,采用了中英文对照、汉字(繁简体)与拼音并容的方式。
作者简介
卢毓文::高雄师范大学英语系学士、加州圣迭戈大学教育科技学硕士。任职经历包括小学、中学、大学及师资培训。八十年代起至今,长期执教于香港多所国际学校;曾担任香港国际学校(HKIS)与香港加拿大国际学校(CISHK)中文部的创办主任,目前为香港英基己连拿小学 (ESF) 中文学科主任,出版有儿歌唱片《儿童歌曲专集》以及汉语教材《自学普通话》、《汉语拼音》、《国字演进卡》等,对外汉语教学和教材编写经验丰富。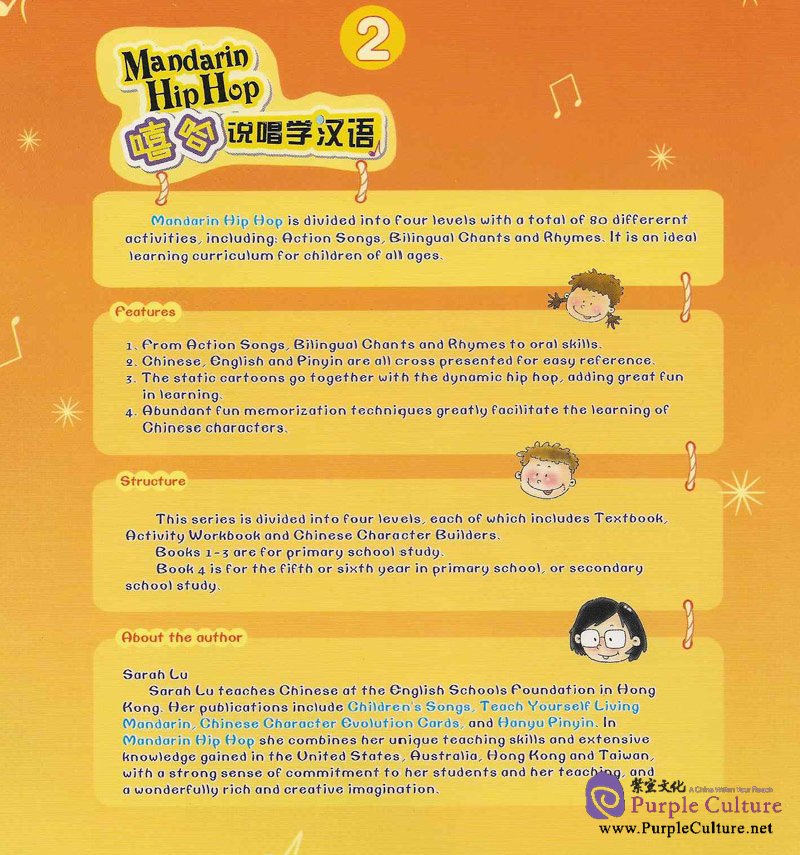 ISBN: 978-7-5619-1596-7 or 9787561915967