Usage Advice:
Volume One is used in the first semester and Volume Two is used in the second semester of the Junior Year of college.
Level:
Intermediate, Advanced, Chinese Teachers (TCSL)
Classical Chinese (Revised Edition) is fitted for international students in their third year of study at Chinese colleges.
Based on the stage of teaching and teaching hours, the first volume is cut down to 15 lessons and the second one to 10 lessons. To fit the main text(s), a text to improve students' reading skills is designed in each lesson. For characteristics specific to foreigners studying Chinese, the lessons are arranged step by step. Each lesson lays its emphasis on the explanation of a common function word, a fixed pattern and a grammatical point in classical Chinese. Common knowledge about Chinese culture is introduced in each lesson in Volume Two. Ten famous essays are selected at the back of the book for teachers and students to choose from.
The vocabulary list, translation and keys to exercises are attached at its back for users' reference.
About the Author
Both authors are teachers of Beijing Language and Culture University and have taught classical Chinese to foreign students for years.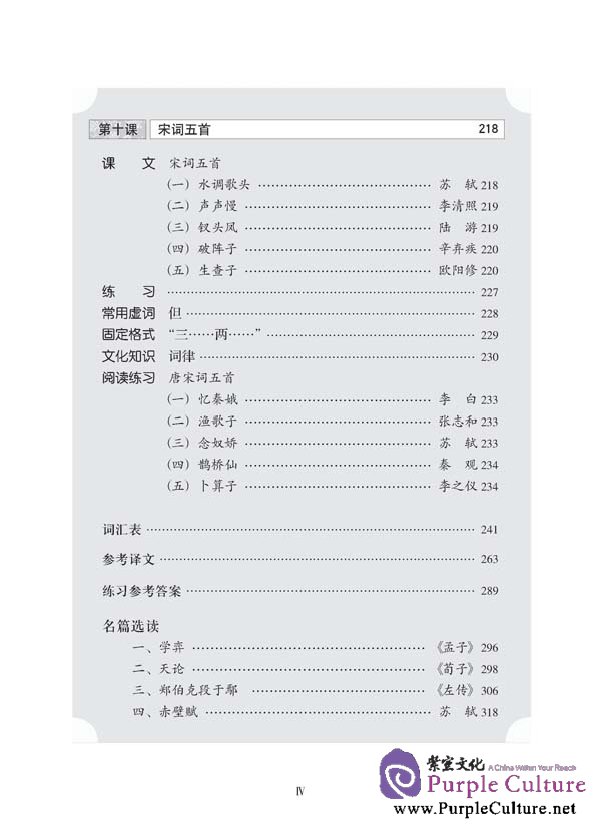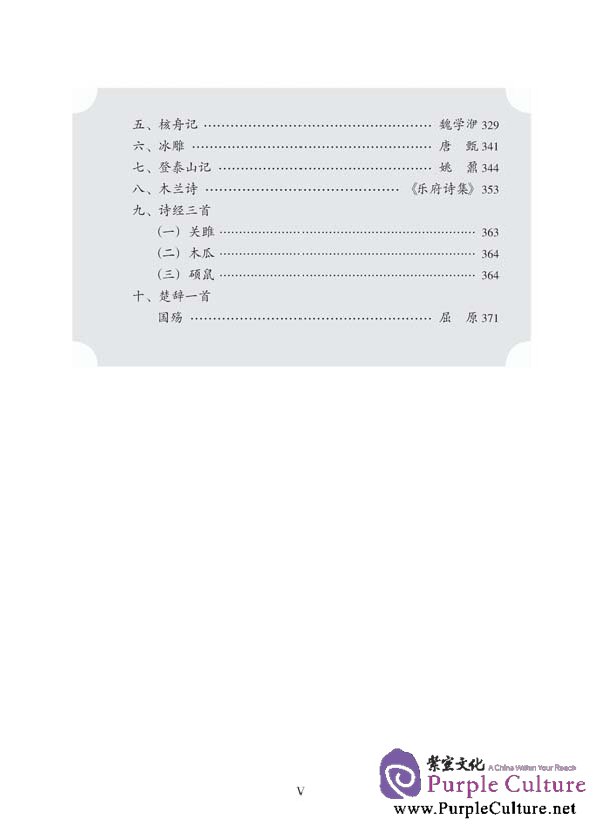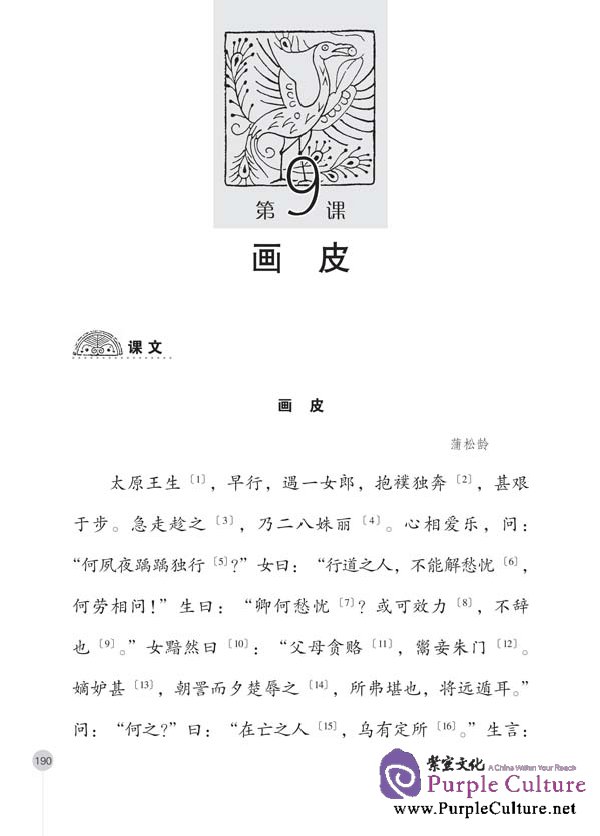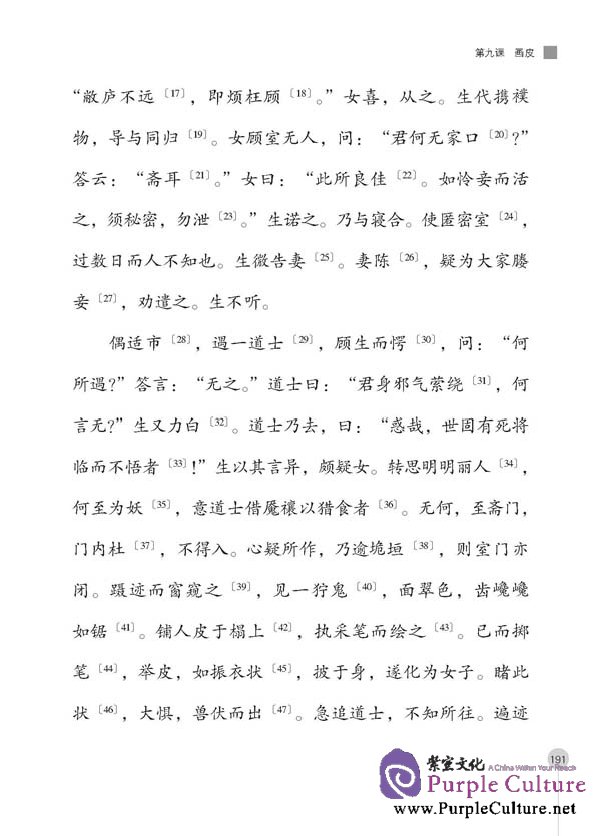 科 举是中国古代分科考选文武官吏的制度。隋代以前,大多由地方官吏采取察举的制度选拔人才。从隋炀帝开始设置进士科,通过考试选拔人才。唐代除进士科外,又 设置秀才、明法、明书、明算等科,每年举行。自唐武则天开始增设武举,历代相沿。宋代以后科举都用儒学经义。明、清两代以《四书》的文句为题,规定写八股 文,解释必须依照朱熹的《四书集注》。清光绪三十一年(公元1905年)推行学校教育,废除科举制度。
下面就清代的科举制度加以简要说明。
为了取得参加正式科举考试资格,考生先要参加童试,参加童试的人称为儒童或童生,录取后称为"生员",又称"庠生",俗称"秀才"。
正式的科举考试分为三级:一乡试,二会试,三殿试。
(一)乡试每三年在各省省城举行一次,又称"大比"。因为在秋季举行,所以又称"秋试""秋闱"。参加乡试的是秀才。乡试考取后称为"举人",第一名称为"解元"。
(二)会试每三年一次,乡试后的第二年春天在礼部举行。因为会试在春季,所以又称"春试""春闱";因在礼部举行,所以又叫"礼试""礼闱"。参加会试的是举人,考取后称为"贡士",第一名称为"会元"。
(三) 殿试是会试之后由皇帝对会试录取的贡士在殿廷上亲自策问的考试,也叫"廷试"。参加殿试的是贡士,考取后统称为"进士"。殿试分三甲录取:一甲赐进士及 第,只录取三名,第一名俗称"状元",第二名俗称"榜眼",第三名俗称"探花",合称为"三鼎甲";二甲赐进士出身,第一名俗称"传胪";三甲赐同进士出 身。
Preface
《古代汉》是来华留学本科三年级教材。
选文,教材所选课文,既不以朝代先后为序,也不 全是名家名作,而是根据外国人学习汉语的特点,先易后难、先短后长、由浅入深编排的。选文以叙事散文为主,为了使内容丰富多彩,形式活泼多样,适当选入了 一些其他体裁的作品,如寓言、神话、笑话、成语故事、笔记体小说、诗、词等。
结构,根据教学阶段和教学时数,编写了25课,分上下册,上册15课,下册10课,供本科三年级上下学期使用。每课重点讲解一个常用虚词、一个固定格式和一个文言语法点。上册最后一课讲解了诗律常识,下册每课增加了一个文化知识部分。
与主课文相配合,安排了25篇阅读课文,目的在于通过阅读练习巩固所学知识,扩大词汇量,提高阅读古文的能力。练习中的"古语今用"一项,可以帮助学生通过掌握古代汉语语词用法提升现代汉语的词汇理解能力。
注释,课文(包括阅读课文)的注释,以词语为主,用汉英双语注释,注释力求简明扼要,便于教与学。书后附有词汇表,便于查找词语。
注音,本书根据《汉语拼音方案》注音,多音节词连写,专名第一个字母大写。个别词语仍保留旧读。
附录,为了帮助读者理解课文和掌握一些必要的知识,书后附有课文参考译文、《中国古代历史纪年简表》。附录中还附有词汇表和练习参考答案。《名篇选读》供教师课上或学生自学时选用。