Usage Advice
Altogether 10 lessons for the fourth year in college
Description
Selected Ancient Chinese Readings is a course book for foreigners in their fourth year of college study in China, also suitable for foreigners who have former experiences of learning ancient Chinese. 
There are a total of 10 lessons in the book, including famous works selected from classical books. The works selected are mainly prose narrating historical events, stories and figures. Each lesson teaches one common function word, one fixed expression and a piece of knowledge about ancient Chinese reading. Besides the main texts, there are another 10 materials for extensive reading. The words are explained in both Chinese and English, and all the selected readings are paraphrased in modern Chinese. Each lesson provides one exercise, whose answer can be found at the end of the book. 
In the latter part of the book, 10 optional readings are provided for teachers and students to choose.
About the Author(s)
Xu Zongcai and Li Wen are both CFL teachers in Beijing Language and Culture University who have engaged in teaching undergraduate foreigners ancient Chinese for decades. Their works include Undergraduate Series of Chinese as a Foreign Language—Ancient Chinese (Revised Edition, Volumes 1 & 2) and Selected Ancient Chinese Readings.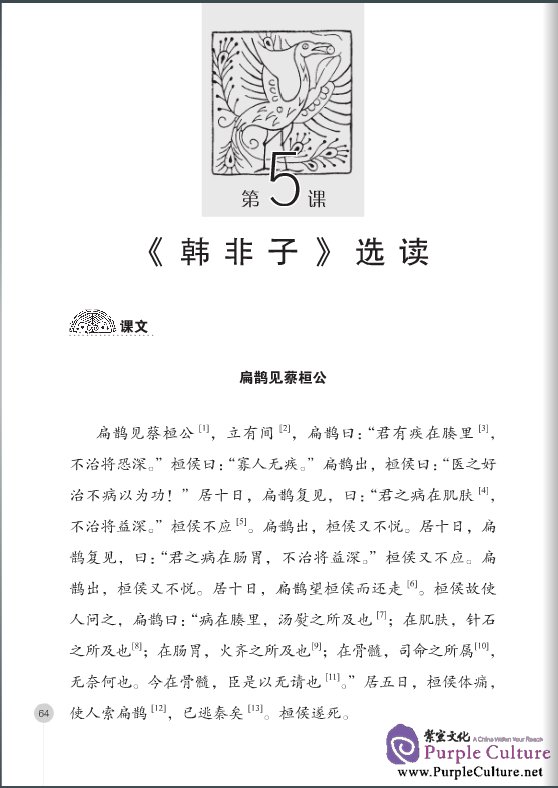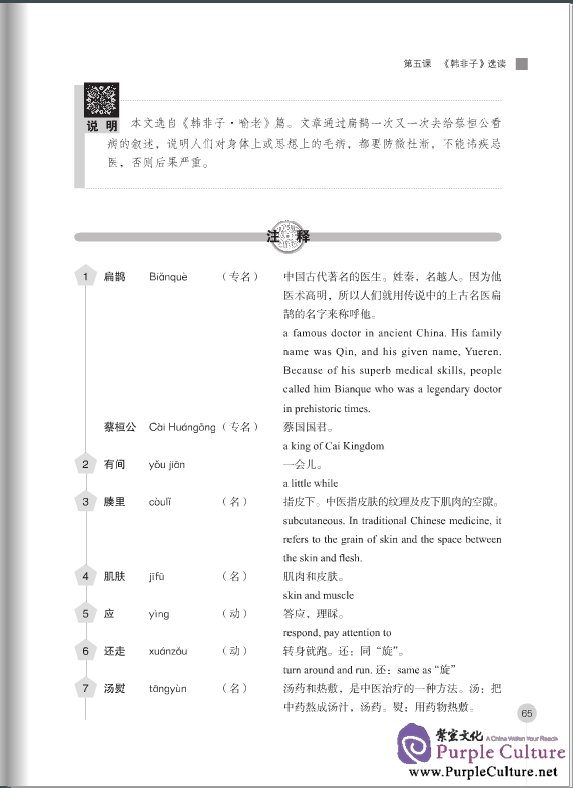 大夫文种进去见勾践,对他说:"我听说过,商人在夏季就囤积冬天用的皮货,冬天就囤积夏天用的细葛布,天旱时就准备船只,水涝时就准备车辆,这样做是为了等待时机,防备缺货啊。一个国家虽然没有四周邻国的侵扰,但是深谋远虑的大臣和勇猛的将士。却不能不培养和选择他们。比如蓑衣斗笠,雨季已经到来,一定要用到它。现在您已经退守在会稽山上,这时才想起寻求有计谋的大臣,恐怕晚了吧。"勾践说:"只要能听到你文种大夫的高论,有什么晚的呢!"于是拉着文种的手和他仔细商量起来。 
勾践就派文种到吴国求和。文种对吴王夫差说:"我国国君勾践缺乏人才,没有合适的人可派,只好派他的小臣文种前来,我不敢直接同天王说话,请您手下的官员转达:'我国的军队已经失败,不值得再麻烦您来讨伐了。勾践愿意把金玉财宝和子女献给您,感谢您的光临。请求把勾践的女儿献给天王做女奴,把大夫的女儿献给您的大夫做女奴,把士的女儿献给您的士做女奴。并把越国的宝器全部带来。我国的国君带领我们越国的军队,作为您的军队的一部分,听从您的调遣。'如果天王认为越国的罪过是不可赦免的,我们只好放火焚烧宗庙,把妻子儿女绑起来,把金银宝玉沉入大江,我们还有穿戴盔甲的精兵五千人,他们个个必将拼死作战,就一定能一个人抵两个人,这样就有穿戴盔甲的精兵一万人来和您作战,这样,恐怕您马上就会失掉想要得到的心爱之物吧。与其杀死勾践这些人,不如得到越国的土地,到底哪一种有好处呢?" 
夫差将要同意跟越国讲和。伍子胥劝谏说:"不能讲和!吴国跟越国是不断发生战争的敌对国家,三江环绕两国,人民无法外迁,有吴国就没有越国,有越国就没有吴国,这种形势谁也改变不了。我听说过,习惯陆地的人喜欢住陆地,熟悉水性的喜欢住水乡。那些中原国家,我们战胜了他们,我们却住不惯他们的地方,不能驾驶他们的车辆。越国呢,我们战胜了他们,我们能住惯他们的地方,我们能乘坐他们的船。这是多么有利的事,不能失掉啊!您一定要把越国灭掉。现在失掉这个利益,以后虽然后悔,也来不及了。" 
越国把八个美女打扮起来,送给吴国太宰拓,并对他说:"您如果有办法赦免越国的罪过,还有比这些更美的女人送给您。"太宰豁劝谏吴王说:"我听说古代的人攻打别的国家,打得敌国降服也就算了。现在越国已经降服了,您还要怎么样呢?"吴王夫差听从了他的话,就跟越国讲和,退兵离开了越国。