Details
●For beginners of Chinese with European language background
●Pinyin as a medium of instruction with a brand-new concept of language learning
●Listening and speaking first,reading and writing later
●Easy to learn and can be applied to your speaking immediately
●Language items explained in both Chinese and English
●Rich varieties and abundant quantities of exercises
● Preferable comments from students who have used the trial editions for 5 semesters
Table of Contents
Introduction to Chinese Pronunciation汉语发音介绍

Unit 1Introduction介绍
Language Points(语言点)
1.Plural suffix们(复数后缀"们")
2.Basic word order in statement and question with question word(陈述句和带疑问词问句的词序1

Unit 2Cafeteria食堂
Language Points(语言点)
1.Numbers 0-100 andprice(数字0-100和价钱的表达)
2.Adverbs(副词)
3.Simple question with question particle吗(带助词"吗"的简单问句)
4.Measure word(1)(量词一)

Unit 3 Taking Taxi坐出租车
Language Points(语言点)
1.'Preposition在(介词"在")
2.V+一下(动词+"一下")

Unit 4Buying Fruits and Telephone Card买水果和电话卡
Language Points(语言点)
1.Particle吧denoting suggestion or request(助词"吧"表示建议或请求)
2.的in noun phrase(名词短语中的"的"1
3.Measure word(2)(量词二)

Unit 5Caf6咖啡馆
Language Points(语言点)
1.Adjective predicate sentence(形容词谓语句)
2.Affirmative+negative(A—not—A)question(正反问句)
3.Adj.+一点(形容词+"一点")
4.了indicating an action accomplished C了"表示动作的完成1

Unit 6 AsMng Directions问路
Language Points(语言点)
1.Localizer(方位词)
2.Verb在(动词"在")
3.怎么+V("怎么"+动词)
4.When了is not used in a past tense context(过去的状态何时不用"了")

Unit 7Making Appointment约会
Language Points(语言点)
1.Time&Dates(时间和Et期的表达)
2.Time adverbials in a sentence(在句中如何放置时间状语)
3.Prepositional phrase with给(to,for)and跟(with)(带"给"和"跟"的介词短语)
4.Telephone numbers(如何读电话号码)

Unit 8Buying Shoes买鞋子
Language Points(语言点)
1.Numbers 100 up(100以上的数字)
2.Verb reduplication(动词重叠)
3.有点+adj.&adj.+一点("有点"+形容词和形容词+"一点")
4.了indicating a change or a new situation("了"表示变化或新情况)
5.再
6.想&要

Unit 9Renting Apartment租房子
Language Points(语言点)
1.Duration oftime(时段的表达)
2.有in the sense ofexistence("有"表示存在)
3.什么as"anything,everything"("什么"表示"任何,所有")
4.多as"how"("多"用做疑问词)

Unit 10Restaurant饭店
Language Points(语言点)
1.Clausal attributives(复杂定语)
2.The negative and interrogative forms ofV+了(动词+"了"的否定及问句形式)
3.Adverb ofdegree+V(程度副词+动词)

Unit 11Party聚会
Language Points(语言点)
1.来/去+V("来/去"+动词)
2.会expressing an inference ofa future event("会"表示对将发生之事的推测)
3.别
4.怎么as"how come"("怎么"表示询问原因)
5.V+得怎么样(动词+"得怎么样")

Unit 12Asking for a Favor请人帮忙
Language Points(语言点)
1.Complement ofdirection:V+来/去(趋向补语:动词+"来/去")
2.就indicating earliness,briefness or quickness("就"表示时间早、短、快)
3.以后&以前

Unit 13Travelling by Train坐火车旅行
Language Points(语言点)
1.V+过indicating experiences(动词+"过"表示经历)
2.Question as an object clause(问句做宾语)
3.Summary ofapproximate numbers(约数表达法小结)
4.次&遍
5.一点、比较&更
6.就要了

Unit 14Informative Taxi Driver出租车司机什么都知道
Language Points(语言点)
1.Complement ofdegree:V+得+adj.(程度补语:动词+"得"+形容词)
2.真&真的
3.可以&能
4.的时候
5.过&了
6.多+V("多"+动词)

Unit 15Hotel宾馆
Language Points(语言点)
Separable phrasal verb(离合词)

Appendix附录
1.Common Measure Words(1)常用量词(一)
2.Numerals数字的表达
3.Time&Dates时间和日期的表达
4.Listening Exercise Script听力练习文本
5.Vocabulary Index词汇总表
Sample Pages Preview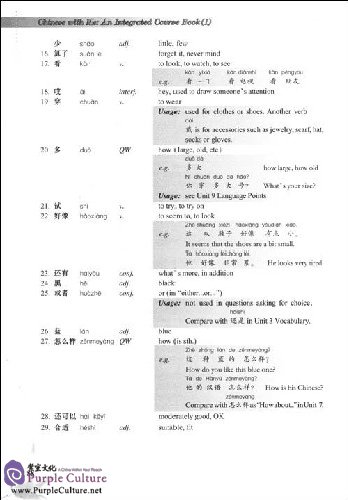 1 Customer Review(s):
by Wally on 2009-08-14 22:54:26
This is a wonderful book I picked up while in China. The translators that where with me were so suprised how much I learned in such a short time period. The format makes it so easy to understand the language and speak.
Write Review
Chinese with Me: An Integrated Course Book I (With CD)
$12.00