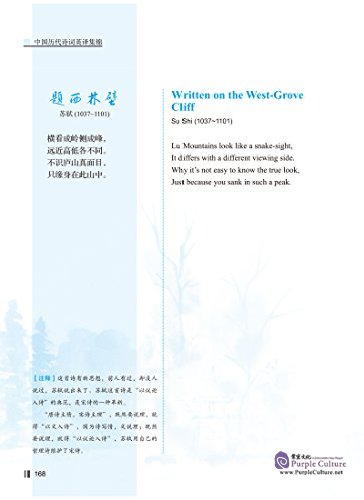 行宫见月伤心色,
夜雨闻铃肠断声。
天旋地转回龙驭,
到此踌躇不能去。
马嵬坡下泥土中,
不见玉颜空死处。
君臣相顾尽沾衣,
东望都门信马归。
归来池苑皆依旧,
太液芙蓉未央柳。
芙蓉如面柳如眉,
对此如何不泪垂!
春风桃李花开日,
秋雨梧桐叶落时。
西宫南内多秋草,
落叶满阶红不扫。
At dwelling palace he looked up at the moon in pain,
He was heart—broken while he was listening to the rain.
The empire'turned upside down,his Dragon Chariot back,
Still he stopped at Mawei Slope to hesitate for going back.
Emperor's concubine buried in Mawei Slope etemally,
Her jade—like face could no longer be seen anyway.
Emperor met ministers, tears fell into his robe,
Looking at East Gate, they had horses to follow.
Back home, pool or garden seen as the original,
The Taiye Lake still mirrored hibiscus or willow.
Hibiscus meant her face or eyebrows as weeping willow,
Watching such scenery, he couldn't help being tearful.
Spring breeze brought peach and plum to bloom,
Autumn rain had phoenix trees' leaves fall in gloom.
In West or South—Inner Palace grew more autumn grass,
The stone steps' full of withered leaves or faded fiowers.