This is a concise reference book, with entries on major events in Chinese and foreign civilizations dating from remote antiquity to the early 20th century. The entries are objectively presented, based on records from historical documents published in China and abroad, and the compilers have also consulted authoritative academic works and reference books.
About Author
Guo Bonan, a senior editor at the People's China (in Japanese) monthly in Beijing. A researcher in the history of Chinese culture, he has authored and compiled a number of books on Chinese civilization, with some of them translated into English, French, German, and Japanese.
Bao Qianyi, received her Bachelor of Commerce and MA in English Literature from the University of International Business and Economics (UIBE). Upon graduation in 2000, she joined the Faculty of English in UIBE. She was trained as a conference interpreter at Directorate General for Interpretation of the European Commission. Returned to UIBE in 2004, she started to run a seminar course for the postgraduates on history of Europe.
Preface
Explanatory Notes
Paleolithic Period Around 2.5 million–12,000 BP
Neolithic Period 10000–2000 BC
Appendix: The Legendary Period of China Around 2550–2140 BC
The Xia Dynasty Around 2140–1711 BC
The Shang Dynasty Around 1711–1046 BC
The Zhou Dynasty 1046–256 BC
The Qin Dynasty 221–206 BC
The Han Dynasty 206 BC–220 AD
The Three Kingdoms Period 220–280 AD
The Jin Dynasty 265–420 AD
The Northern and Southern Dynasties 420–589 AD
The Sui Dynasty 581–618 AD
The Tang Dynasty 618–907 AD
The Five Dynasties and Ten States 907–960 AD
The Song Dynasty 960–1279 AD
The Yuan Dynasty 1271–1368 AD
The Ming Dynasty 1368–1644 AD
The Qing Dynasty 1644–1911 AD
Appendix I: Index
Appendix II: Bibliography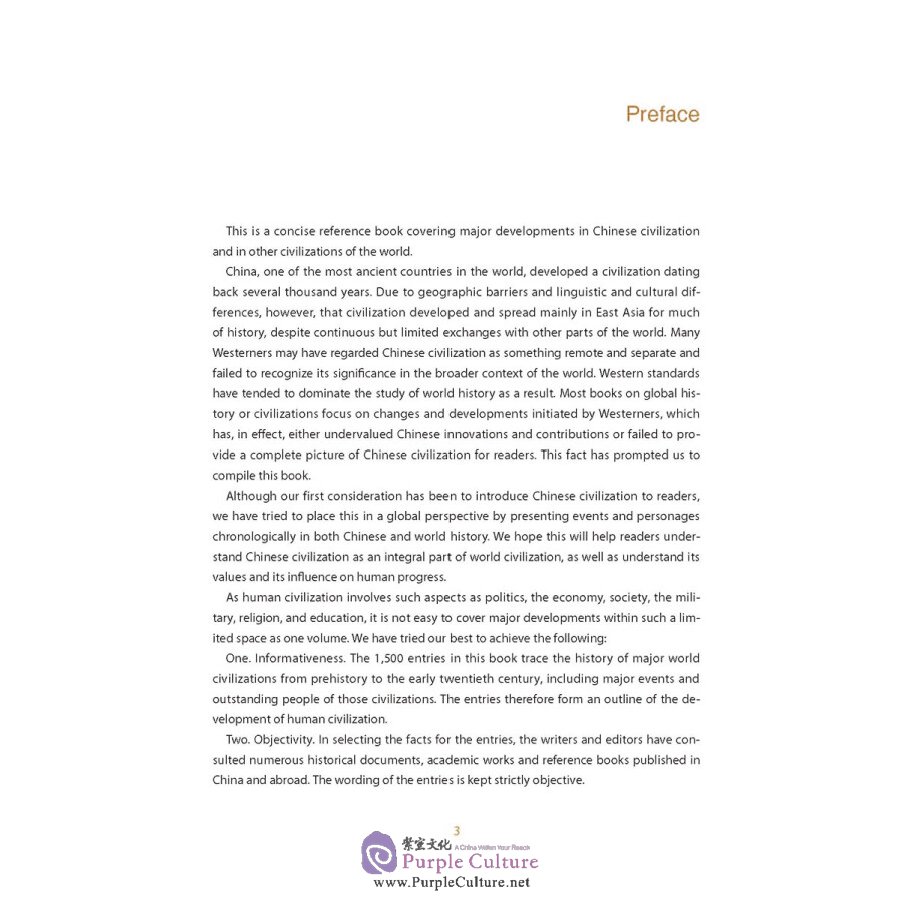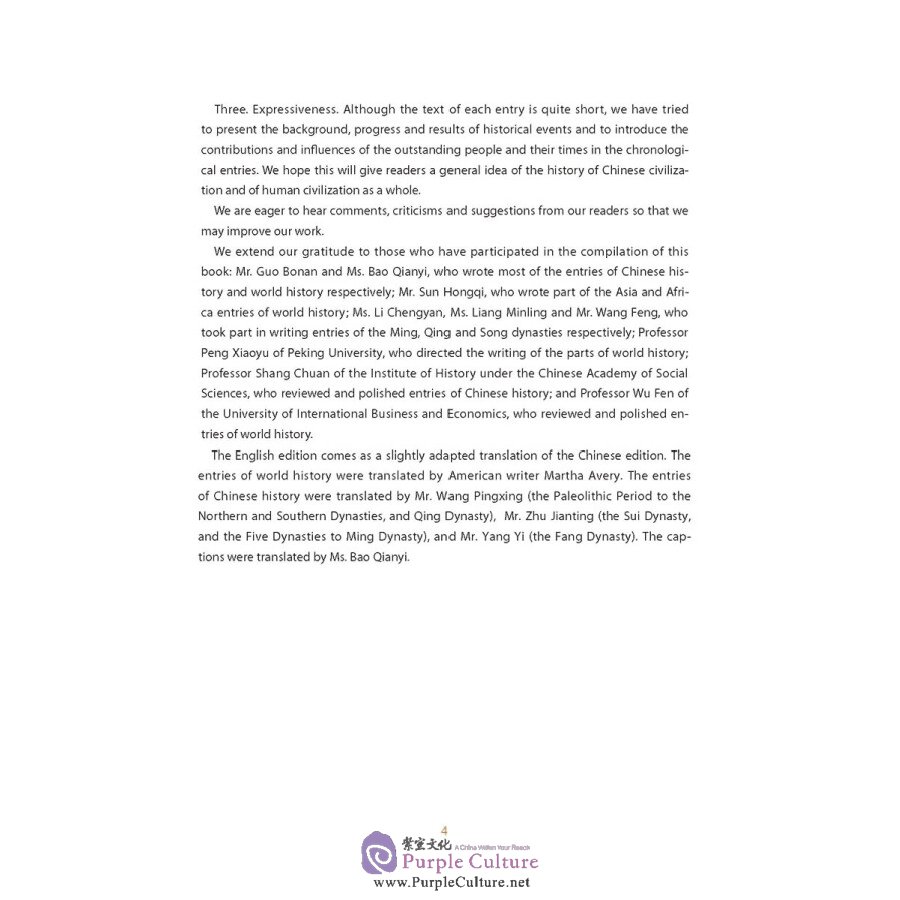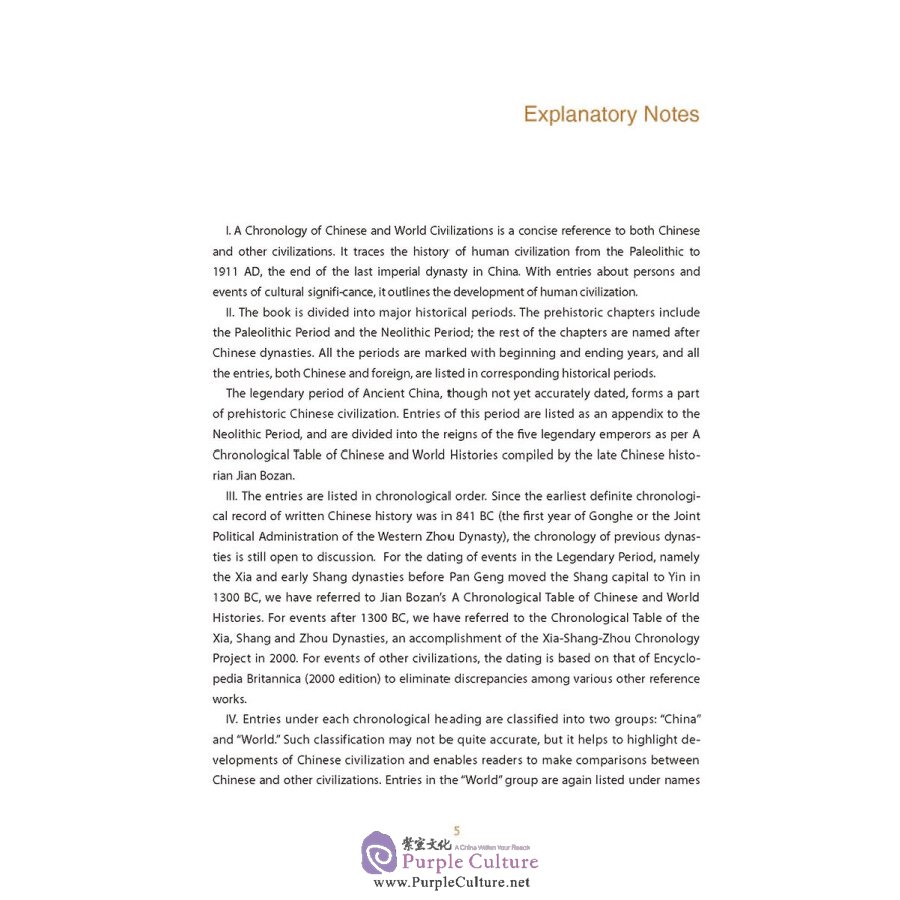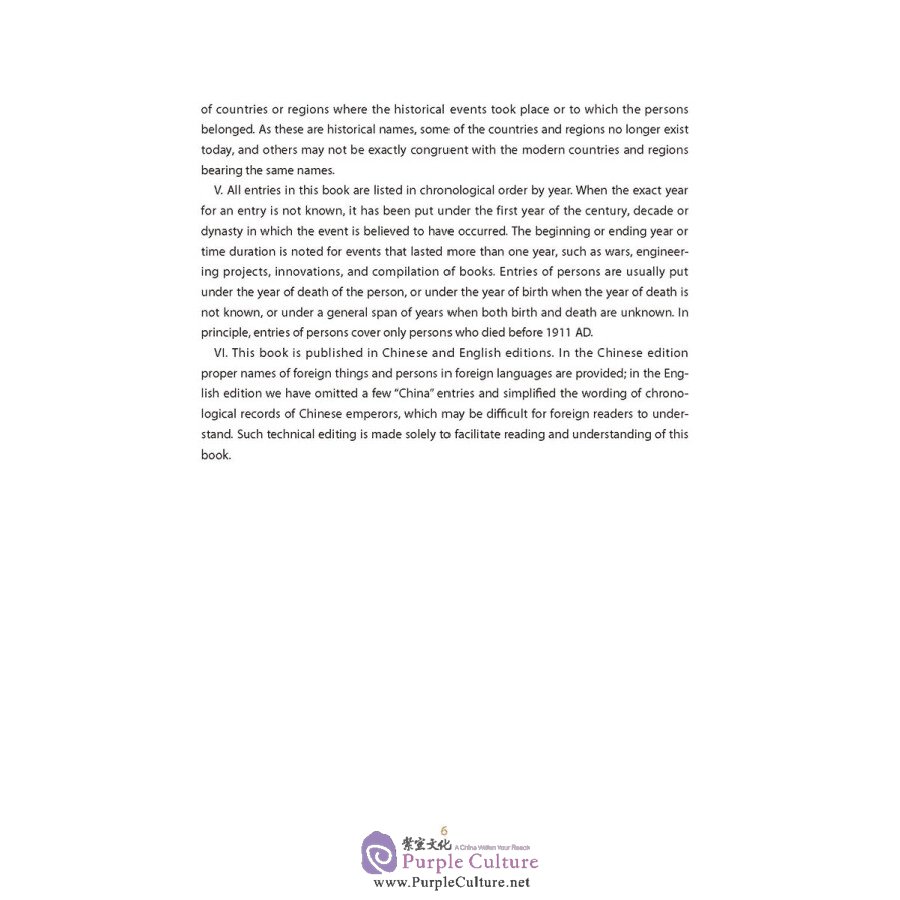 As human civilization involves such aspects as politics, the economy, society, the military, religion, and education, it is not easy to cover major developments within such a limited space as one volume. We have tried our best to achieve the following:
One. Informativeness. The 1,500 entries in this book trace the history of major world civilizations from prehistory to the early twentieth century, including major events and outstanding people of those civilizations. The entries therefore form an outline of the development of human civilization.
Two. Objectivity. In selecting the facts for the entries, the writers and editors have consulted numerous historical documents, academic works and reference books published in China and abroad. The wording of the entries is kept strictly objective.
Three. Expressiveness. Although the text of each entry is quite short, we have tried to present the background, progress and results of historical events and to introduce the contributions and influences of the outstanding people and their times in the chronological entries. We hope this will give readers a general idea of the history of Chinese civilization and of human civilization as a whole.
Preface
This is a concise reference book covering major developments in Chinese civilization and in other civilizations of the world.
China, one of the most ancient countries in the world, developed a civilization dating back several thousand years. Due to geographic barriers and linguistic and cultural differences, however, that civilization developed and spread mainly in East Asia for much of history, despite continuous but limited exchanges with other parts of the world. Many Westerners may have regarded Chinese civilization as something remote and separate and failed to recognize its significance in the broader context of the world. Western standards have tended to dominate the study of world history as a result. Most books on global history or civilizations focus on changes and developments initiated by Westerners, which has, in effect, either undervalued Chinese innovations and contributions or failed to provide a complete picture of Chinese civilization for readers. This fact has prompted us to compile this book.
Although our first consideration has been to introduce Chinese civilization to readers, we have tried to place this in a global perspective by presenting events and personages chronologically in both Chinese and world history. We hope this will help readers understand Chinese civilization as an integral part of world civilization, as well as understand its values and its influence on human progress.