Details
Level: Beginner,Elementary ; Middle School,Adults

Thorough Analyses of New HSK, a series oftextbooks written for New HSK examinees, consisting of five books, namely Thorough Analyses of New HSK for Levels I& II,ThoroughAnalyses of New HSK for Level III, Thorough Analyses of New HSK for Levels IV, Thorough Analyses of New HSK for Level V and Thorough Analyses of New HSK for Level VI. The compilation style of each book is consistent with the modules of the New HSK. Each part is composed of the Explanation of Question Types, Answering Skills, Important Test Points and Past Test Analysis, and Practice of Specific Language Skills. Mock tests are provided at the end for examinees to test themselves. All the exercises and mock tests have Q&A explanations for self-learners or tutorial takers.This series, based on a thorough investigation into the examination syllabus and the past examination papers, summarizes the language points and analyzes the types of questions. It focuses on the recurrence of high-frequency words, without neglecting words not listed in the examination syllabus. The combination of training and testing improves not only the candidates' language proficiency, but also their test-taking skills.This book is suitable for candidates of HSK (Levels I & II).For the Listening Comprehension and Reading Comprehension tests of HSK (Levels I & II), using examples from the past tests, it summarizes the question type and answering skills, analyses the past exam questions, provides specific exercises and five mock tests. The difficulty of questions is consistent with that of the real ones. All the exercises are provided with answers and all the explanations are annotated in English to facilitate students' self-learning. A MP3 CD is attached to the book, which includes the recording for the listening comprehension tests in the specific exercises and the mock tests.

About the Author
Jin Xueli, the lead author, has rich experience in Teaching Chinese as a Foreign Language(TCFL), HSK tutorial and textbook compilation. She was also the lead author of Simulated Tests of the New HSK (Level III)published by Beijing Language and Culture University Press.
Table of Contents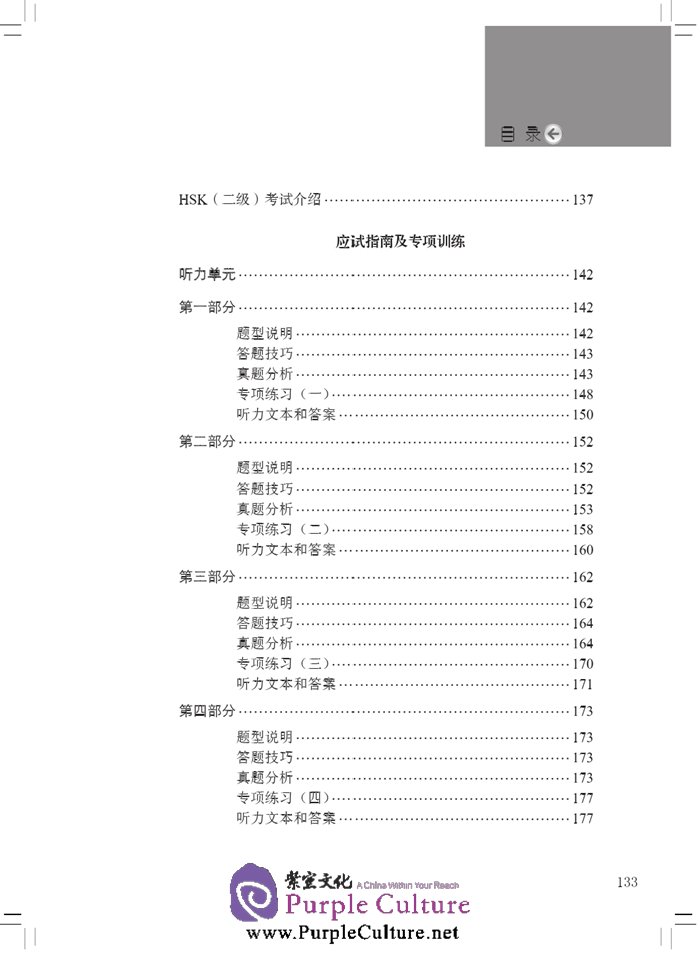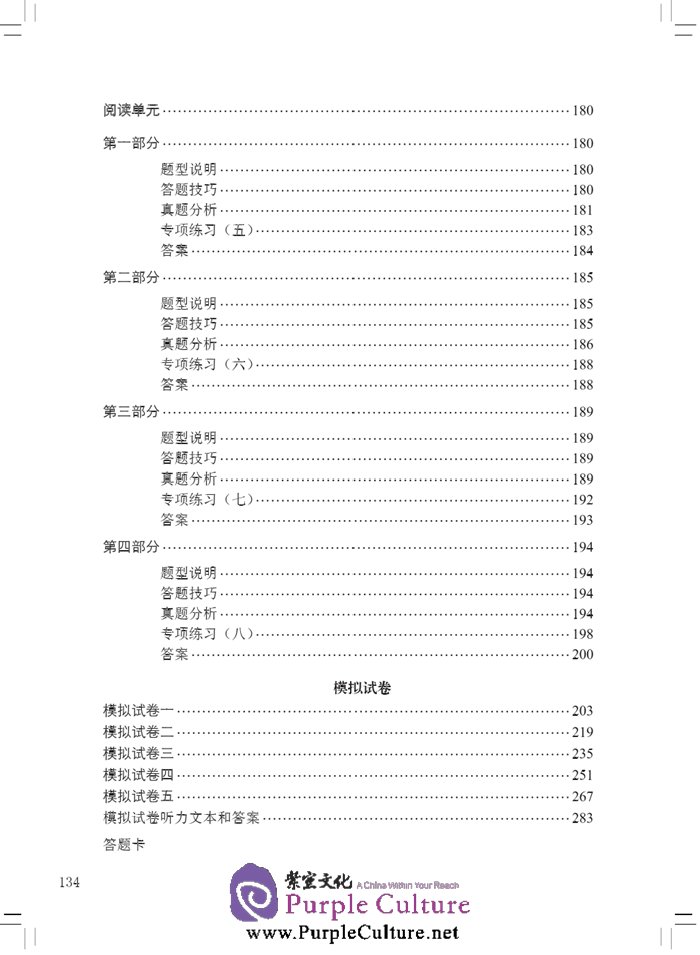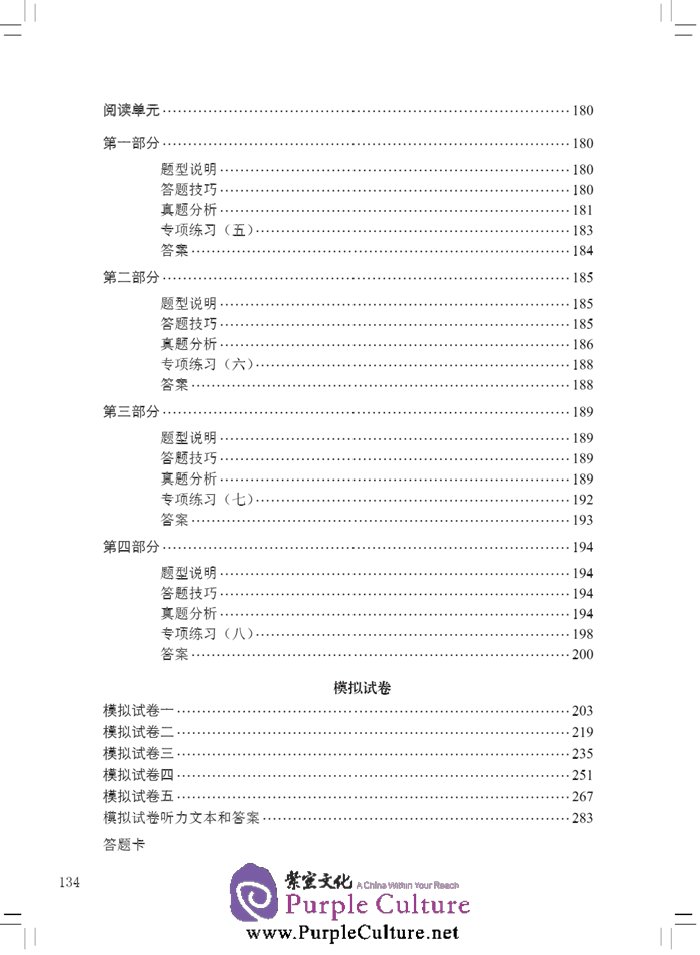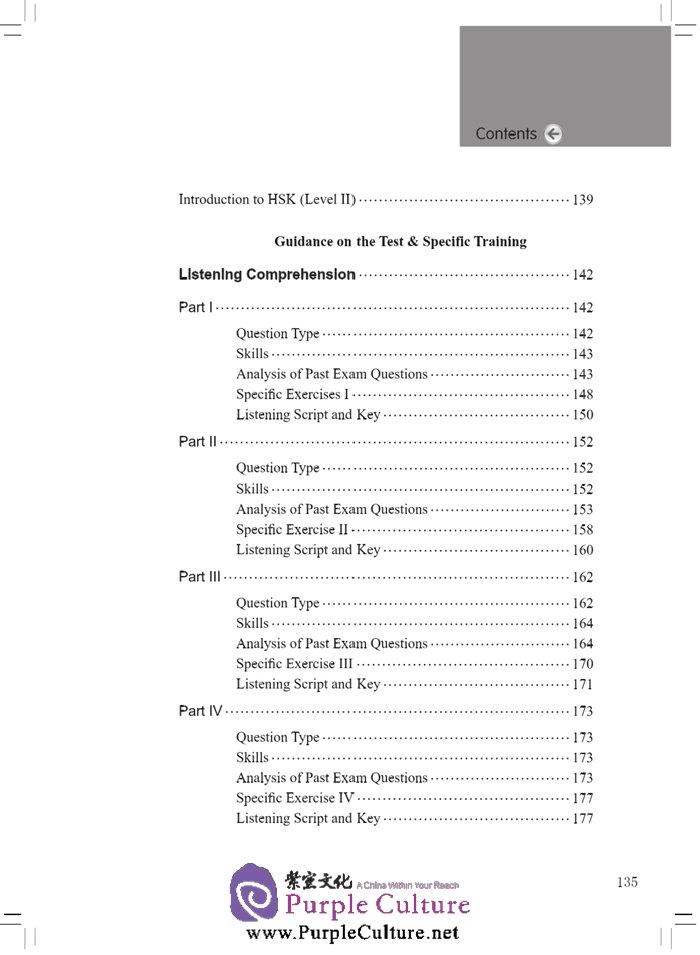 Sample Pages Preview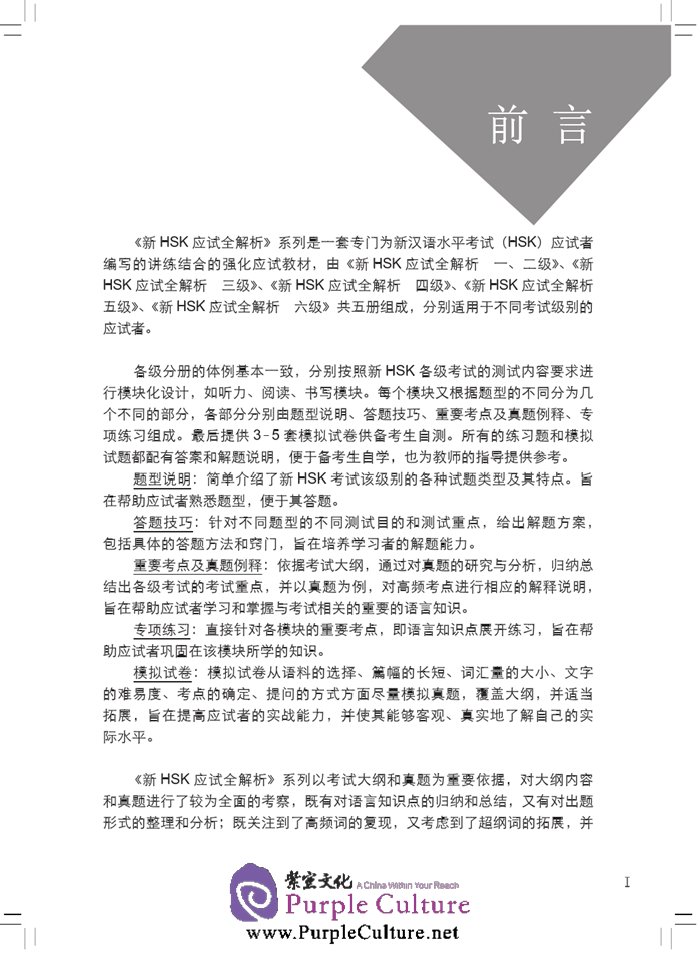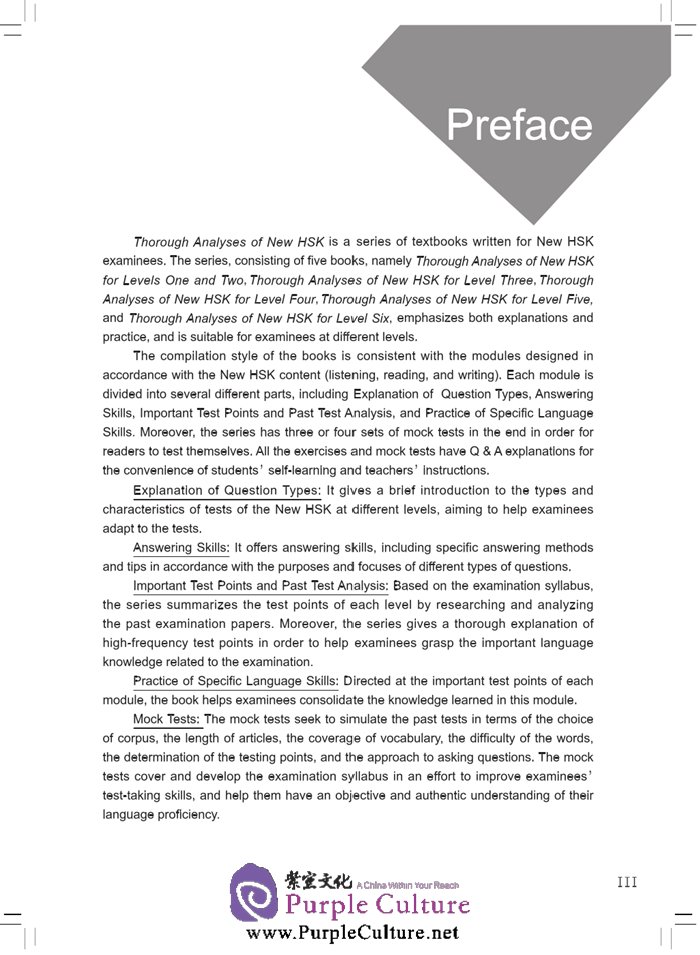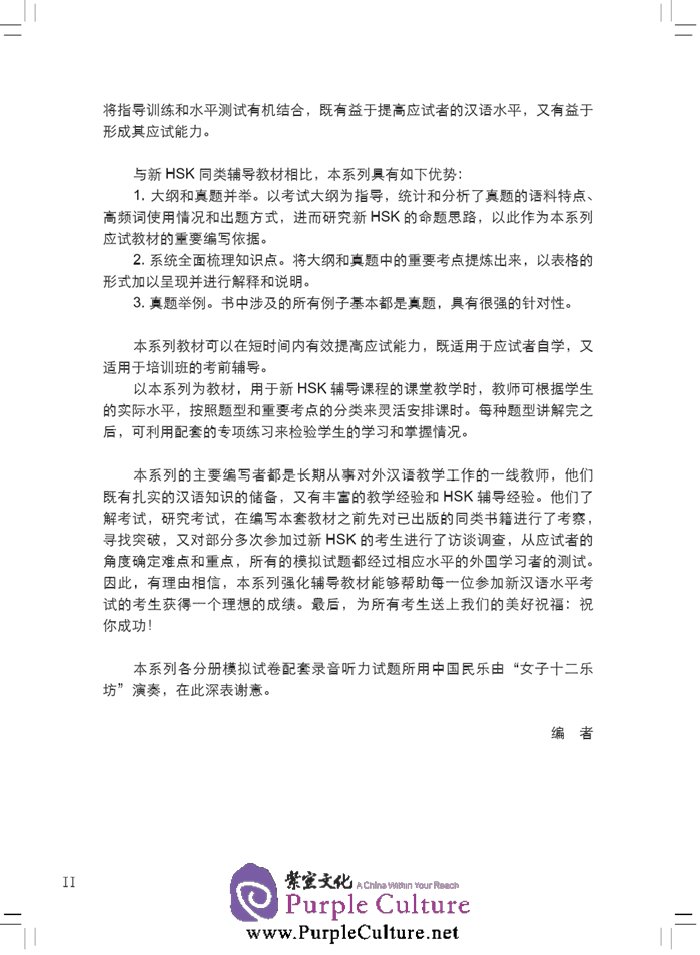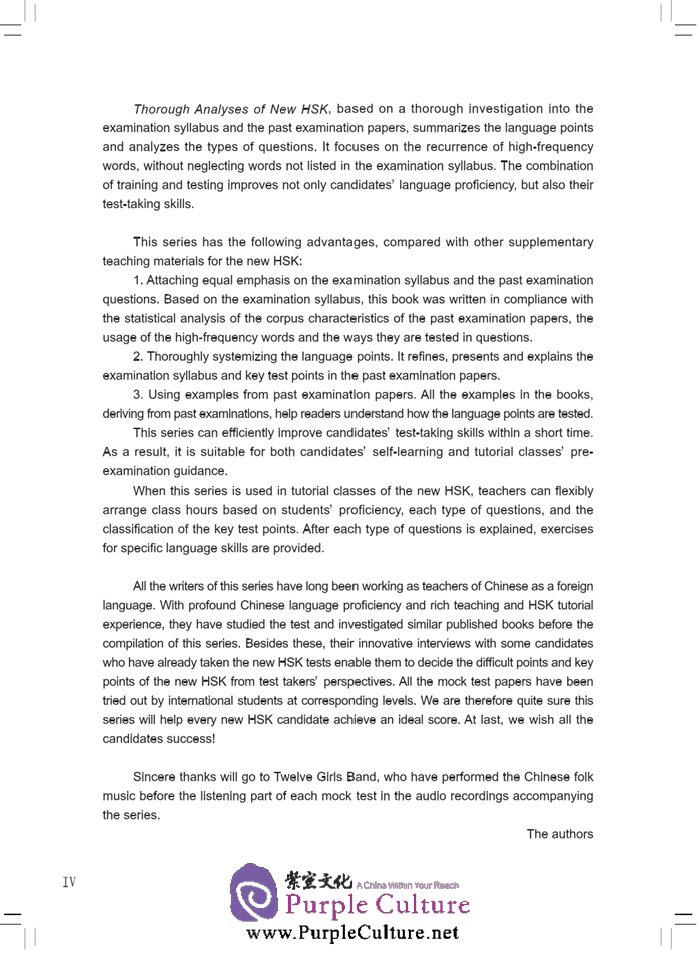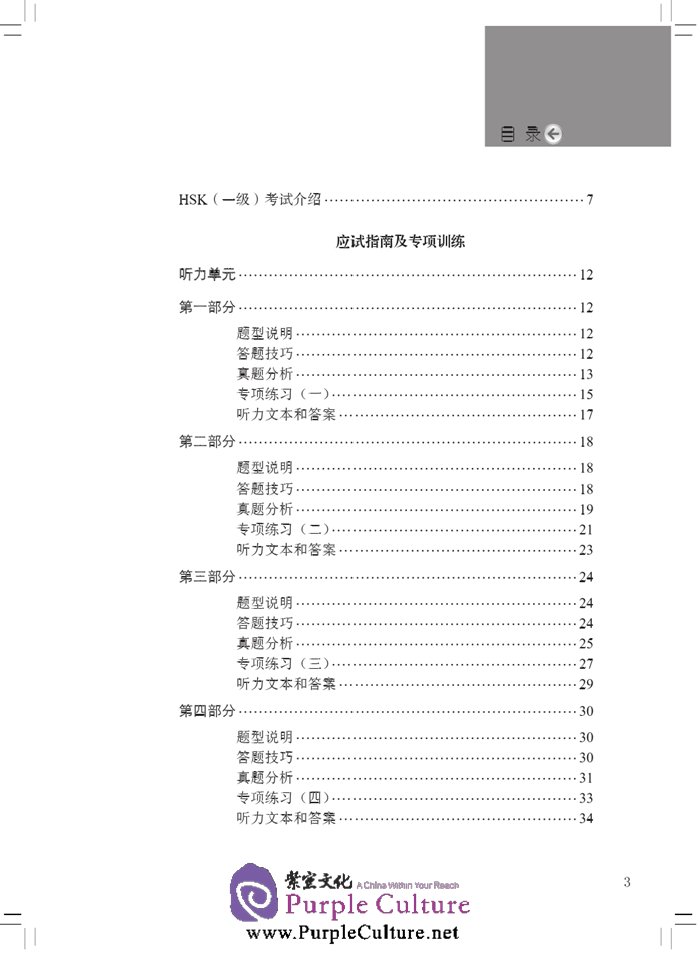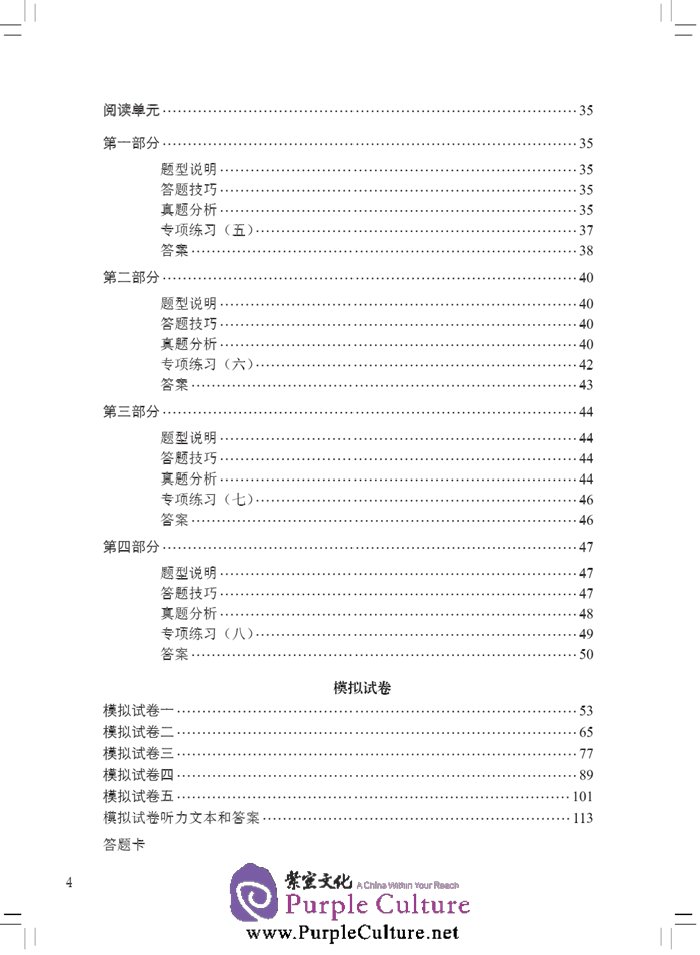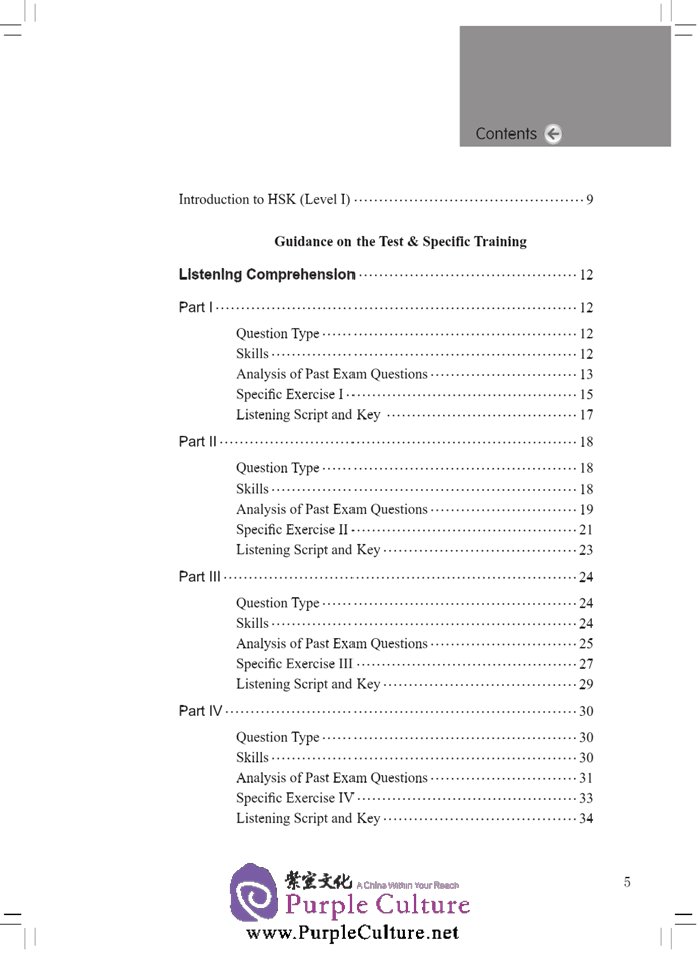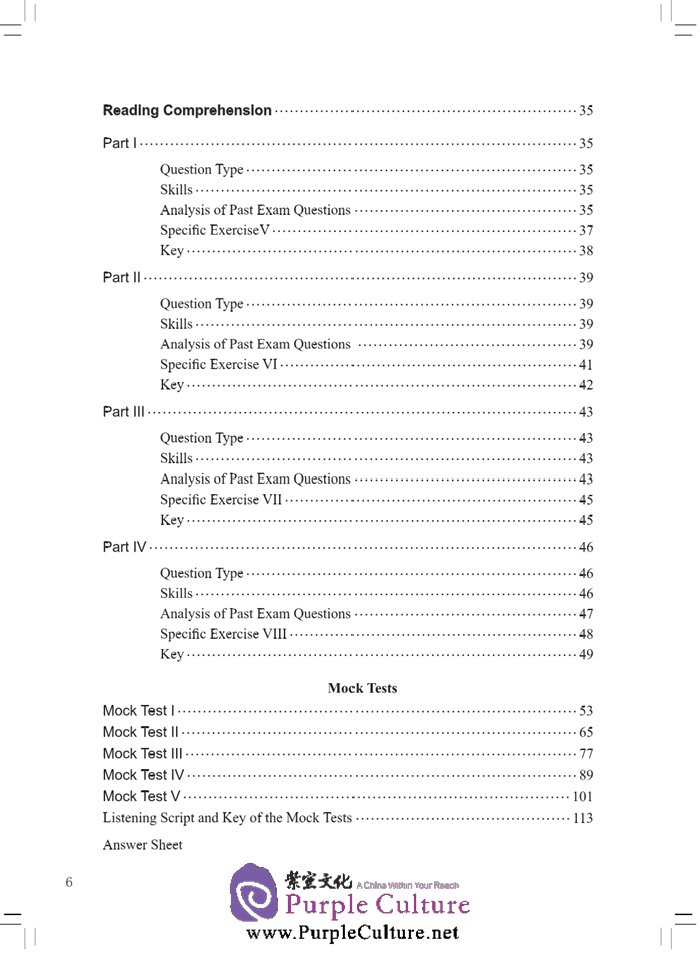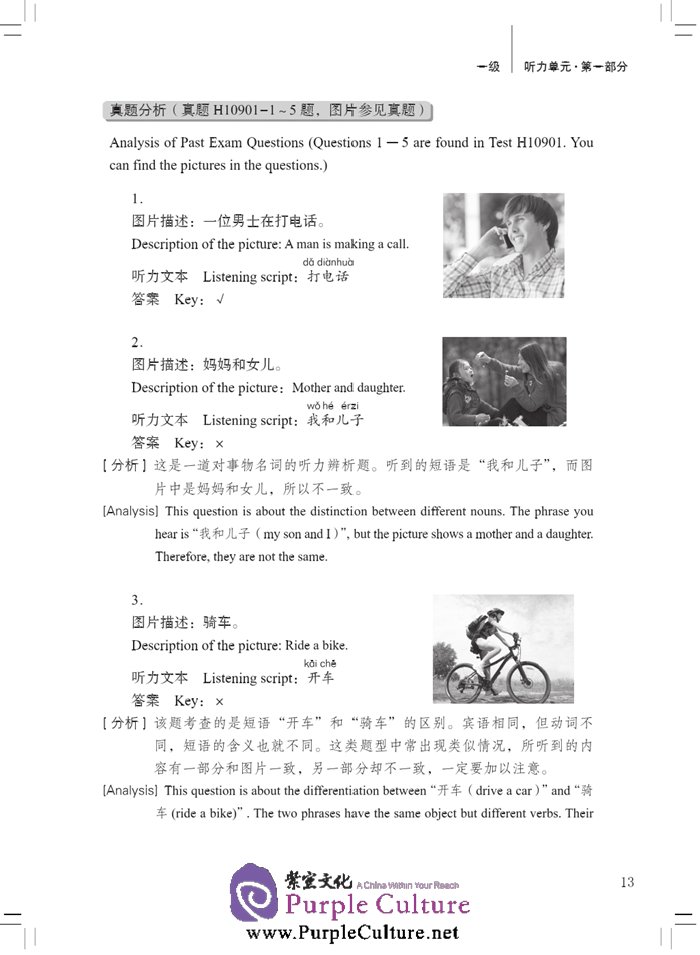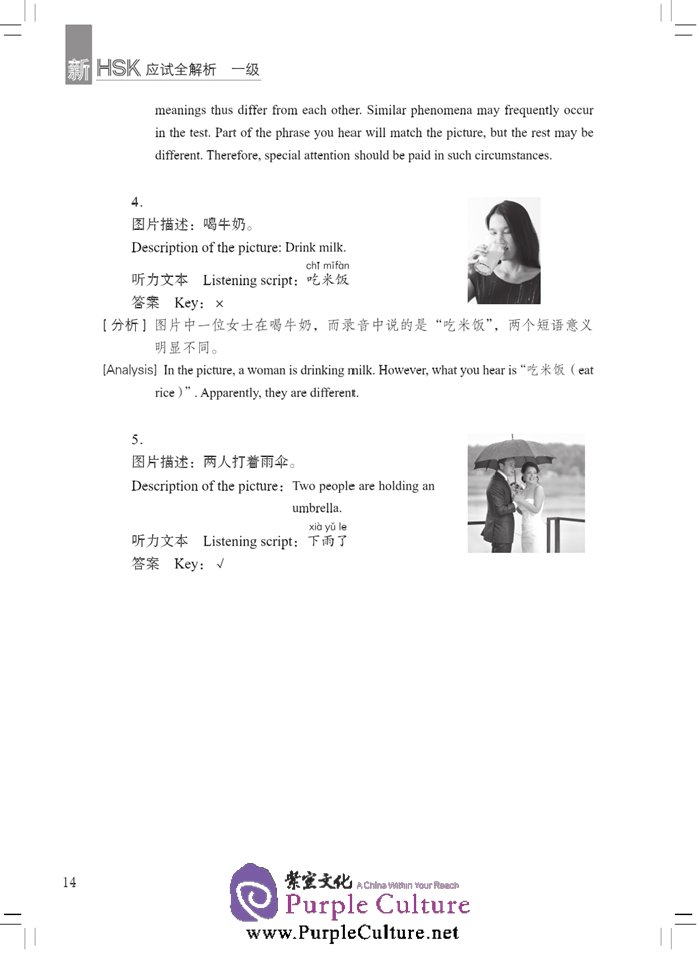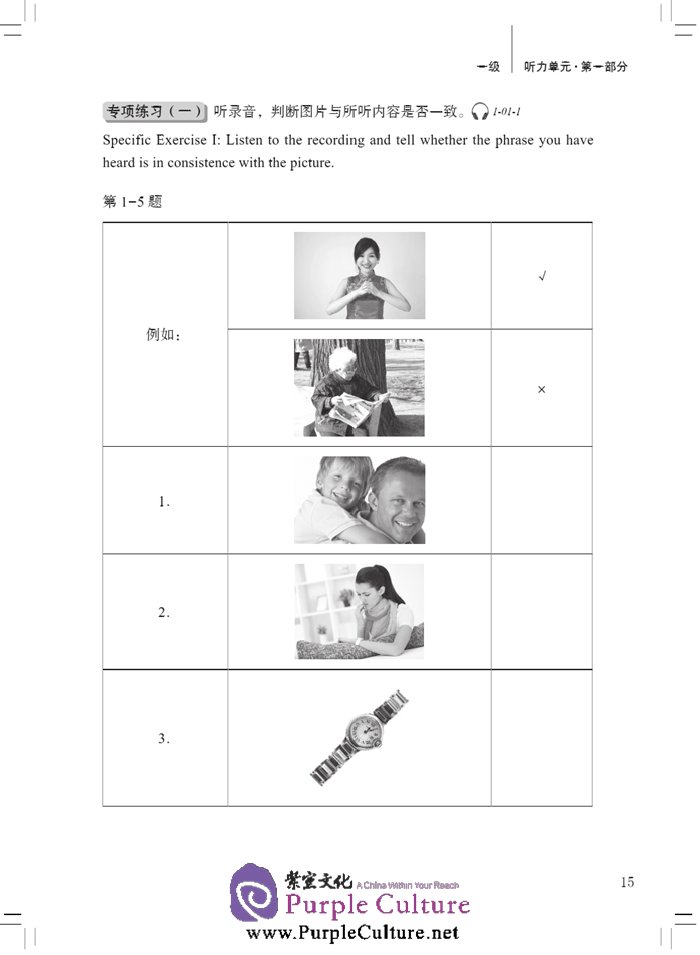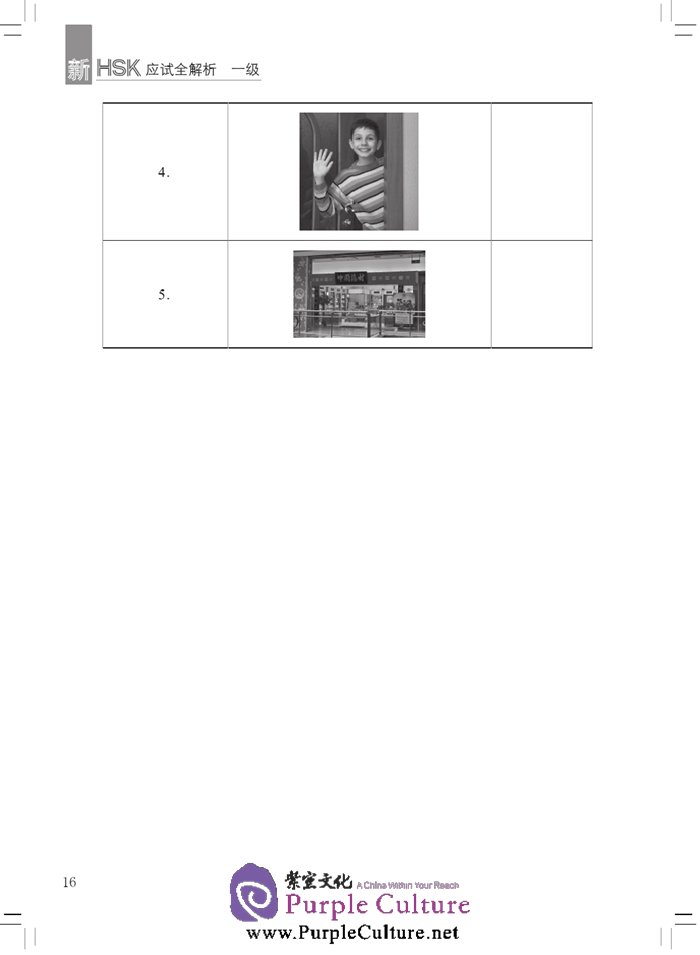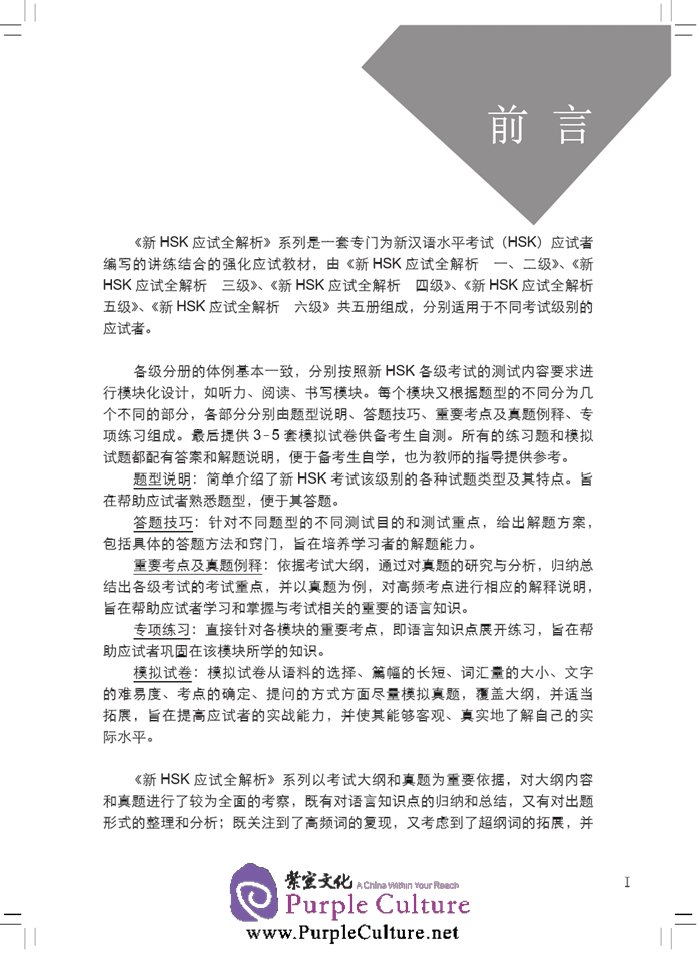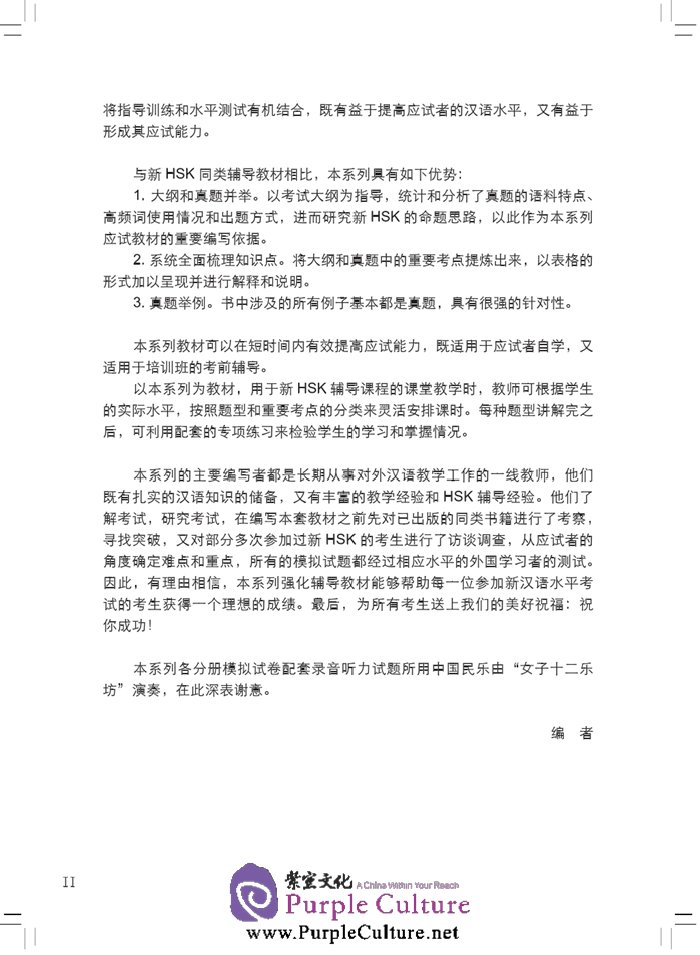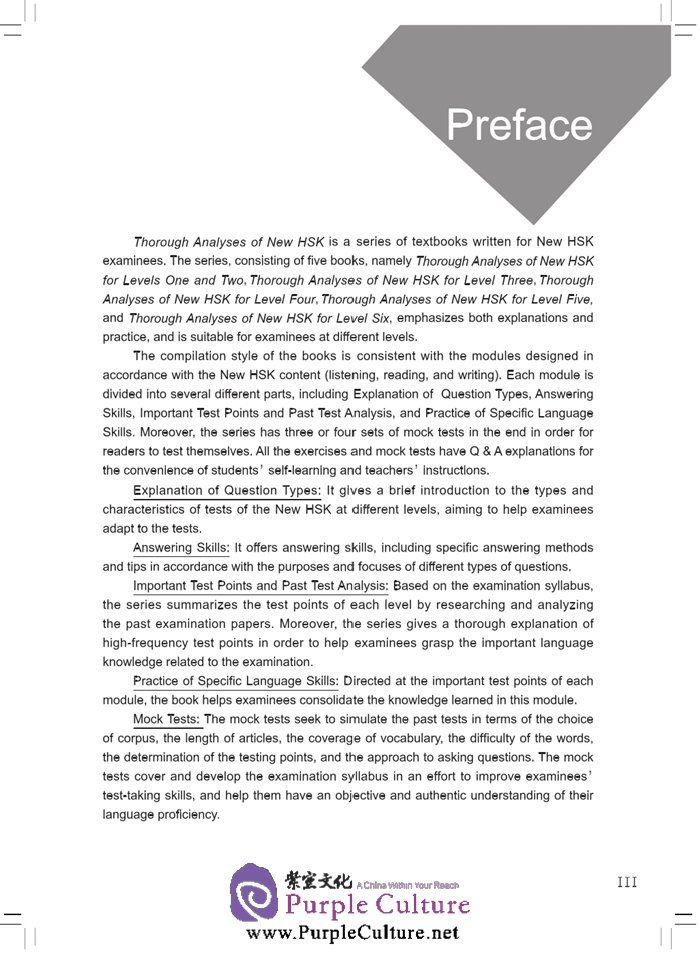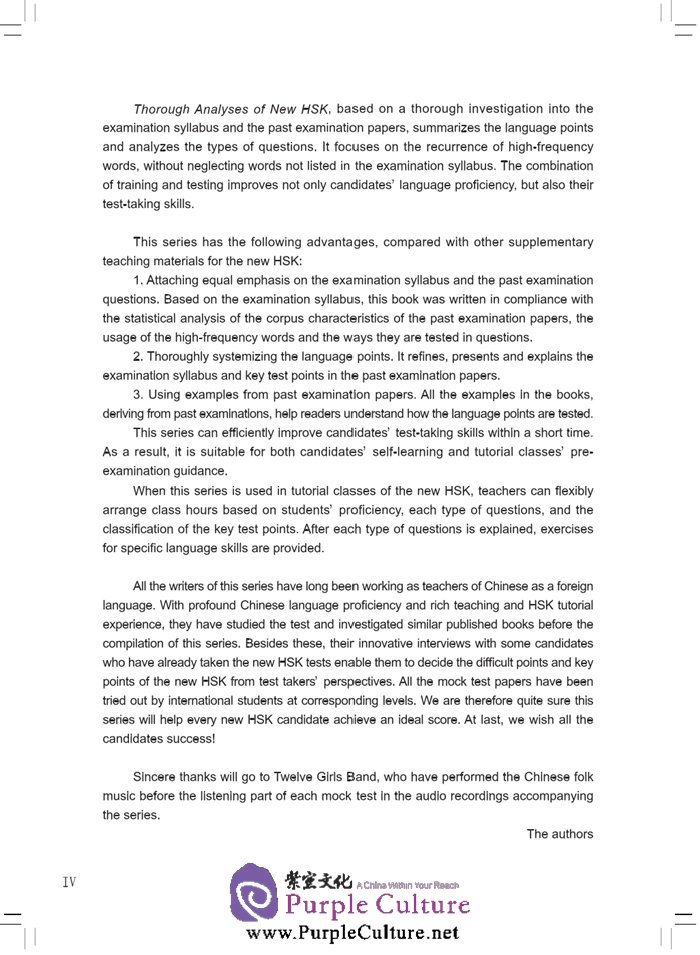 1 Customer Review(s):
by ermine e. on 2017-06-07 02:43:09
This book is fantastic resource to prepare for an HSK exam. It is well-structured and thorough. I would recommend buying this book instead of plain mock tests as the analysis facilitates comprehension of what is required from a test taker.
It would be great if a similar and separate book on HSK Common Mistakes is written by the authors. Nevertheless, I believe that if I study for an HSK exam using this book, I will be more confident in Chinese and will pass the test as a bonus.
A big thank you to the authors, publisher, Purple Culture and all involved. Great resource for the good price. Delivery is still expensive, though :-)
Write Review
Thorough Analyses of New HSK Level 1, 2 (With English Annotations)
$13.80