The 25 stories in this: book contribute to a shared and rich knowledge and experience of China's successful poverry reduction effort, and serve as a source of inspiration to other counrries to achieve sustainable rural development and the SDGs.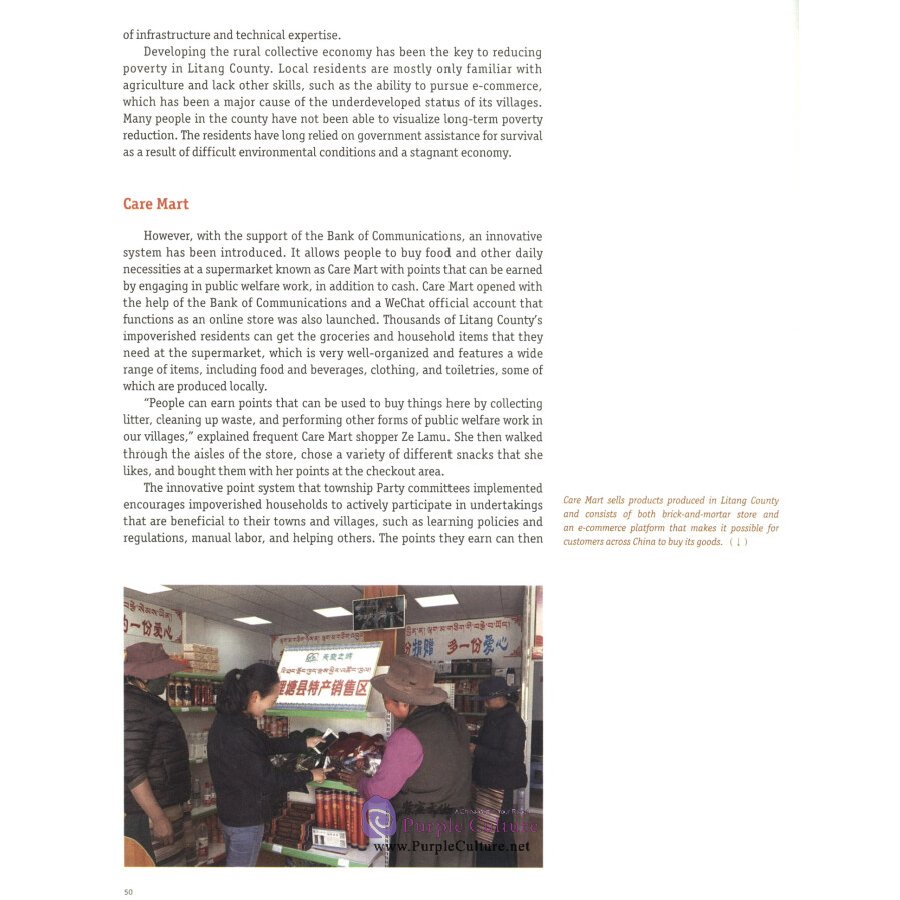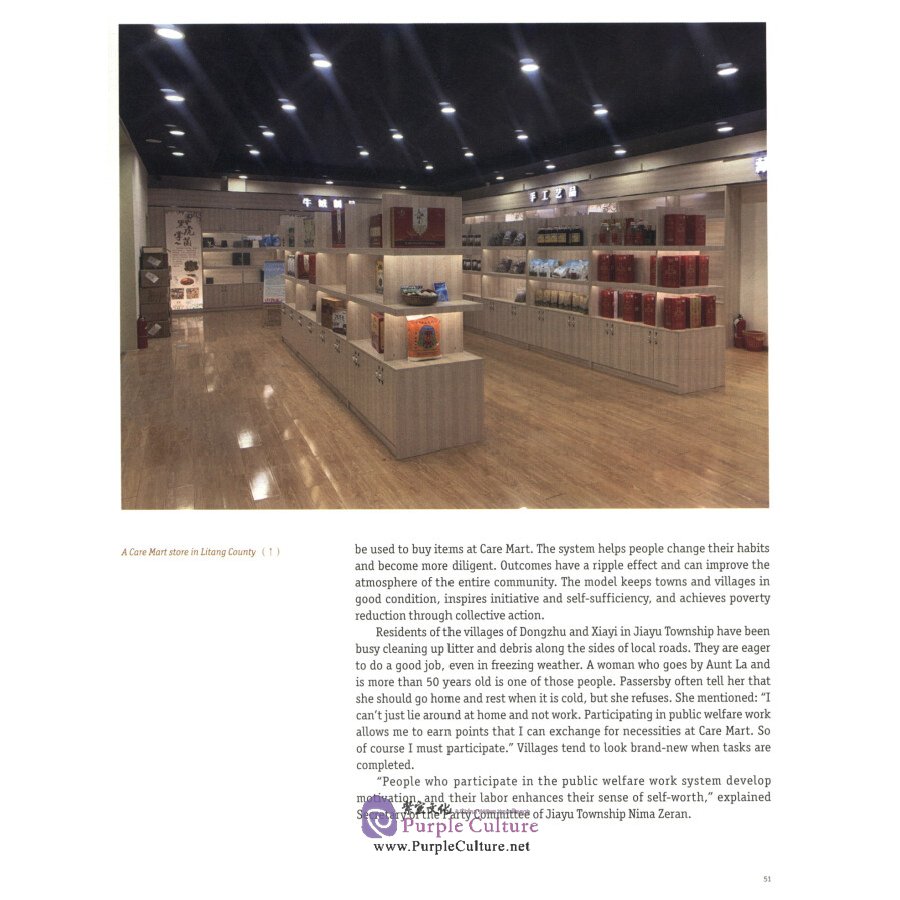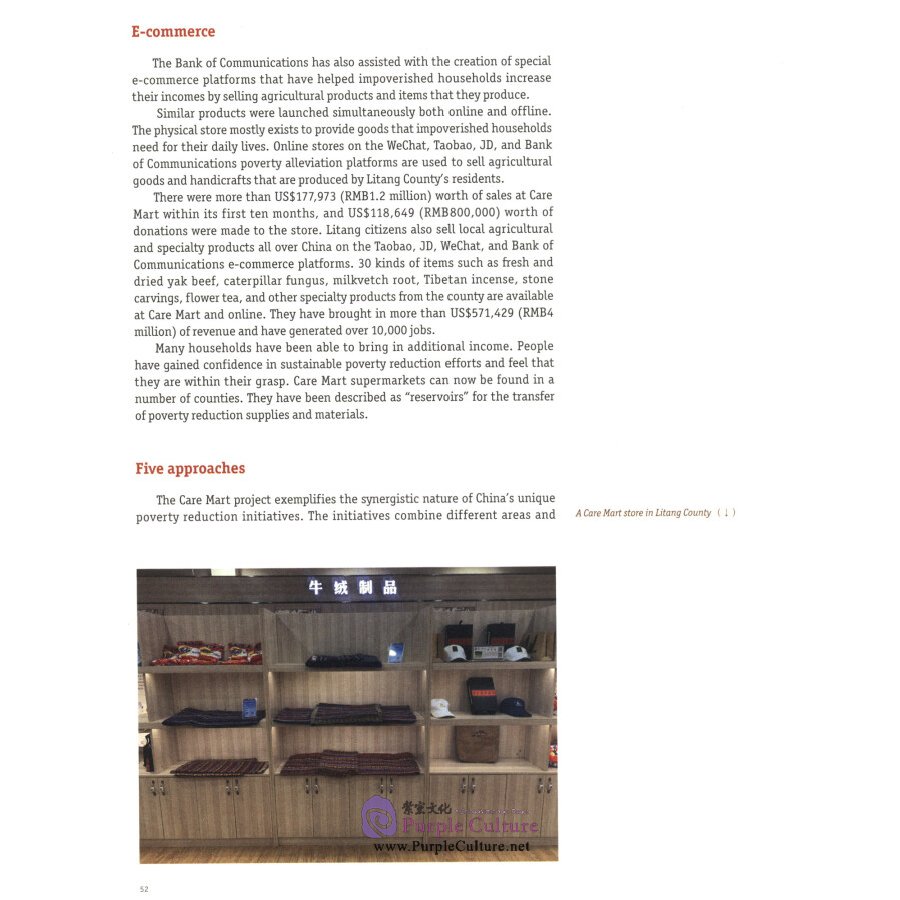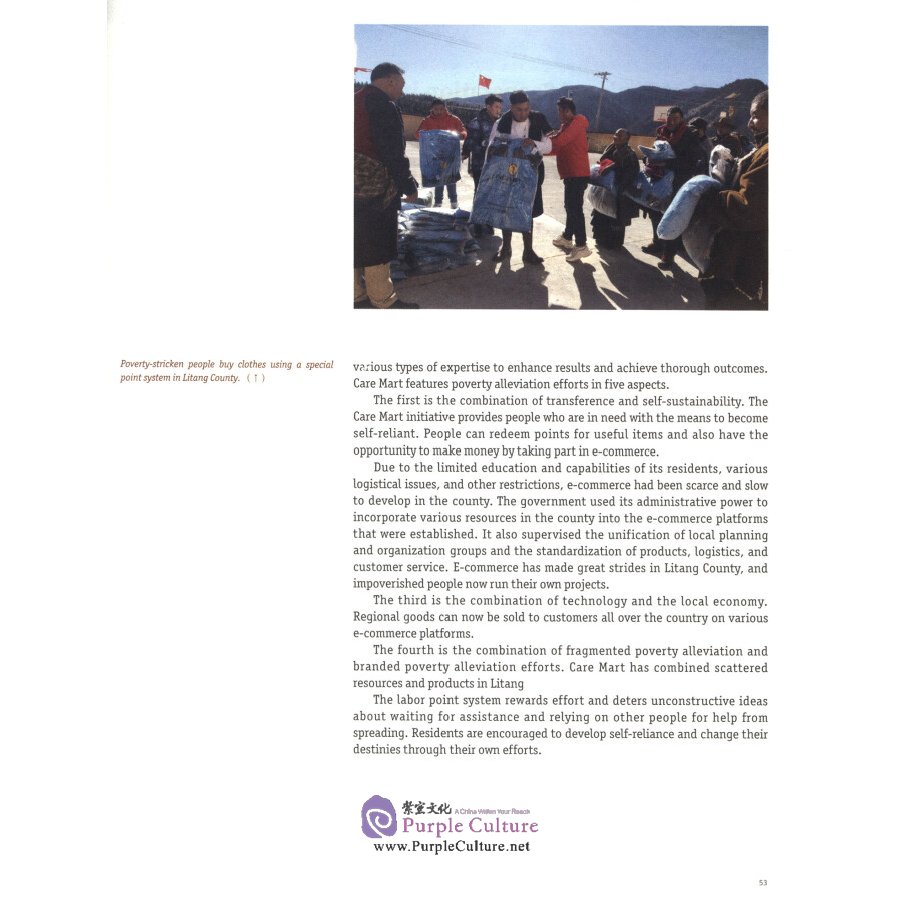 Preface
Since the start of far-reaching economic reforms in the late 1970s, China has benefitted from unparalleled economic growth that, in turn, has fueled a remarkable increase in per capita income. China's economy has continued its accelerated growth in the last few decades to become the world's second-largest national economy, with a nominal GDP of US$14 trillion in 2019, representing one-sixth of the global economy. This period of extraordinary economic growth eradicated a significant portion of the countrys poverty -since 1978, more than 850 million people have moved out of poverty.
China was the first developing country to achieve the United Nations Millennium Development Goal 1-halving poverty by 2015. The story of China'ssuccess is well known: all began in 1978 with the launch of the Reform and
Opening Up, which included a newland reformr a gradual marketliberalization, and the countrys opening-up to internationaltrade and foreign investments.
Perhaps less well knownr however, is the role that agriculture and the transformar: ion of the rural sector played in underpinning economic growth
and poverty reduction. In pre-reform China, relatively low-productivity
agriculture was pervasive. Afterwards, investments in agriculture, which in turn drove widespread smallholder commercialization, value chain
integration and the associated development of business opportunities across agri-food value chains, have been a significant driver of China's economic transformation.
Most important, however, has been the governmentts consistent commitment and determination to fully eradicate poverty over the past four decades. Guided by the ideal of building a xiaokang soaety-a moderately
prosperous society-Chinese leaders have led the formulation of strategic plans and the implementation of specific programmes that reduced regional
disparities, sharing the benefits of econonuc growth among all segments of society, and ultimately reducing poverty.
The year 2020 is expected to mark China's achievement of eradicating absolute poverty in the country. This is a historical milestone: no other country in human history has managed to bring such a large number of people out of poverty in such a short period of time. This expected accomplishment will make China the first country to achieve the Sustainable Development Goal 1-ending poverty 10 years ahead the globaltarget.
Such an extraordinary achievement will be an inspiration for the rest of the world. China's success in eradicating poverty will offer vaLuable lessons and experience that can be shared with other countries that are striving to reduce and ultimately eliminate poverty.
In this book, The Way Forward 2020: Stories of Poverty Reduction in China, with the collaboration of the International Poverty Reduction Center in China (IPRCC) and China Internet Information Center (CIIC), 25 stories of best practices of China's poverty reduction achievements have been documented and are being made availabLe to a global audience. I am pleased to discover that, among the stories, the Zhuxi County: Awakening a Sleeping Agricultural Giant via e-Commerce highlights how an IFAD-funded programme in HubeiProvince contributed to empowering local farmers by being abLe to partiapate in improved value chains and even e-commerce platform.
The year 2020 holds another important date: it is the year that marks forty years of China-IFAD cooperation. IFAD and China share a common vision of a
world free of poverty and hunger. I am pLeased to recognize that IFAD has been
a valued partner to China in its journey towards eradicating poverty in rural areas.
But the end of povertyin Chinais not the end of the journey. China's path towards a moderately prosperous society remains. The country will continue to address relative poverty and vulnerability, social inequalities, and the growing rural-urban divide. Urgent development concerns include halting environmental degradation, mitigating the negative impacts of climate change, and achieving the remairung Sustainable Development Goals.
The government's concept of rural revitalization is a compelling vision where rural areas will be characterized by thriving businesses, pleasant living environments, social etiquette and civility, effective governance and prosperity-and puts the development of rural areas at the centre of China's
future development.
In this regard, I believe that IFAD can continue to accompany China in its effort to revitalize rural areas, pursue a more environmentally sustainable
development and a more prosperous and equitabLe society, and that in forty years, we could share the lessons and experiences of this successfuljourney together.
I hope that this book contributes to a shared and rich knowledge and experience of China's successfulpoverty reduction story, and serves as a source ofinspiration to other countries to achieve sustainable rural development and the SDGs.