Details
Media Recommendation
"Through resplendent photographs and imaginative prose this innovative work unfolds the often startling results of twenty five years of detailed engagement with the monumental structure known as the Great Wall. Rather than a mere chronicle of events or dull reprisal of developments, it is the fruit of lengthy pondering and extensive historical study. By combining detailed physical examination with highly aesthetic presentation William Lindesay has infused the Wall with life and created a vigorous, indeed a definitive, study. "
    ——Ralph Sawyer, author 'Chinese Ways of Warfare'.
"In The Great Wall Explained, William Lindesay offers everything you ever wanted to know about the greatest architectural monument on the planet. Richly written and lavishly photographed, the words and images of the book present a geographic and temporal outline of the story of China. Just as the Great Wall runs the width of China, its story reaches back through a// the eras of the Chinese nation and touches on every important episode in its history.  In this valuable work of research, William Lindesay gives us a map into the Chinese soul. "
    ——Prof. Jack Weatherford, author 'Genghis Khan and the Making of the Modern World'. 
Sample Pages Preview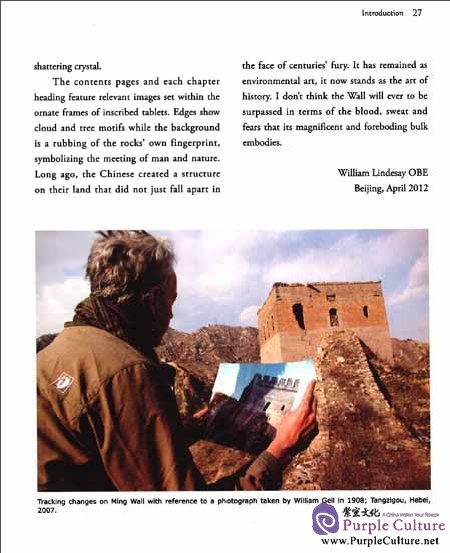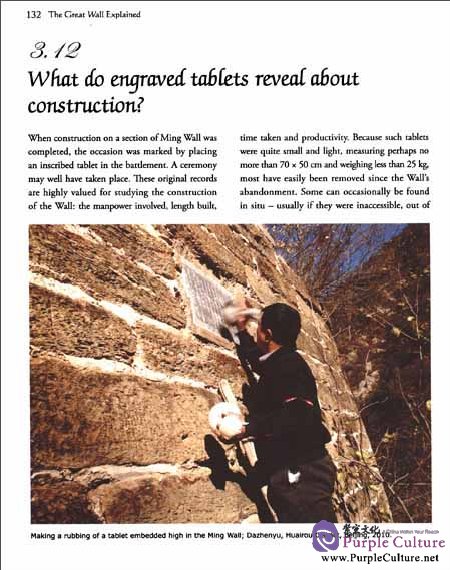 Key protection measures include Article 3, which concerns' keeping the remains of the Great Wall in their original state, protection in accordance with scientific planning and rational use'; Article 4, stating that 'actual work to protect the Great Wall will in practice be delegated to the People's Governments of the Municipality's Districts and Counties'; Article 6, requiring that 'Municipal Planning Department work to define and demarcate a protection buffer zone, and beyond that a restricted construction control area, should be made in observance of protecting the overview view of the Great Wall;Article 12, which concerns 'forbidden activities within the buffer zone which exploit the land, such as quarrying, sand and gravel extraction, construction of artificial water bodies, trapping, hunting,deforestation and all other land use activities which damage the terrain and its ecology; Article 13,affirming that 'the Great Wall and all its constituent materials belong to the State. Individuals and groups are not allowed to own materials of the Great Wall,nor move or remove them for the building of other structures' and 'those found holding such materials should freely return them to local cultural relics bureaus; Article 14, concerning 'strictly forbidden activities and actions such as setting up vendor's stands and communications facilities, organizing tours or accessing sections of the Wall that are not approved for tourism' for which, according to Article 20, 'violators may be fined 1,000 to 30,000 yuan'.Also concerning 'carving, scrawling, drawing and defacing the Great Wall; tampering with signage advocating its protection; fixing ladders, digging holes, putting up poles and dropping garbage' for which, according to Article 20, 'violators may be fined 200 to 500 yuan'.
by Royce on 2017-05-05 18:13:49
A fantastic, interesting, and gripping read. I thoroughly enjoyed the content and format of this book.
Read cover-to-cover... and will be used for referance and browsing in the future.
An historical overview filled with a treasure trove of details. One takes away more than a piece of the Great Wall(s) when reading this work.
Read for pleasure and personal interest. Overall, a great book for the researcher and enthusiast.
I found this book's contents helpful and inspiring - number rating relates to the book's contribution to my needs.
I am looking forward to the next "Wall" book that is soon to arrive!