---
Page: 259
Publication Date: 01/2013
ISBN: 9787561934159
Details

This is the book of Chinese characters matching the Level 2 Integrated Textbook of 10 Level Chinese. The 32 basic characters listed in the Threshold volume and the 320 characters listed in the Level 1 textbook will not be considered as new characters in this volume.
Focusing on teaching students to read and write the 20 characters for reading and writing given in the Integrated Textbook, each lesson is divided into four parts—"Chinese characters", "Exercises", "Take a look at the ancient Chinese characters" and "Compare the following simplified characters with their traditional forms". The first two parts make up the main body, while the other two parts are to be selected according to individual needs. A unit review after every three lessons summarizes the characters learned in the lessons, including five parts—"Bank of Chinese characters", "Structures of Chinese characters", "Skills of identifying Chinese characters", "Exercises" and "Knowledge about Chinese characters".
This book comes with a Workbook of Chinese Characters for students to practice using the characters after class, which is quite convenient and practical.

About the Author
Hu Wenhua is a teacher in the International Cultural Exchange School of Fudan University whose research focuses on Chinese language and characters, Chinese vocabulary and education of Chinese as a foreign language. Ms. Hu teaches classes such as intensive reading, speaking, listening, writing and the selective course of Chinese written language for Chinese language majors. She has published several academic papers in these fields.

Table of Contents
第一课 久 毕 业 专 际 济 应 该 特 完 满 着 急 祝 白 夜 世 界 杯 加
第二课 球 篮 踢 足 系 输 赢 京 剧 演 会 团 参 活 动 卖 送 美 罚 款
第三课 抽 烟 处 所 运 游 泳 另 网 羽 毛 养 花 狗 猫 搬 当 带 散 视
单元小结(一)
第四课 头 皮 肤 眼 睛 矮 胖 黑 介 绍 平 随 穿 短 裤 条 让 害 怕 实
第五课 南 北 城 农 村 山 河 海 田 野 树 鲜 优 部 闹 吵 离 欢 迎 龙
第六课 父 母 亲 接 场 陪 组 织 观 报 通 免 费 具 情 况 办 手 清 楚
单元小结(二)
第七课 尝 炒 蛋 成 酸 苦 辣 饱 盐 糖 醋 瓜 鱼 约 极 又 主 饺 规 洗
第八课 春 夏 秋 冬 季 节 温 度 暖 和 凉 晴 风 雨 雪 阳 最 更 乡 差
第九课 撞 摔 坏 倒 伤 疼 破 拿 伞 修 理 检 查 责 任 突 背 课 谢 低
单元小结(三)
第十课 相 信 鬼 轻 声 灯 敢 呆 概 关 肯 窗 户 偷 恐 抓 屉 糟 糕 像
第十一课 橙 汁 筷 标 准 客 谊 油 惯 素 荤 肚 熟 礼 貌 终 于 胃 死 爷
第十二课 航 托 李 箱 推 重 量 提 顺 利 顾 待 希 望 邮 景 保 持 联 留
单元小结(四)
第十三课 及 担 堵 证 辛 挣 民 厂 辞 职 原 辆 旧 添 麻 烦 傅 警 察 流
第十四课 辅 导 互 帮 助 级 贸 纪 性 成 绩 格 求 练 内 复 备 谈 困 寓
第十五课 颜 色 绿 黄 红 蓝 退 货 质 务 态 物 合 适 商 营 员 盖 章 此
单元小结(五)
第十六课 卧 厅 厨 卫 器 调 冰 梯 押 金 付 括 锻 炼 澡 爬 各 种 决 虑
第十七课 舒 全 顿 睡 精 神 感 冒 烧 脏 紧 药 针 晨 跑 躺 笑 影 除 呀
Sample Pages Preview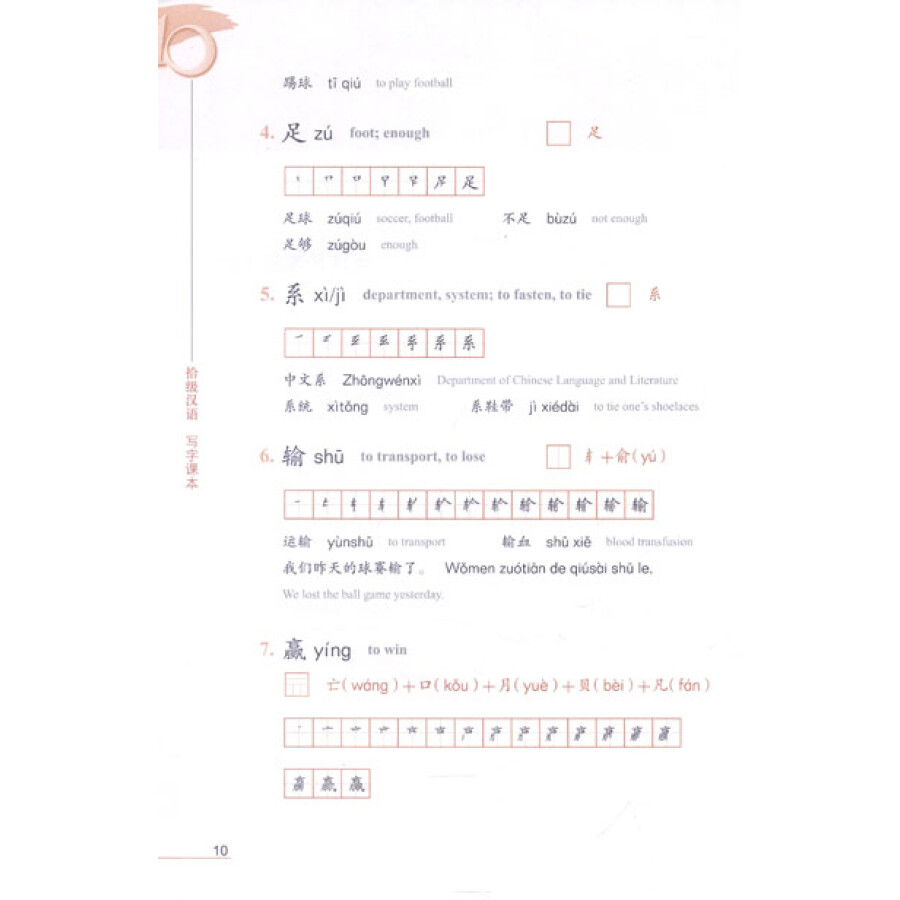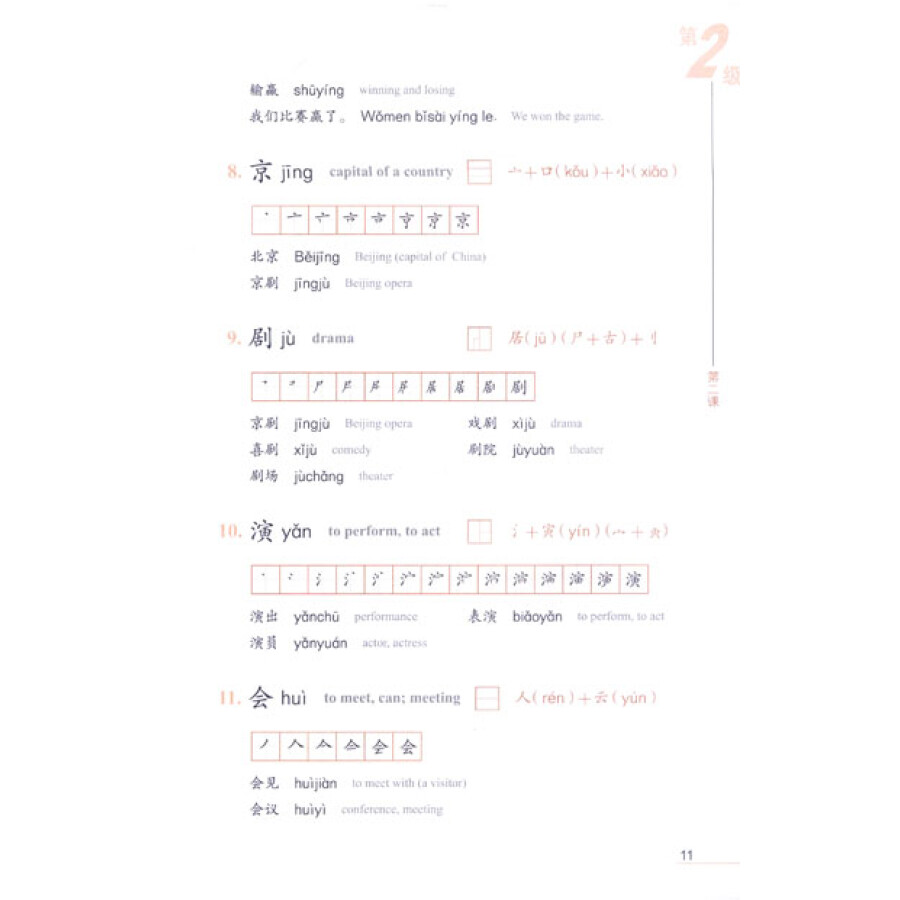 Ten Level Chinese (Level 2): Textbook of Chinese Characters
$9.80