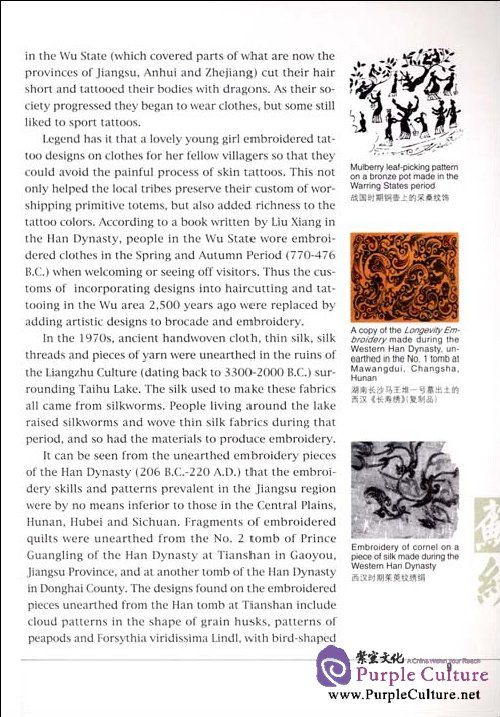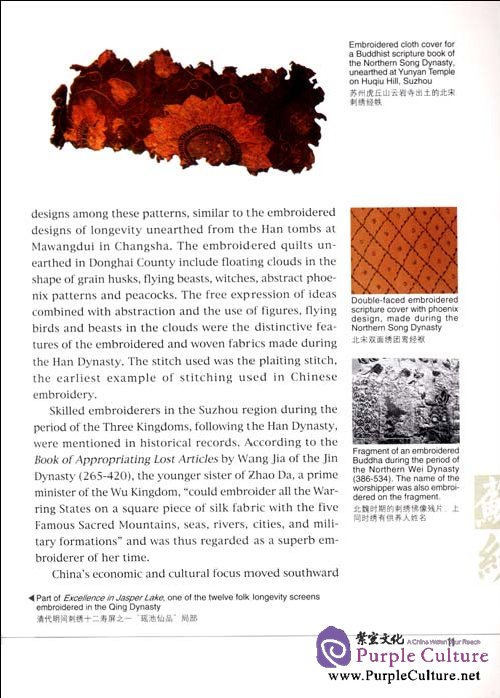 Chinese embroidery originated from the painted cloth art of ancient times. In primitive society, it was customary among Chinese to wear tattoos, which were said to be both for decoration and to help ward off attacks from aquatic animals and beasts during fishing and hunting excursions. In the New Stone Age, people learned to make clothes from fabric to cover their bodies, and began to paint the tattoo designs on their clothes instead. After discovering the painted patterns on the fabrics could not be preserved due to everyday wear and tear, the weather and water, people began to use needles to stitch their clothes with flowery patterns that would last longer. Thus, embroidery was born.
In the embroidery of 4,000 years ago, colored silk threads were used to outline patterns, which were then filled in with paint. By the fifth century B.C., colorfully embroidered clothes, quilts, and decorations became part of the fashionable social life of the upper classes.
Embroidery is the oldest traditional art involving silk processing, another famed art in China. The silk and silk fabrics which were produced before embroidery became popular provided the base materials and colorful silk threads for the embroidery art. And the silk fabrics embroidered with patterns became even more attractive.