---
Author: Zhang Yanlai;
Language: Chinese
Page: 213
Publication Date: 03/2014
ISBN: 9787561937433
Details
Usage Advice: To be used as an extra-curricular reading material for undergraduates and postgraduates majoring in dialects and relative subjects or as an academic reference for scholars in relative fields

Level: 汉语研究者

With the majority of its linguistic data taken from the author's field surveys and the survey reports about Lan-Yin Mandarin published in recent years, this book describes and discusses in detail the synchronic features and diachronic evolution of the initials, finals and tones in Lan-Yin Mandarin. 
Regarding initials, the book discusses the current discrimination and indiscrimination of "n-"and "l-" and the geographic differences demonstrated, the way of phonetic change in the formal and informal pronunciations of open-mouth words of the second grade of the jian group, and phonetic value and quality of zero-initial, etc. Regarding finals, the book discusses the evolution of the nasal final of the mid-ancient yangsheng rhyme, the simplification of the rhyme category, the difference between the formal and informal pronunciations of entering-tone rhymes, and the friction of closed vowels, etc. Regarding tones, the author studies the evolution of the tones of Lan-Yin Mandarin from the perspective of individual tones as well as that of consecutive tones, and also explains the phenomenon of "the neutral tone being neither light nor short" in Chinese dialects.

About the Author
Zhang Yanlai, Ph.D. in Linguistics and Applied Linguistics, has visited University of Saskatchewan and McMaster University in Canada for academic and research purposes, and has taught Chinese abroad as a teacher sent by Hanban. Her research focusing on social linguistics, second language teaching, and language and culture, Ms. Zhang has published several papers in key national journals such as Zhongguo Yuwen (Chinese Language), Language Teaching and Linguistic Studies,Linguistic Sciences, and Linguistic Research.
Table of Contents
绪论 
第一章兰银官话概说 
第一节兰银官话区的语言概况 
一、兰银官话的分布 
二、方言岛或方言岛性质的地方话 
三、少数民族语言 
第二节兰银官话与人文历史 
一、底层民族 
二、移民与方言形成 
三、行政区划与方言地理 
第三节兰银官话的特点 
一、语音方面 
二、词汇方面 
三、语法方面 
第二章兰银官话的声母 
第一节知系字分(ts)(ts)的类型 
一、知庄章组分(ts)(ts)的类型和分布 
二、日母字的今读 
第二节合口呼(ts)组声母的演变 
一、类型和分布 
二、发展演变 
三、见系和知系同变 
第三节泥来母与鼻边音声母 
一、泥来母分混类型和分布 
二、例外字 
第四节见系开口二等字的异读 
一、文白异读与词汇扩散 
二、新老异读与语言的变异 
三、空间差异 
第五节零声母 
一、音值和分布 
二、性质和归属 
第三章兰银官话的韵母 
第一节阳声韵的演化 
一、鼻尾弱化 
二、韵类合并 
三、小结 
第二节人声韵的文白异读与方言接触 
一、韵母异读概况 
二、韵母异读的性质 
三、韵母异读的层次 
第三节高元音的摩擦化 
一、音值和分布 
二、音系意义 
第四章兰银官话的声调 
第一节单字调 
一、调类和分布 
二、调类演化 
三、调值和调型 
四、入声调的归向 
五、声调特字和声调别义 
第二节普通两字组连调 
一、历时语音条件 
二、共时语音条件 
三、单字调自身的条件 
第三节虚化调连调 
一、兰银官话虚化调的语音表现 
二、虚化调的形成和发展 
附录兰银官话重点调查点方言音系 
参考文献 
后记
Sample Pages Preview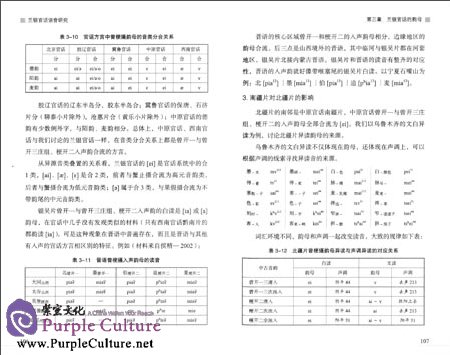 A Phonetic Study of Lan-Yin Mandarin
$7.80