China is the birthplace of one of the four greatest civilizations in the world, hence those cultural relics which, in huge quantities and immensely rich varieties, have always been fascinating. These cultural relics were produced during different periods of the Chinese history, over well over 7,000 years. They are gems of the Chinese civilization. This book gives a brief account of 8 types of cultural relics unearthed in China so far, including pottery, porcelain, jade and bronze. These are seen as the most representative of the Chinese culture, each in its own way providing a glimpse into ancient China.
About Author
Li Li, born in Jilin Province in 1952. Graduated from the Department of History, Peking University.
Member of the China Archaeology Society, associate editor of the monthly Cultural Relics published by the National Bureau of Cultural Relics of China. Co-author of Beauty of China—an Illustrated History of the Chinese Arts, co-author of Art of Rule by Using the Pen and the Sword, author of Fine art of the Qin and Han Dynasties, Vol. 3, History of the Chinese Civilization, coauthor of Cultural Events of the Wei-Jin-Southern-Northern Dynasties, in General History of the Chinese Culture, co-author of Cultural Relics and Fine Art.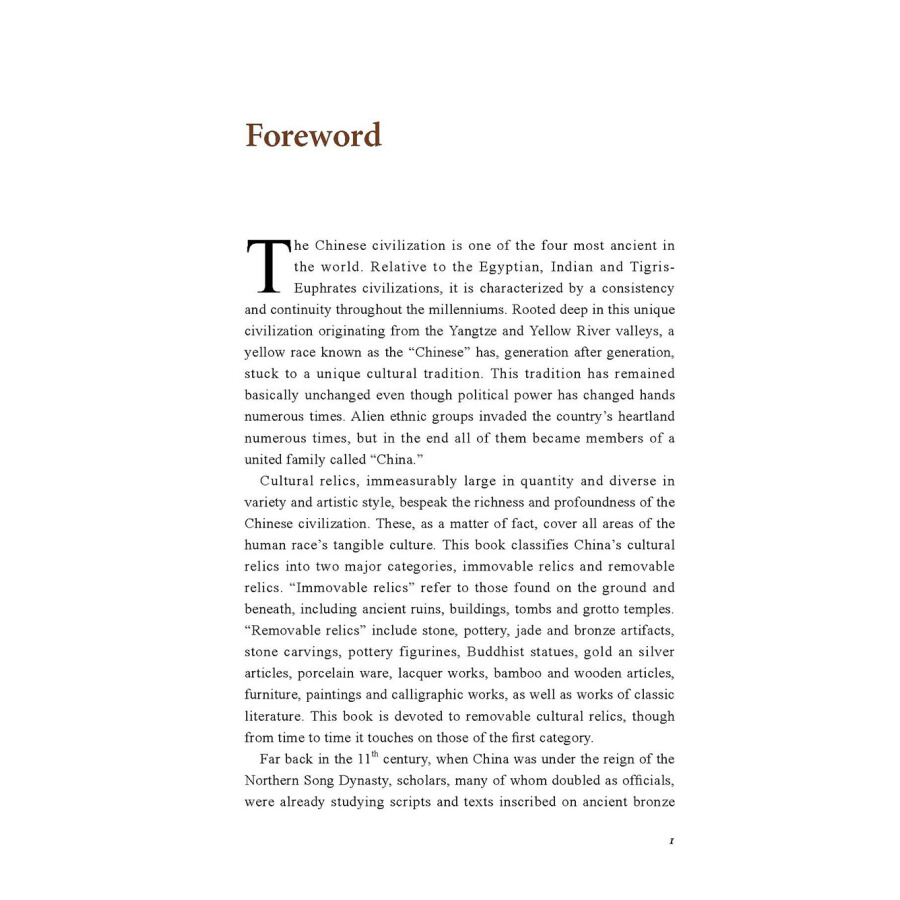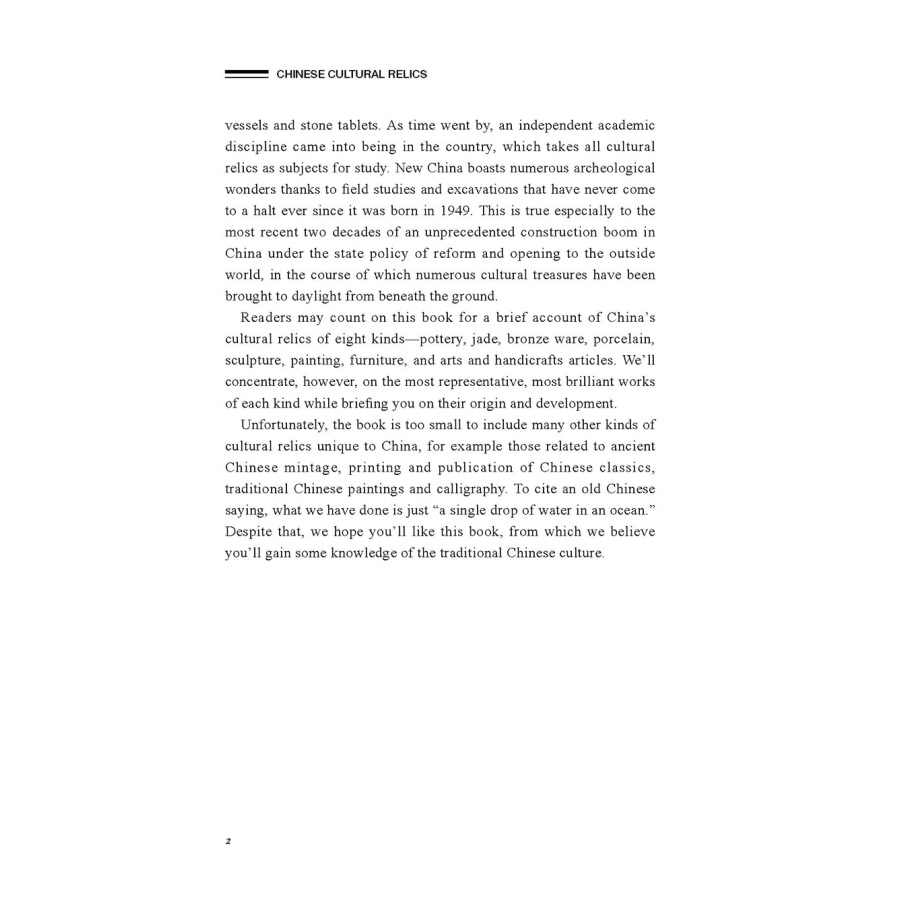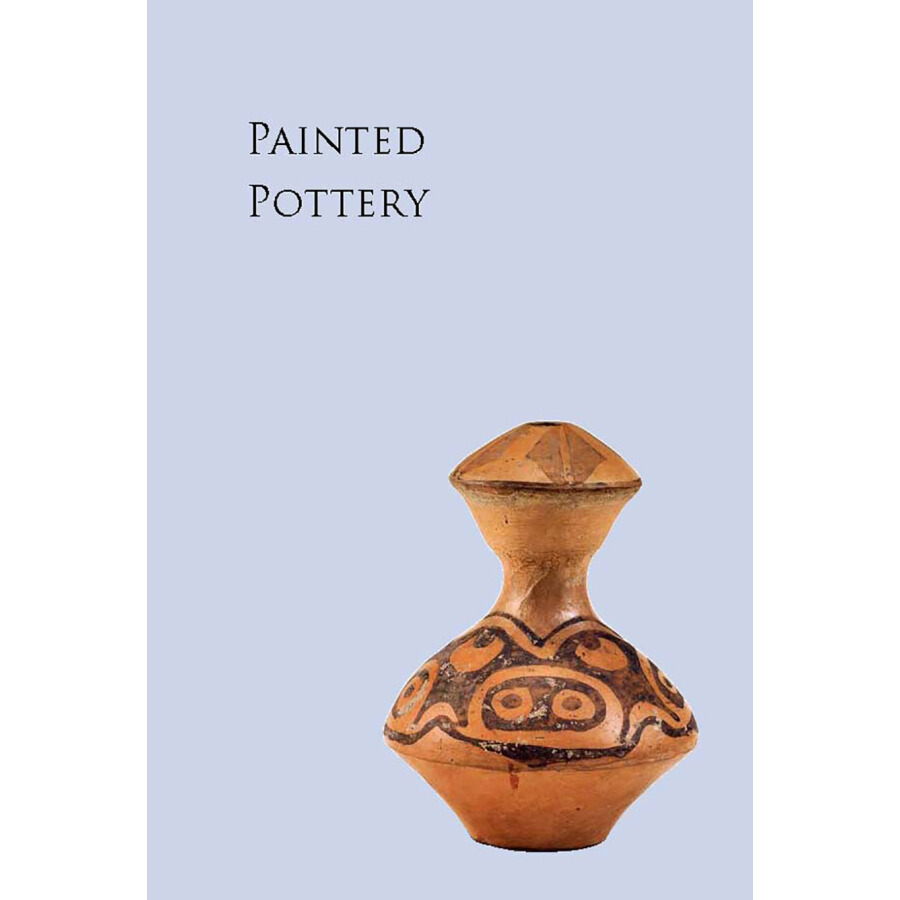 The Chinese civilization is one of the four most ancient in the world. Relative to the Egyptian, Indian and Tigris-Euphrates civilizations, it is characterized by a consistency and continuity throughout the millenniums. Rooted deep in this unique civilization originating from the Yangtze and Yellow River valleys, a yellow race known as the "Chinese" has, generation after generation, stuck to a unique cultural tradition. This tradition has remained basically unchanged even though political power has changed hands numerous times. Alien ethnic groups invaded the country's heartland numerous times, but in the end all of them became members of a united family called "China."
Cultural relics, immeasurably large in quantity and diverse in variety and artistic style, bespeak the richness and profoundness of the Chinese civilization. These, as a matter of fact, cover all areas of the human race's tangible culture. This book classifies China's cultural relics into two major categories, immovable relics and removable relics. "Immovable relics" refer to those found on the ground and beneath, including ancient ruins, buildings, tombs and grotto temples. "Removable relics" include stone, pottery, jade and bronze artifacts, stone carvings, pottery figurines, Buddhist statues, gold and silver articles, porcelain ware, lacquer works, bamboo and wooden articles, furniture, paintings and calligraphic works, as well as works of classic literature. This book is devoted to removable cultural relics, though from time to time it touches on those of the first category.