Erya
Chinese
is a BLCU series of textbooks for college students majoring in the Chinese language. Communication is a subseries of Erya Chinese, focusing on listening and speaking. Targeted at the speaking course for sophomores, it breaks through the traditional mode of textbook compilation, with the task-based teaching concept observed throughout the books and the design of the books complying with the steps of teaching. It is characterized by practical content, abundant activities, excellent texts and pictures and a combination of watching, listening and speaking.
This is Book 1 of Communication, including 9 units, namely "Greetings", "Cooking Methods", "Housing", "Clothing", "Transportation", "Shopping", "Studying in China", "Following Local Customs" and "The Movie The Gua Sha Treatment". The main body of each unit is made up of two smaller topics and a visual-audio-oral section.
All the new words in the book are provided with English translations, every task is supported by full-color pictures, and the design of the book caters to individual needs. An MP3 CD is included in the book for free.
About the Author
Ms. Zhao Lei is an associate professor in the College of Chinese Studies, Beijing Language and Culture University. Ms. Zhao research interests lie in the field of teaching Chinese as a foreign language and focus on speaking and listening. She has published textbooks such as Intermediate Chinese Listening & Speaking, International Business Chinese and Course of Chinese Characters and many academic papers on task-based teaching.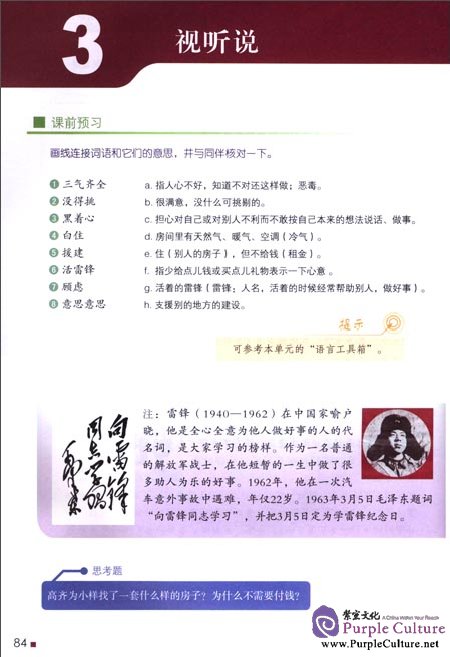 四合院是一种四面是屋子、中间是院子的住房,它是中国北方住宅建筑中的一种传统形式。目前在北京城区仍有不少这种居民住宅形式。四合院的一般格局是街门开在整组院落的左前角,第一道小院内有两门,门内是正房和东、西厢房。规模大的四合院还有二院和三院,全在院落的中轴线上。
有的四合院还有左、右跨院,甚至建有花园,称作宅园,是四合院中的典型式样。在北京,目前四合院保存较好的地区是东城区交道口南大街以西、锣鼓巷一带。
2 西北土窑洞
窑洞是中国西北黄土高原上的传统民居建筑。作为一种民居形式,它具有保温隔热,冬暖夏凉,隔音效果好等特点,而且不需要钢材、水泥,造价低廉。在各种窑洞中,土窑是靠山挖掘的黄土窑洞,保温隔热效果最好;还有砖窑和石窑,是在山坡或平地上先用砖或石块盖成洞的形状,然后在上面铺上厚厚的一层黄土,既坚固又美观。
窑洞也有采光不足、通风不畅的缺点。现在新建的窟洞为了解决采光和通风的问题,窗户都开得很大,而且都装上了玻璃,在洞内装上了管道,采用自然空调的方法,让窑洞外的干净新鲜空气通过管道送入窑洞内。
3广东围龙屋
围龙屋是广东省梅县地区客家人的传统住宅形式,因为形状像盘龙而得名。整座围龙屋结构外圆内方,环围有池塘,民房绕围墙而建,像城堡一样将主体住宅紧紧围住。主体住宅布局一般是"三堂四廊、十厅九井",屋内有房数十间。可以住几代数十口人家,并有饲养、加工、贮存、晾晒等各种设施。围龙屋造型优美。雕梁画栋,具有较高的艺术造诣,显示出客家人历史悠久的文化传统。
4干栏式建筑
这种建筑是中国南方一些少数民族的传统住房形式,具有悠久的历史,目前广西、云南等地的竹楼就是由此发展而来的。特点是:分上下两层,多用木、竹做桩柱、楼板和墙壁,房顶用杉树皮、茅草、瓦块覆盖,楼上住人,楼下养牲畜、存放农具及杂物。对于这种建筑形式形成的原因说法不一,有人认为是为了适应地理环境的需要,有人认为这与生活习俗、经济条件有关,还有人认为它起源于一种原始禁忌。
5三省一颗印
三省一颗印也叫"一口印",是流行于云南、安徽、陕西等地的一种住房形式,因为房屋的形状像印一样,因此而得名。这种建筑的基本布局是:前面有厅房,后面有上房,两侧有厢房。房屋四面相连,屋面联结处构成四槽,下雨时,雨水顺着四槽流下,流到院子里的井中,或者从檐下小沟排出,所以民间也称这种建筑为"四水到堂"。