In plain language, this richly illustrated book leads us to the discovery of Peking Opera in 12 chapters. It presents its origins, evolution and heritage with introductions to its many different features: roles, stage set, costumes and makeup. It introduces us to a system where convention governs the actor's performance in terms of gestures, singing and enunciation. In contrast to realism, Peking Opera means more than it describes and evokes more than it tells, thus leaving viewers free to exercise their imagination. Then, as the master says to the disciple: "I put you on the path; it is up to you to walk it." -The book contains 200 rare stage photos of great masters. It immortalizes the art of the greatest performers of Peking Opera over the past decades. These photos-most of which are being published for the first time-are the result of the uninterrupted work of Wu Gang, who was destined to become the finest witness to the evolution of this form of traditional opera. Here, the texts he associates with his photographic work will help guide our footsteps on a journey through a world characterized by the quest for perfection, a quest that places Peking Opera among the greatest forms of artistic expression of all time.

About Author
Wu Gang, Portrait by Huang Yongyu, 1987 Born in Beijing in 1949. Wu Gang lives and works in Paris. A graduate of the photography department of the Lu Xun Academy of Fine Arts. he was a long-time photographer at the periodical Chinese Theater (Zhongguo Xiju). He is a member of the China Theatre A Ssociation and the China Photographers Association. He was the winner of the Seventh China Photography Awards. Wu Gang currently organizes cultural events at the Chinese Cultural Institute in Paris. and serves as the director of the Traditional-Chinese Opera Festival.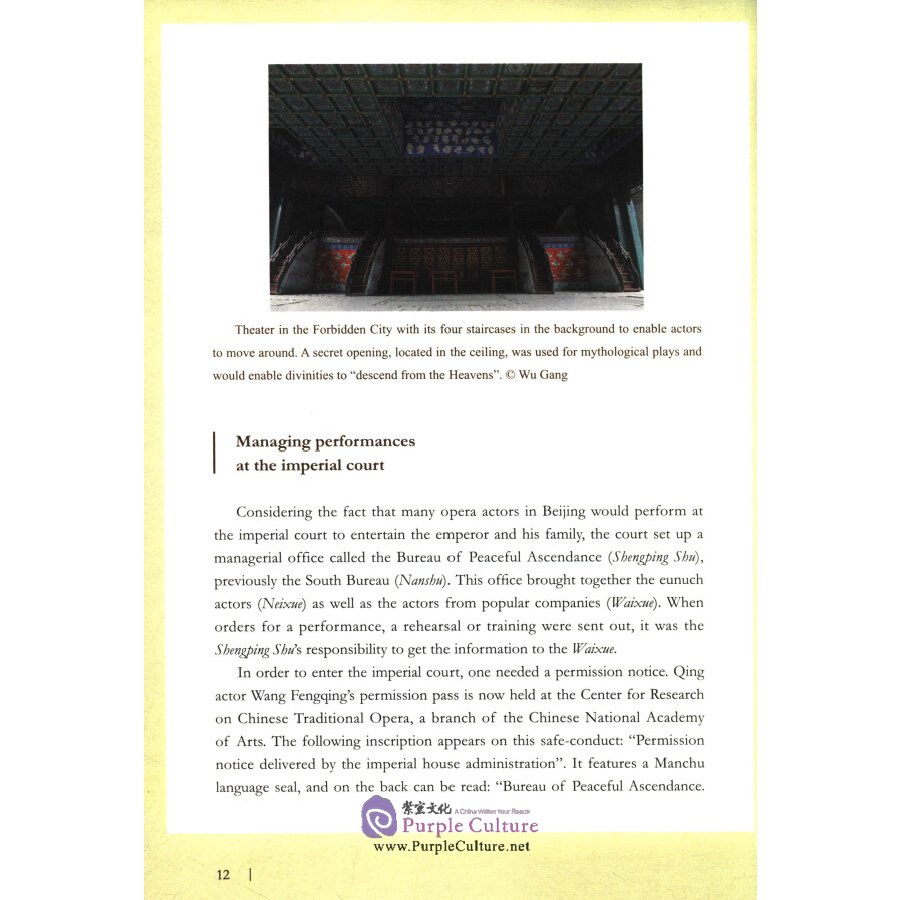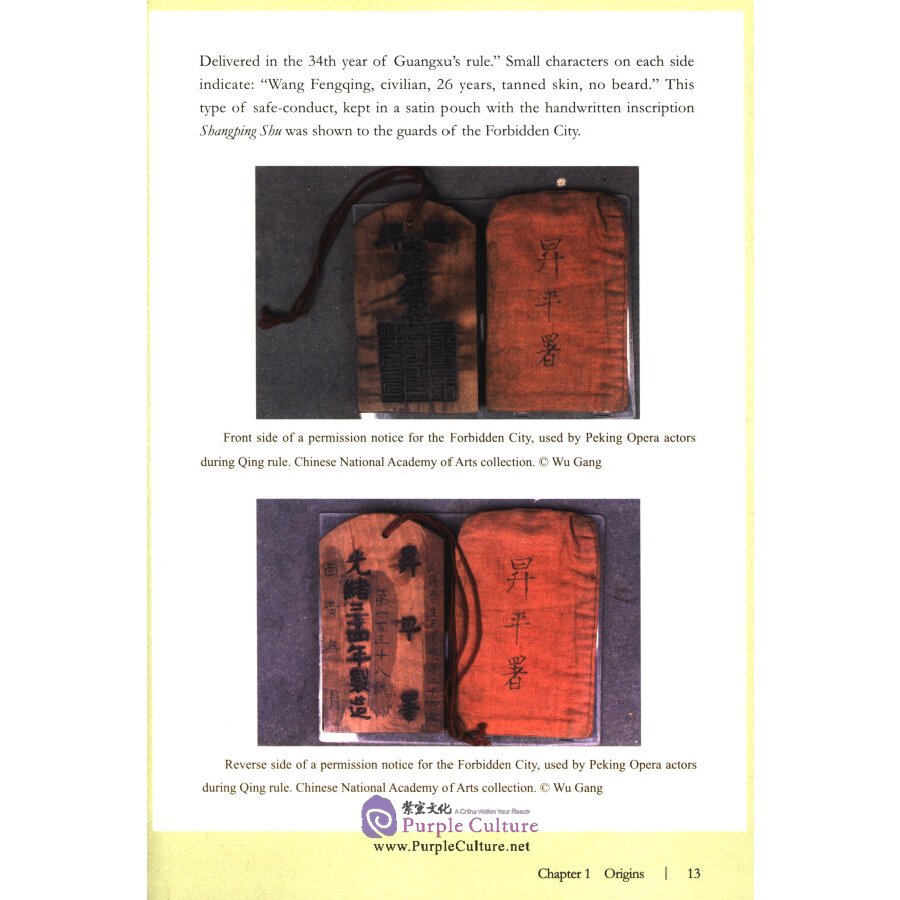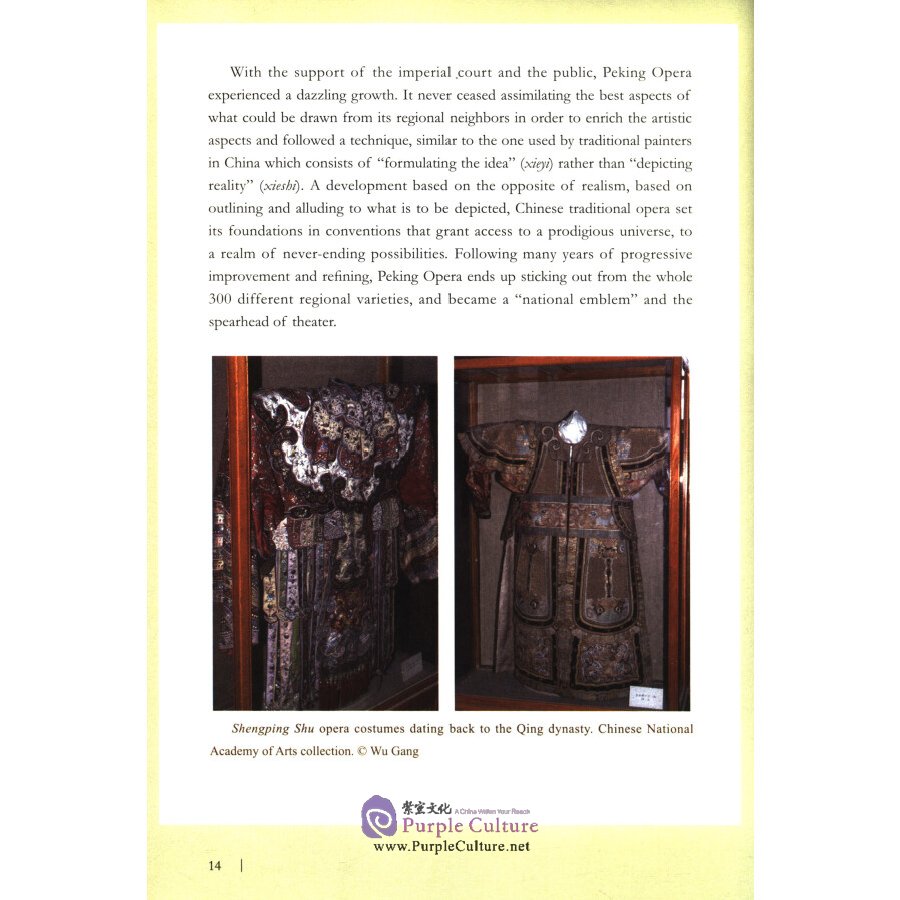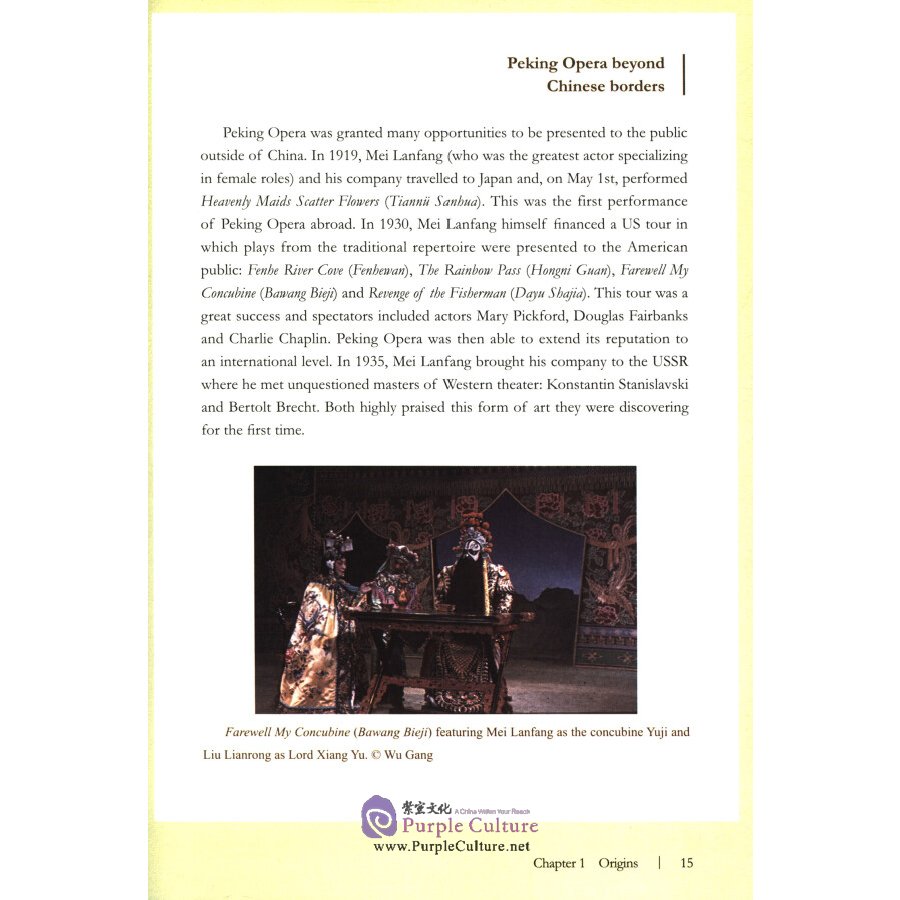 Preface
Peking Opera is one of the treasures of traditional Chinese culture, a holistic art that combines singing, dancing, music, dialogues, martial arts and numerous other artistic expressions. By being a spectator to Peking Opera, by enjoying it and getting to know it better, you will grasp the essence of Chinese culture.
Peking Opera is different from Western theater insofar as it strives to represent the idea of something rather than the thing itself. In that it is at the polar opposite of realism. It frees itself from the constraints of time and space and offers a sublimed and free representation of life. Peking Opera actors' unique style draws from everyday life without trying to imitate it. By hinting at a reality, Peking Opera grants us a performance that evokes life and is truer than nature itself. This manner of outlining and suggesting rather than describing which was molded by ancient creativity and perfected by modern successors has brought life to a whole panel of conventions: stripped-down, elegant and abstract yet suggestive conventions. Even though we are used to calling Peking Opera a "stylized play built upon conventional sets", that does not mean that Peking Opera is an art form too deep to be sound out. It is at everyone's reach, both elegant and popular. Young children, as well as first time spectators gladly give themselves up to this stylized performance, to the story they are being told and to the actors' craft.