Details
Media Recommendation
The Han inscriptions are of profound and majestic spirit.
  ——Lu Xun, a great writer of the 20th century
I'm in an agony of love for the rubbings, which, for 2,000 years, have been passed down generation to generation.
  ——Guo Moruo, a great man ofletters in modern China
I really want to kneel down to pay my respects to our forefathers in the Han Dynasty.
  —— Wu Guanzhong, a leading Chinese painter, art educator and essayist
No other dynasty in Chinese history can be compared with the Han Dynasty in terms of the inscribing of real life and popular stories into the stones. If the pictures inscribed in the stones were collected systematically, they would become an
illustrated history of the Han Dynasty.
  ——Jian Bozan, a distinguished historian
Wang Hongzhen is more a writer than a collector in that he can examine the beauty of the Han stone pictures with a writer's sensitivity, a collector's viewpoint, and a scholar's resolution.
  ——Song Xin, a writer and journalist

About Author
Wang Hongzhen, born in 1957,graduated from Nanjing University. Used to be the curator of Pei County Museum, now he is a
researcher at the Institute of Ancient Books of Huzhou Normal College, and a member of the Jiangsu Writers' Association and
the Chinese Collectors' Association. He has been engaged in the study of Han Dynasty stone carvings for more than io years with a solid foundation in this field.
Table of Contents
Introduction
Government
Chapter One: Military-The Valiancy of the Great Han Dynasty
Chapter Two: Politics- Confucianism, Duty and Patriarchy
Chapter Three: Foreign Affairs-The Rise of Diplomacy

Spirltual
Chapter Four: Revered Animals-Flying Dragons and Dancing Phoenixes
Chapter Five: Gods and Immortals - Dominators of the Heavenly Empire
Chapter Six: Beliefs-The Unity of Heaven and Man
Chapter Seven: Funeral-Treating Death as Another Life

Daily Life
Chapter Eight: Arclutecture - A Model for Posterity
Chapter Nine: Marriage-The Multiplicity of Posterities
Chapter Ten: Cuisine-Development of Food and Cooking
Chapter Eleven: Music and Dance-Performing Arts in the Prosperous Epoch
Chapter Twelve: Recreation-Ball-Kicking Games
Chapter Thirteen: Agriculture-Harvesting from the Fields and Streams
Chapter Fourteen: Commerce -The Necessary Trend

Culture
Chapter Fifteen: Important Events-The Historical Heritage

Appenidix: How to Make Rubbings of the Han Stone Carvings
Sample Pages Preview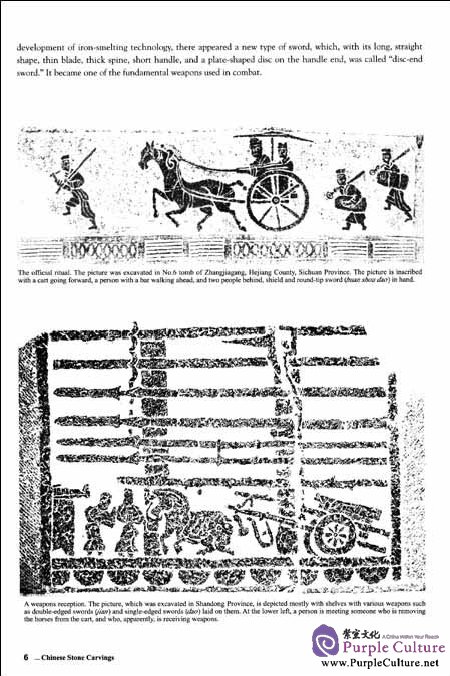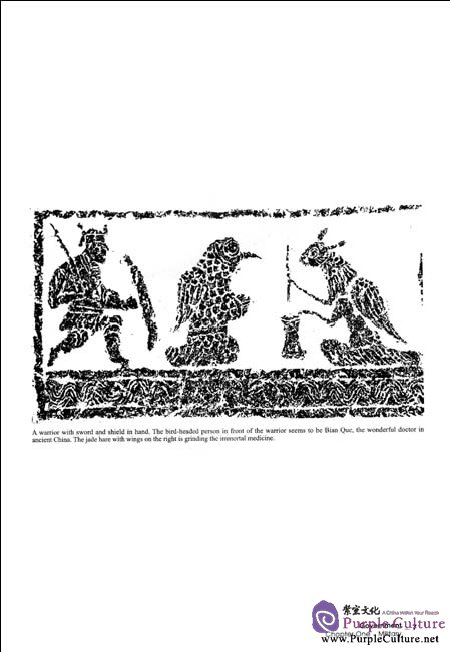 Chinese Stone Carvings Treasures from the Han Dynasty 2000 Years Ago
$27.60