---
Language: Chinese & English
Format: 1 Book
Page: 311
Publication Date: 09/2003
ISBN: 7301046782
Details
Since it was first published in 2000, A Practical Business Chinese Reader has been adopted as a textbook by schools in China and overseas. The Korean edition (OK! Business Chinese) was published by Darakwon Inc. at Seoul in 2002. This revised edition has corrected some mistakes and partially replaced or replenished content in several lessons. However, the majority of the revision was made to the exercises in each lesson. Almost all the exercises have been rewritten or redesigned. As a result, the number of the exercises in this book has increased by as many as 3-4 times. There are only slight changes in vocabulary and sentence patterns. A total of 1040 new words and 154 sentence patterns have been introduced in the revised edition.
As a primary textbook for foreign learners in business Chinese, this book covers the whole range of an American commercial delegation's visit to China, and introduces all the chains of commercial activities and related knowledge for social activities and ceremonies. With succinct, vivid and humorous language, and diversified provocative exercises, the book has quoted many original commercial documents and tried to bring students into a real language environment. The interrelation and relative independence between each part of the book make it an easy-teaching and excellent textbook.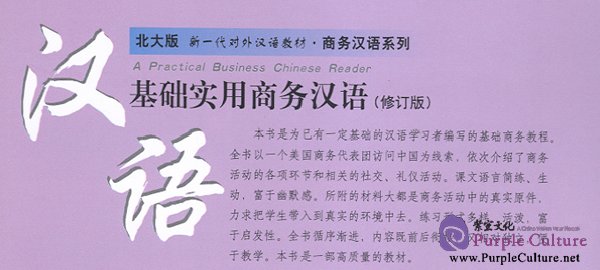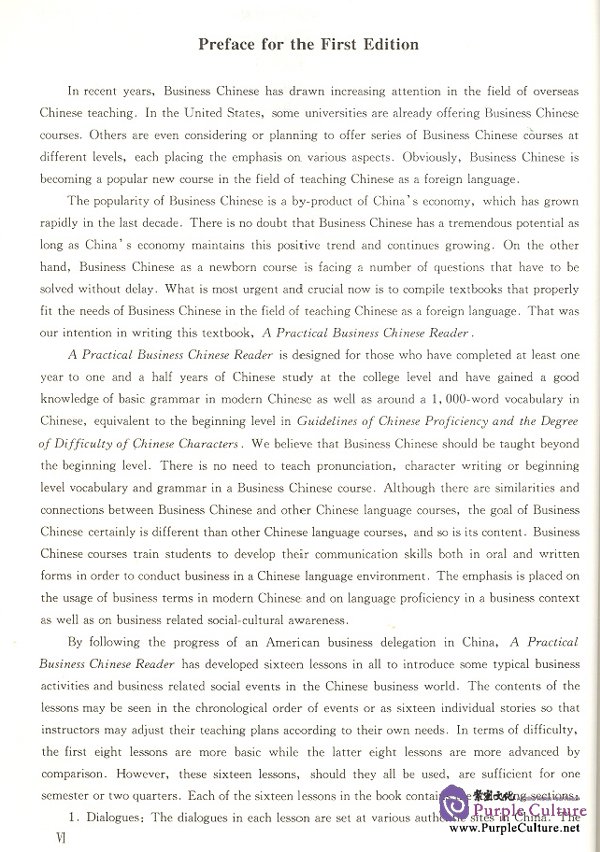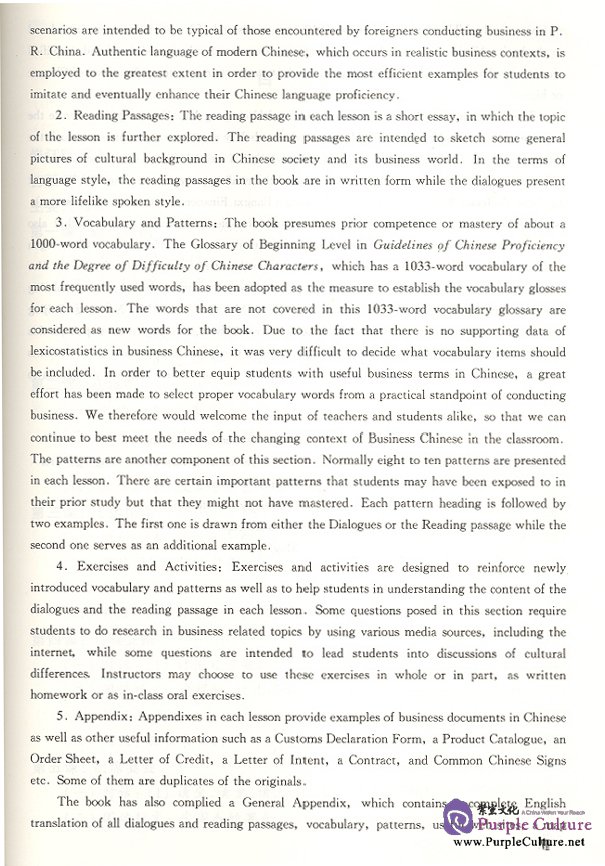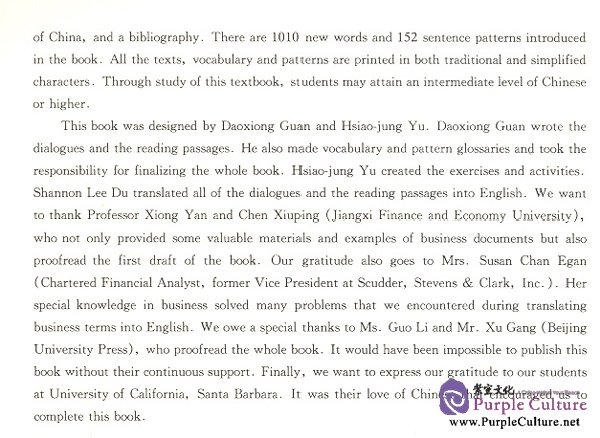 ISBN: 7-301-04678-2 or 7301046782
Table of Contents
修订版前言
初版前言
主要人物表
第一课 到达中国
(一)对话:(1)入境(2)见面
(二)阅读短文:在中国,说中文
(三)练习与活动
(四)附录:(1)入境登记卡 (2)健康申明卡
(3)中国海关进出境旅客行李物品申报
第二课 在旅馆
(一)对话:(1)旅客登记(2)旅馆的服务
(二)阅读短文:中国的旅馆
(三)练习与活动
(四)附录:(1)旅客登记表(2)人民币、外币兑换表
第三课 正式见面
(一)对话:(1)问候和介绍(2)说明访问目的
(二)阅读短文:宾主见面的礼仪
(三)练习与活动
(四)附录:(1)常见职称、头衔(2)名片实例
第四课 日程安排
(一)对话:(1)讨论日程安排(2)修改日程安排
(二)阅读短文:吃得好、玩儿得好、生意做得好
(三)练习与活动
(四)附录:日程表实例
第五课 出席宴会
(一)对话:(1)请坐、请坐、请上座(2)干杯,干杯!
(二)阅读短文:中国人的宴会
(三)练习与活动
(四)附录:(1)菜单(2)饮料
第六课 初步洽谈
(一)对话:(1)看样品(2)询问价格
(二)阅读短文:货比三家不吃亏
(三)练习与活动
(四)附录:产品目录实例
第七课 参观工厂
(一)对话:(1)在会客室(2)在车间
(二)阅读短文:中国的企业
(三)练习与活动
(四)附录:中国著名企业
第八课 价格谈判
(一)对话:(1)谈判成功(2)谈判失败
(二)阅读短文:讨价还价
(三)练习与活动
(四)附录:报盘信实例
第九课 文化异同
(一)对话:(1)真奇怪(2)遇到热心人
(二)阅读短文:入境问俗
(三)练习与活动
(四)附录:常见中文标志
第十课 交货和付款
(一)对话:(1)交货时间(2)付款方式
(二)阅读短文:中国的银行和人民币
(三)练习与活动
(四)附录:(1)定货单实例(2)银行信用证
第十一课 销售代理
(一)对话:(1)独家代理(2)资信调查和佣金
(二)阅读短文:外国货在中国
(三)练习与活动
(四)附录:银行资信证明
第十二课 广告促销
(一)对话:(1)在电视台广告部(2)在报社广告部
(二)阅读短文:广告和中国人的心理
(三)练习与活动
(四)附录:广告实例
第十三课 在交易会
(一)对话:(1)在展览厅(2)和参展商做生意
(二)阅读短文:中国的商品交易会
(三)练习与活动
(四)附录:(1)广交会申请表(2)广交会登陆表
第十四课 经济特区
(一)对话:(1)谈经济特区(2)谈三资企业
(二)阅读短文:中国的经济特区
(三)练习与活动
(四)附录:(1)招商广告(2)营业执照
第十五课 签定合同
(一)对话:(1)审核合同草案(2)正式签字
(二)阅读短文:中国的涉外经济法规
(三)练习与活动
(四)附录:(1)合同实例(2)意向书实例
第十六课 饯行告别
(一)对话:(1)在告别晚宴上(2)话别、赠送礼品
(二)阅读短文:建立可靠的长期合作关系
(三)练习与活动
(四)附录:(1)出境登记卡(2)感谢信
总附录
(一)课文英译
(二)词汇总表
(三)句型总表
(四)重要网址
(五)中国地图
(六)参考书目
1 Customer Review(s):
by Tom on 2009-06-15 22:53:55
A good book for intermediate level learner. I strongly recommend.
Write Review
A Practical Business Chinese Reader (Revised Edition)
$15.00