---
Language: English
Format: 26 x 18.6 x 3.4 cm
Page: 658
Publication Date: 08/2017
ISBN: 9787519224585
Table of Contents
Retardation of Plastic Instability via Damage—Enabled Microstrain
Delocalization
by J.P.M.Hoefnagels,C.C.Tason.F.Maresca,et al.
Chapter 2
Adsorption Characteristics of Noble Metals on the Strongly Basic Anior
Exchanger Purolite A—400TL
by A.Wotowicz and Z.Hubicki
Chapter 3
A Facile Method for the Production of SnS Thin Films from
Melt Reactions
by Mundher Al—Shakban.Zhiqiong Xie,Nicky Savjani,et al.
Centrifugal Melt Spinning of Polyvinylpyrrolidone (PVP)/Triacontene
Copolymer Fibres
by Tom O'llaire,Stephen.J.Russell,and Christopher M.Corr
Conjugated Polymers as Robust Carriers for Controlled Delivery of
Anti—Inflammatory Drugs
by Katarzyna Krukiewicz and Jerzy K.Zak
Chapter 6
Controlled—Release Formulation of Perindopril Erbumine Loaded PEG—Coated
Magnetite Na nopa rticles for Biomedical Applications
by Deno Dorniani,Aminu Umar Kura,Mohd Zobir Bin Hussein,et al.
Chapter 7
Correlative EBSD and SKPFM Characterization of Microstructure
Development to Assist Determination of Corrosion Propensity in Grade 2205
Duplex Stainless Steel
by C.Ornek and D.L.Engelberg
Chapter 8
Determination of Bone Porosity Based on Histograms of 3D μCT Images
by M.Cieszko,Z.Szczeporiski and P.Gadzata
Chapter 9
Direct Reduction of Synthetic Rutile Using the FFC Process to Produce
Low—Cost NoveITitanium Alloys
by L.L.Benson,I.Mellor ond M.Jackson
Chapter 10
Effect of Interfacial Area on Densification and Microstructural Evolution in
Silicon Carbide—Boron Carbide Particulate Composites
by Tom Williams,Julie Yeomons,Poul Smith,et ol.
Chapter 11
Electrospun Green Fibres from Lignin and Chitosan: A Novel
Polycomplexation Process for the Production of Lignin—Based Fibres
by Makoto SchreibeC Singaravelu Vivekanandhan,Peter Cooke,et al.
Chapter 12
Enhancement of Mechanical Properties of Biocompatible Ti—45Nb Alloy by
Hydrostatic Extrusion
by K.Ozoltin,W.Chrominski M.Kulczyk,et al.
Chapter 13
Evolution of Microstructure in A291 Alloy Processed by .
High—Pressure Torsion
by Ahmed S.J.Al—Zubaydi.Alexander P.Zhilyaev,Shun C.Wang,et al.
Chapter 14
Fabrication of Bioactive Polycaprolactone/Hydroxyapatite Scaffolds with Final
Bilayer Nano—/Micro—Fibrous Structures for Tissue Engineering Application
by lzobella Rajzer
Chapter 15
Fast—Curing Epoxy Polymers with Silica Nanoparticles: Properties and
Rheo—Kinetic Modelling
by A.Keller,K.Masania,A.C.Taylor,et al.
Chapter 16
Graphene as a Lubricant on Ag for Electrical Contact Applications
by Fang Mao,Urban Wiklund,Anna M.Andersson,et al.
Chapter 17
Growth of Carbon Nanofibers from Methane on a Hydroxyapatite—Supported
Nickel Catalyst
by Ewa Miniach,Agata Sliwok,Adam Moyseowicz,et al.
Chapter 18
High—Temperature Reactivity and Wetting Characteristics of Al/Zno System
Related to the Zinc Oxide Single Crystal Orientation
by Joanna Wojewoda—Budka,Katarzyna Stan,Rafal Nowok,et al.
Chapter 19
Improving Shear Bond Strength of Temporary Crown and Fixed Dental
Prosthesis Resins by Surface Treatments
by Seung—Ryong Ha,Sung—llun Kim,Jai—Bong Lee,et al.
Sample Pages Preview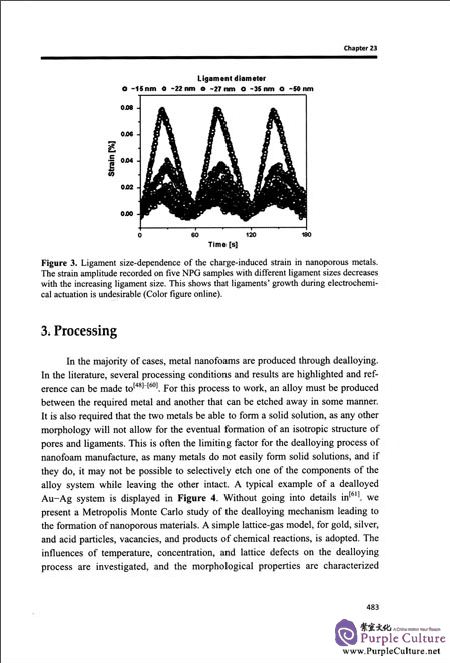 In this contribution, we will review some aspects of this fast growing field and highlight a couple ofideas of applications in the outlook section that may also have a great impact onto the field of energy—related materials.While the production of nanoporous etallic structures is well—documented, up until recently very little was known about their mechanical properties—at submicron scales, sample size has the possibility to produce a large effect on mechanical properties, where in macroporous foams cell size specifically does not have an influence on material strength.Indeed, it is highly uncertain that the behaviors of macroscopic and microscopic foams will be at all similar in principle and nature.Li and Sieradzki reported that porous Au undergoes a ductile—brittle transition that seemed to be influenced by the microstructural length scale of the material.Biener et al.have continued this investigation into the mechanical properties of nanoporous Au through nanoindentation.They reported the main deformation mechanism during nanoindentation as a ductile, plastic densification.Strong long—range stress fields, brittle fracture, and crack emission were not observed.They note that the scaling laws that are typically applied to macroporous foams apply poorly to nanoporous metals, as they observe experimental yield strength of 145MPa instead of the expected 16MPa.
World Academic Frontiers: Material Science
$120.53