---
Author: Ti Wenjin;
Language: English
Page: 209
Publication Date: 10/2009
ISBN: 9787800315121
Details
Whether you come to Shanghai for the first time, or you have been to Shanghai for thousands of times, or you are too busy to find time to stroll around this city, you are likely to ask where in this big city should one pay for a visit and which spot is the most fascinating place to be visited?

Furthermore, if you come to Shanghai for the first time and you are frightened by strange Chinese language while hustling around, failing to find the right place. Don't worry, as there are sufficient data in this book which provide you the information of most consulates in Shanghai, the Shanghai representative office of important airways of the world, as well as all other data you need, such as traffic, accommodation, hospital, bank, etc.
Shanghai is a cosmopolitan city and it isnecessary to have Christian Church andCatholic Church.
There are over 300 Christian clergy andmore than 160 registered ChristianChurches in Shanghai. In the later periodof 18th century, various religious sects ofEurope and America had set up missionaryorganization to missionize overseas. In1843, Walter Henry Medhurst, a missionerof London Missionary Society, and someothers were among the earliest to arrive inShanghai. They had set up church, hospital,printing office, as well as houses in Shanghai.Afterwards, various religious sects, such asAnglicanism and Protestant EpiscopalChurch, come to Shanghai to build churchesand do missionary work. In 1903, CharlieSoong, together with other 12 people, ini-tially set up Chinese Christian Associationand it developed gradually. At present, thereare over a hundred thousand of disciples.There are now nearly hundred of Catholicchurches, over 100 clergy and more than140000 adherents in Shanghai. Catholicwas introduced into Shanghai area in MingDynasty. In 1608, Xu Guangqi of MingDynasty invited Italy missionary LauzaroCameo to Shanghai to do missionary work.The first church in Shanghai was then builtand Xu's family members, kith and kin, al-together more than 200 people, receivedbaptism and converted religion. After morethan 400 years of development, the Catho-lic community in Shanghai has carried outamicable association with overseas Catho-lic community constantly. Shanghai Catho-lic Church has also entertained a lot of fa-mous overseas religion leaders.
Famous Protestant Churches in Shanghai areShanghai Community Church, All Saint'sChurch, Muen Church, Huaien Church, etc.Catholic Churches in Shanghai are XujiahuiCatholic Cathedral, Dongjiadu CatholicChurch, St Joseph's Catholic Church,Sheshan Mount Catholic Church, etc.

Table of Contents
Welcome to Shanghai
About Shanghai
Geographical Features
Past and Present

Scenic Spots in Shanghai
Modern City Scenery
People's Square
The Bund
Bund Sightseeing Tunnel
Huangpu River Sightseeing
Oriental Pearl TV & Broadcasting Tower
Jinmao Tower
Maglev
Riverside Boulevard in Pudong New Area
Shanghai Oceanarium & Ocean World of Changfeng Park
Pudong Century Park & Shanghai Botanic Garden
Madame Tussauds Shanghai
Shanghai Science and Technology Museum
Shanghai Circus World
Old Trend in Shanghai
World Architecture Complex on the Bund
Shikumen (Stone Frame Gate) and Longtang (Lane) Residence
Residence of Celebrities in History
Old Shanghai History Collection House
Museum
Shanghai Museum
Shanghai City History Museum
Shanghai Folk Collection Exhibition Hall
Shanghai Urban Planning Exhibition Hall
Shanghai Natural Museum
Shanghai Natural Wild-insect Kingdom
Shanghai Arts and Crafts Museum
Shanghai Railway Museum
Religious Sites
Temple
Christian & Catholic Church
Mosque

Places of Entertainment
Recreation
Xintiandi (New Paradise)
Hengshan Road, a Street for Recreation
Yandang Road, a Street for Recreation
Fuzhou Road, a Cultural Street
Shaoxing Road, a Street for Publishing
Duolun Road, a Cultural Celebrity Street
Taikang Road, a Street for Art
Dongtai Road, an Antique Street
Art Gallery
Shanghai Art Museum
Shanghai Duolun Museum of Modern Art
Liu Haisu Art Museum
ShanghART Gallery
The Room with a View
List of Gallery in Shanghai
Concert Hall, Theater and Cinema
Shanghai Concert Hall
Shanghai Grand Theater
Shanghai Oriental Art Center
Majestic Theater
Lyceum Theater
Yifu Theater (Tianchan Peking Opera Center Yifu Theater)
Shanghai Grand Stage
Shanghai Film Art Center
Grand Cinema
List of Cinemas in Shanghai
Recreation, Exercises and Sports
Jinjiang Amusement Park
Europa World Theme Park
Dino Beach
Hawaii Aquatic Park
Shanghai International Circuit
Silver Seven Star Indoor Skiing Ground
Oriental Oasis (or Oriental Land)
List of Shanghai Golf Links
List of Shanghai Tennis Courts
List of Shanghai Swimming Pods
List of Shanghai Gymnasiums
List of Shanghai Body-building Clubs
List of Miscellaneous clubs
Bar, Disco, Care and Teahouse
Peculiar Bar
Peculiar Disco
Peculiar Care
Peculiar Teahouse
List of other Bars, Cafes, Teahouses
Shopping
East Nanjing Road
West Nanjing Road
Central Huaihai Road
Xujiahui Commercial Circle
Yuyuan Bazaar
North Sichuan Road
Wujiaochang Commercial Center
Shanghai New Commercial City in Pudong
Eating
Shanghai Snacks
Shanghai Snack Food Streets
Shanghai Chinese Restaurants
Foreign Restaurants

Festivals and Events
Traditional Festivals
Spring Festival
Lantern Festival
Qingming Festival
Dragon Boat Festival
Double Seventh Festival
Mid-Autumn Festival
Double Ninth Festival
National Day
International & Western Festivals
New Year's Day
Saint Valentine's Day
International Women's Day
April Fool's Day
Labor Day
Mother's Day & Father's Day
Children's Day
Halloween Day
Thanksgiving Day
Christmas Day
Shanghai Cultural and Arts Festivals
Shanghai International Arts Festival
Shanghai Spring International Music Festival
Shanghai International Film Festival
Shanghai Television Festival
Shanghai International Tea Culture Festival
Shanghai Book Exhibition
Tourism Events
Shanghai Peach Blossom Festival
Shanghai International Flower Festival
Shanghai Tourism Festival
World Expo 2010 Shanghai China
Shanghai Sports Events
Shanghai Golden Grand Prix
FORMULA 1 Chinese Grand Prix
Tennis Masters Cup Shanghai
Shanghai International Marathon

Suburban Tour
Chongming Rural Grand Time (Nongjiale)
ZhuJiaJiao
Sheshan National Holiday Resort
Fengxian Beach
Jinshan Water Town
Nanhui Safari Park & Peach Blossom Land
Shanghai Safari Park
Nanhui Peach Blossom Land
Jiading Confucius Temple
Qibao Ancient Town (Seven Treasures Town)

Excursions
Suzhou
Wuxi
Nanjing
Hangzhou
Shaoxing
Mount Putuo
Ancient Water-township

Useful Chinese Phrases
Greeting
At an airport
In a hotel
Public transport
Shopping
In a restaurant
Making a Phone call
Looking for an apartment
In a post office
In a bank
Seeing a doctor
Emergency

Useful Telephone Numbers
Maps
Shanghai
The Main Shanghai City
Nearby the Bund
Nearby Yuyuan Garden
Nearby Lujiazui
Nearby People's Square
Nearby Nanjing Rd.(E)
Nearby Huaihai Rd.(M)
Nearby Xujiahui Region
Nearby Fuxing Park
Nearby Hongqiao Rd.
Nearby Jing'an Temple Region
Nearby Zhongshan Park
Nearby Sichuan Rd.(N)
Nearby Century Park.


Sample Pages Preview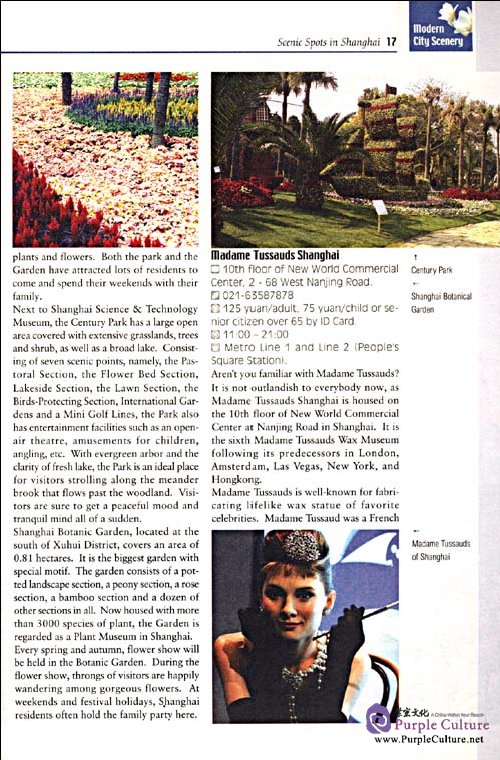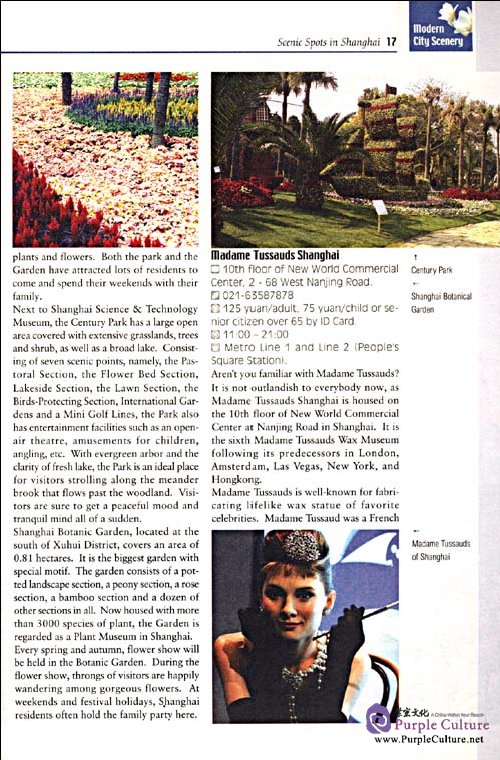 Travel in Shanghai.Live in Shanghai
$11.00