---
Language: Chinese, English
Page: 181
Publication Date: 01/2012
ISBN: 9787508522074,7508522079
Details
Chinese classic stories have inherited and passed on the abundant historic treasury of the Chinese nation that has been accumulated over several thousand years, mirroring the politics, military affairs, culture, folk customs, prevailing moral practices, ideals and interests of ancient China. Through those stories, people can gain an understanding of Chinas long history and achieve an insight into the profound historical origins of Chinese culture. We have identified stories from the vast number of Chinese classic stories, and complied them into this collection. All stories are illustrated in concise words and expressions, and vivid pictures, which will help the process of reading enjoyable. The series of Classic Stories of China comprises nine books: Scenic Spots Stories, History Stories, Myths Stories, Wisdom Stories, Folk Customs Stories, Ancient Fables, Folk Tales, Idiom Stories, Drama Stories. May those books be your good teacher and helpful friends in learning Chinese culture.
Table of Contents
Forbidden City 
Summer Palace 
Zemple of Heaven 
Great Wall 
Ming Tombs 
Imperial Summer Resort in Chengde 
Terracotta Warriors Mausoleum of the First 
Qin Emperor 
Longmen Grottoes 
Dunhuang Mogao Grottoes 
Zaishan Mountain(Mount Zai) 
Huangshan Mountain 
Lushan Mountain 
Qufu Confucian Zemple 
Dujiangyan Irrigation System 
Shaolin Zemple 
Hanshan Zemple 
Potala Palace and Jokhang Monastery 
wutai Mountain 
Leshan Giant Buddha 
Yueyang Tower 
Yellow Crane Tower 
Hangzhou West Lake 
Three Gores of the Yangtze River 
Huangguoshu Falls 
Shilin(Stone Forest) 
Jiuzhaigou Valleys 
Landscape of Guilin 
Zhangjiajie 
Lijiang 
Ancient City of Pingyao
Sample Pages Preview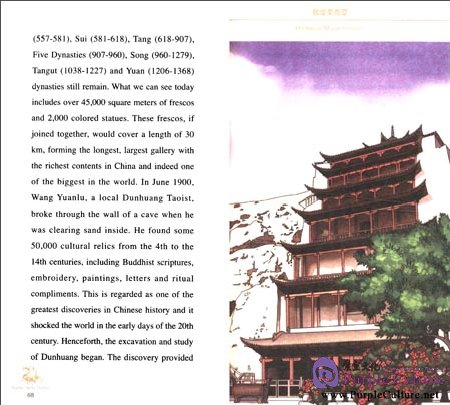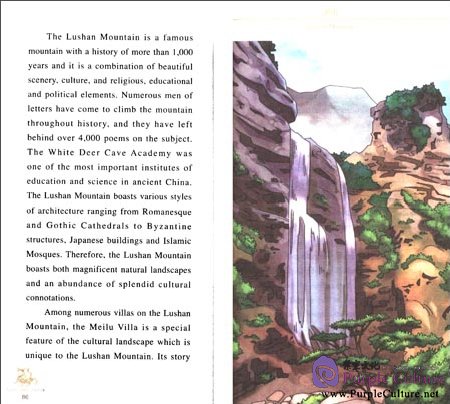 The Great Wall is regarded as a treasure of Chinese civilization and one of the great world cultural heritage sites.It enjoys equal fame with the Pyramidsin Egypt. Today, whoever visits the Great Wall is amazed at its majestyand magnificence. It represents the indestructible will of the Chinese nationand the indomitable spirit of mankind. 
During the 2,000 years of its history,a great number of stories and legendsabout the Great Wall have been handed down, among which, the legend aboutMeng Jiangnu was the most popular. It is said that when Emperor Yingzheng of theQin Dynasty was building the Great Wall,a young man named Fan Xiliang wasforced to do labour on the third day after his marriage to Meng Jiangnu. Beforelong, Fan Xiliang died of exhaustion and cold and hunger, and was buried underthe Great Wall. Not knowing the death of her husband, Meng Jiangnu made some padded clothes and set off alone to look for him. When she got to the destination and was told of her husband's death, the heart—broken woman could not locate thewhereabouts of his body. She sat down at the foot of the Great Wall and startedcrying. She cried day and night, and her wailing made the wall fall. She finallysaw her husband's bones under the wall.Desperate with grief, she jumped into thesea and died. 
The construction of the Great Wall was the cruelest forced labor in anydynasty in China. During the nearly 2,000 years from the Spring and Autumn Period(770 BC—476 BC) to the Ming Dynasty (1368—1644), the defense work underwentmany repairs, which meant the press ganging of countless number of people inthe work. Hence, the story about Meng Jiangnu was typical, telling us that theGreat Wall we see today was built at the expense of the lives of countless Chinesepeople.
Scenic Spots Stories
$11.20